For my entire life I've always dreamed of seeing the world. Not just the surrounding states or a few noteworthy landmarks, no, my dreams were much bigger. I've always told myself that one day I would get my passport and travel all over, starting with Europe. Now, as an adult I've managed to hold onto those dreams and while I've done some traveling, I haven't quite done everything that was on my list in my younger years. This doesn't mean I've given up but merely but those dreams on hold and have also taken the extra time to instill a love of traveling in my children.

Until we can get out of the country to do the things we've dreamed up as a family, we've contented ourselves with traveling around the United States when circumstances allow for family trips/vacations. In the meantime, we take every opportunity to educate ourselves about the world outside of the US borders. Books, documentaries, games and the worldwide web are some of the tools we've utilized to help teach our children about the many places we'd like to visit but here recently, we've been using the Puzzle Globe from Learning Resources to give the kids an extra edge geographically.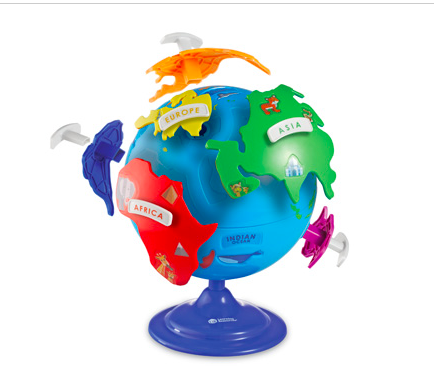 This interactive Puzzle Globe is especially great for younger ages, recommended for 3+, because of its large pieces and easy placement of the continents. Each of the 7 continents are represented in individual, eye-catching colors and even include Antarctica. Little ones will love being able to spin the globe themselves as they memorize where each piece (continent) is placed around the world.
Skills learned from the Puzzle Globe include those such as Geography, Spatial Relationships, Fine Motor Skills and more. Included in the packaging is the Puzzle Globe, which measures 8″ in diameter, 6 continent puzzle pieces, and 1 sheet of blank label stickers.
Another great product from Learning Resources is the  award-winning cash register. This is the perfect addition to any pretend store! Encourage beginning math and calculator skills while providing lots of opportunities for imaginative play. Features a built-in solar calculator that helps familiarize children with the use of a calculator. They'll also learn currency denomination and have fun handling life-size money. Large buttons on the keypad are easy for little hands to press and the cash drawer makes a "cha-ching" sound when it opens.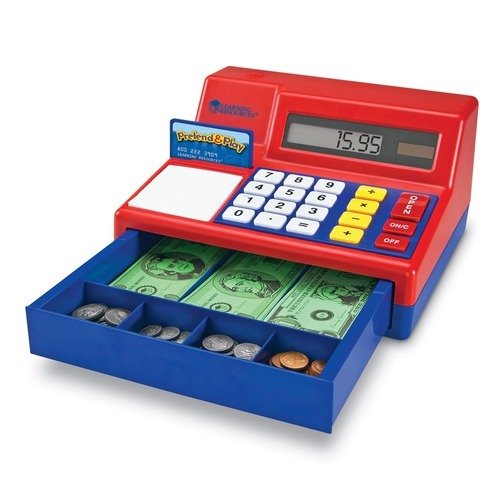 Your little one will have a great time learning about our surrounding continents, while developing awareness of the world around them, with the Puzzle Globe from Learning Resources, as well as the fantastic cash register. To find out more about these particular learning  products you can visit the Learning Resources website!
*Samples received. All opinions are my own and not swayed by outside sources.*