If you are looking for some great gift ideas for the holiday season may I suggest Baby Stella as one. Baby Stella is a perfect soft-doll that any child would be thrilled to find under their tree. With Taylor being at the age where she loves babies, I know this is one gift that will go along way. I highly recommend getting this life looking doll for them to cuddle to sleep with.
*The Baby Stella collection will bring delight to little ones with a new look they are sure to love! Baby Stella is an award winning doll collection that is a perfect, first soft doll to inspire creative role play in little ones. Baby Stella dolls have lifelike toes, belly buttons and plump tummies, embroidered features removable outfit, diaper and magnetic pacifier.*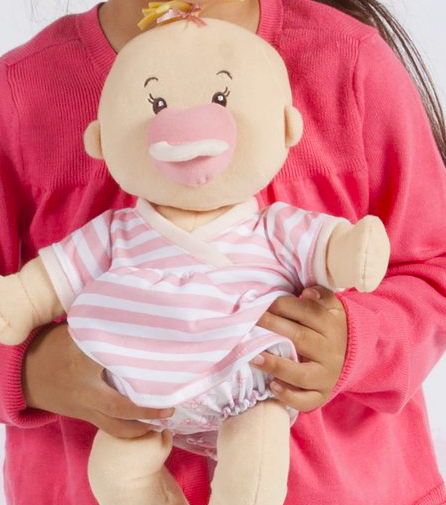 Right now they are finishing up a Cyber Monday sale and Bella Stella is listed for close to half off which is a steal! This is going to be the hit of the season for the little toddler and baby in your life. Baby Stella is available under The Manhattan Toy Company line which are products that have been artfully crafted to inspire creativity and imagination in children of all ages.
Other gift ideas include:
Calliope Games, Funnybone Toys and Manhattan Toy Co. have mastered the gift of creating lasting memories for the entire family.
Designed for a balance of luck and strategy,  Calliope Games products are exciting board games that make creating family memories as easy as rolling dice. In Running with the Bulls players use action cards to guide their runners to destinations on the board—all while trying to avoid irate bulls!
GAMES INCLUDE:

Test your ability to see if things are related, and we don't mean your family members. For those with a need for speed, Akin is the game for you. From Funnybone Toys, give the gift of a game that stimulates creativity and give players' brains a workout.
BE SURE TO CHECK OUT ALL THESE GREAT TOYS, GAMES, DOLLS for your holiday shopping needs!