Internet protection should be one of any parent's highest priorities. With the sophistication of online criminals and predators these days, it's more important than ever to be fully on guard against both criminal and predatory activity online. Of course, teaching the kids good "net-iquette" like never giving out personal information of any kind is key, but we also need real, physical help to guard against those threats that are truly under the radar. That's why this year is the year to check out BullGuard to help your family with internet protection.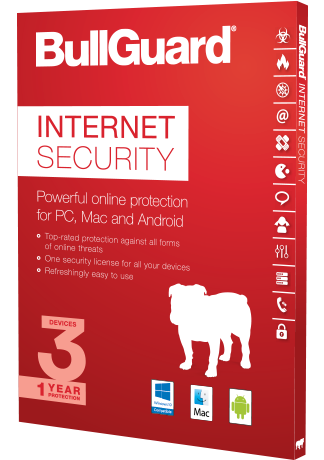 *Sponsored by BullGuard. All opinions are my own and not swayed by outside sources.*
BullGuard Internet Protection
BullGuard Internet Security offers the best protection against all forms of viruses, spyware, malware, and other threats. It also gives us multi-device protection for Windows, Mac, and Android so we can safeguard all of our devices with one license, which I love because we are device-obsessed family.  BullGuard even has one majorly hardcore firewall that protects against network attacks and intruders who might try to piggy back onto your Wi-Fi and start snooping into your business.
Here's a more complete list of what BullGuard has to offer:
Antivirus
Firewall
Spamfilter
Parental Controls
Vulnerability Scanner
Backup/Restore
PC Tune UP
Game Mode
I think this is fully awesome. Unlike some programs that protect our computers from one of these – or even a few of these – BullGuard is the only internet protection I've seen that completely envelops our devices and connections in complete security. They've thought of everything. And that feels good. I love the feeling of knowing that I don't have to worry about my kids when they connect to the internet, especially with the parental control feature available to me.
BullGuard Internet Protection is the Only One for Me
I've tried some security suites in the past, and they were okay. I stress "okay". They all did an amazing job in one area and were then sub-par (or non-existent) in other areas. What I love so much about BullGuard is that it covers everything, and that's tough to find. Check out BullGuard today to see how it can help you keep your kids and your connections safe and secure from all types of internet dangers.
GIVEAWAY: Ten winners will receive a year subscription of BullGuard Internet Security ($60 value). This giveaway is run via rafflecopter so click read more to see the actual giveaway The only mandatory entry is to visit BullGuard and tell me what you like the best. While the other entries are optional, I highly suggest filling it out to increase your chances of winning. US only. Good luck!
a Rafflecopter giveaway