Green your school with Tom's of Maine. What does that mean? It means that Tom's of Maine wants to encourage environmental education in classrooms worldwide. For the second year in a row, Tom's of Maine has launched its Green School Fund to encourage more environmental education and awareness in the classroom. Their Green Your School Fund is a powerful tool in helping children learn to think outside the box and learn how to help them care for the only planet we have.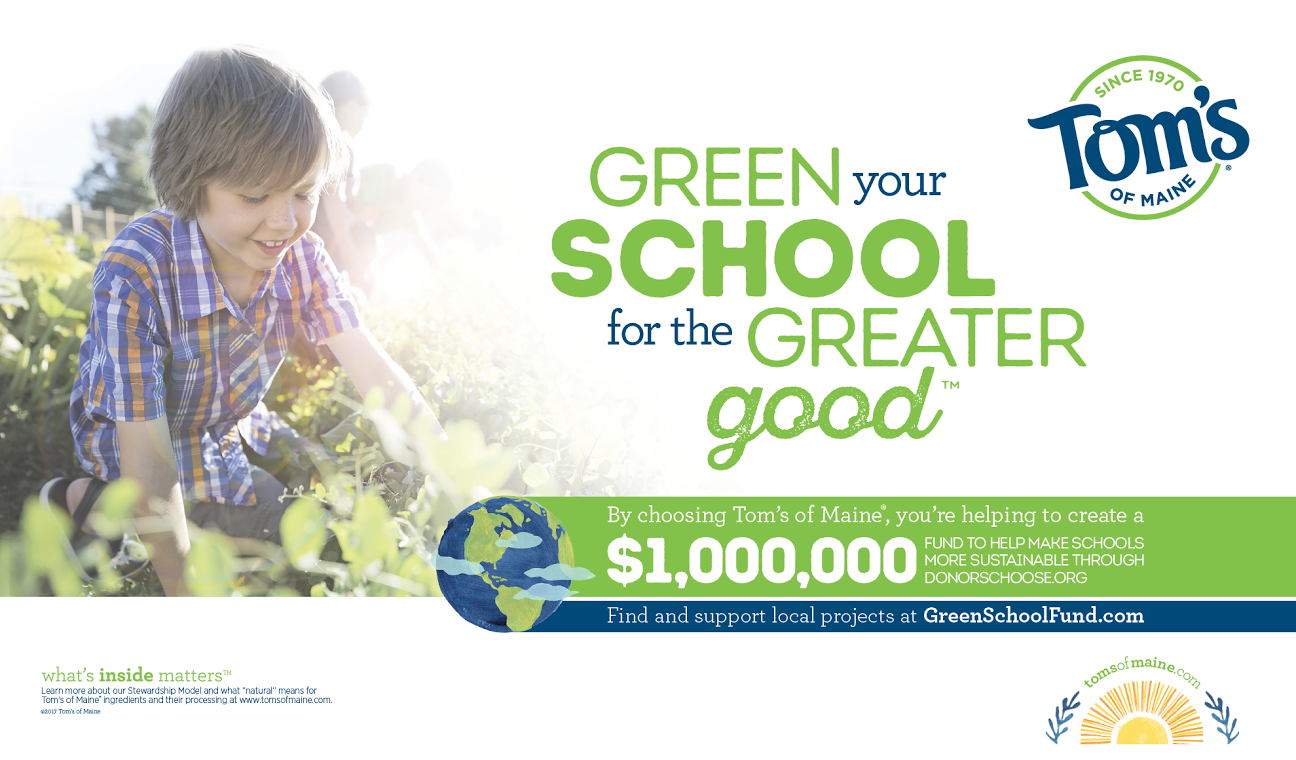 *I am a Tom's of Maine ambassador. All my opinions are my own and not swayed by outside sources.*
Tom's of Maine Green Your School Fund
So what is the Green Your School Fund, and why is it so important? The #GreenSchoolFund, a partnership between Tom's of Maine and DonorsChoose.org, gives $1 million to support environmental education in the classroom nationwide. This leads to students getting down and dirty and tackling hands-on projects, learning the positive impact they can have on the planet today and down the line tomorrow. Since its inception, the fund has reached over 300,000 children, helping them grow as people and as students.
The great thing about this fund is that it's not the only thing that Tom's does. All year, every year, Tom's of Maine gives 10% of its profits back to helping people and the planet, championing social and economic issues in order to make this one planet we have the best and the healthiest that it can be. So when we buy a Tom's of Maine product, we're helping create the $1 million fund and helping to make the world a better place.
How to Get Involved with the Green Your School Initiative
Educators can get in on the goodness by visiting the Green Your School website and submitting their creative environmental projects through DonorsChoose.org. Tom's of Maine will automatically match every citizen donation made to qualifying environmental projects, and once projects are fully funded, supplies are sent straight to the school, so the project idea can become a reality.
The rest of us can help raise awareness for this incredible initiative by sharing the #GreenSchoolFund hashtag at the GreenSchoolFund website on our social media channels.
Help Raise a Generation of Doers with Tom's of Maine and Green Your School
Remember that one teacher who inspired us to do more? Or that coach that brought out the absolute best in us? That's the idea behind the Green Your School initiative. With the changing environment and the impact we humans are having on the planet, it's important that we do what we can to help keep this one world as healthy as possible. Tom's of Maine makes that a reality AND encourages kids to become leaders and innovators with their #GreenSchoolFund. So let your local teachers know about the Green Your School initiative and share the hashtag across all your social channels. We can all make the planet and our children better than ever.