*I worked with the Ritz Carlton on a visit with my family in exchange for posting. All my opinions are my own and not swayed by outside sources.*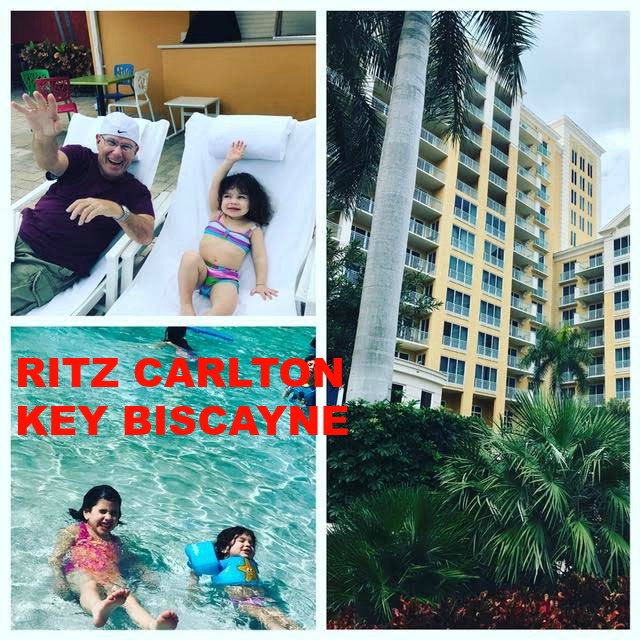 Over the years, I have been to quite a few Ritz Carlton for business and pleasure. Every single one I have been to has been a different yet equally amazing experience. However, I do not think I have been to such a fabulous family destination as the Ritz Carlton, Key Biscayne.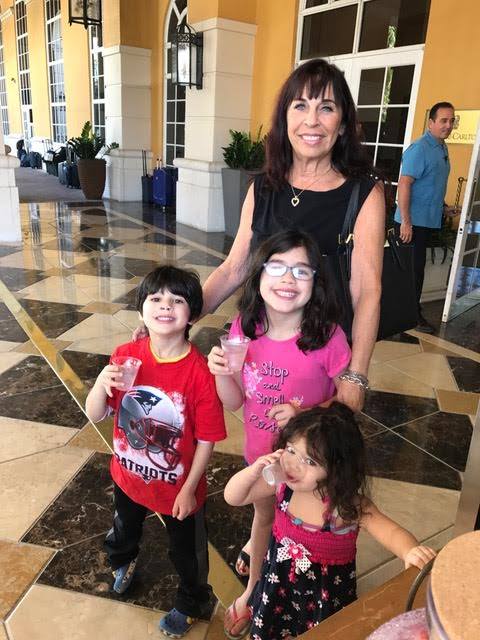 To start out, check in was seamless. Some of the nicest employees I have ever encountered were working at the Ritz during our visit. Upon check in, we were described all the highlights of the resort and given information about dining. Once we got our room key, we immediately wanted to go upstairs to check out the our adjoining rooms.
We had two adjoining rooms which is really nice for a big family. I will say that the rooms are extremely spacious so if are a family of 5, you will readily be able to fit a family in with room to spare to walk around and such. However, the adjoining rooms made it much nicer to have our privacy and to allow the kids to play while the adults got ready for dinner. My parents were also with us and it was nice to have them bunk in with the grandparents.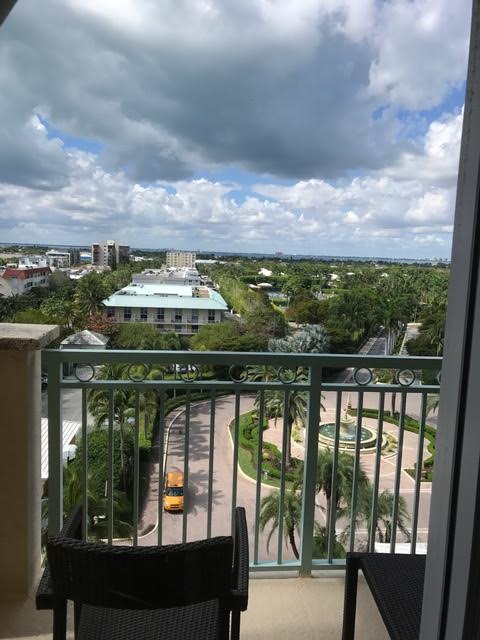 One of the rooms had a king bed and the other room had two doubles. Since we were traveling with a toddler, we requested a crib and they had one put into each room along with some Ritz Baby essentials such as lotions and Taylor's favorite, a rubber ducky that she took to the pool with her. The rooms both had beautiful views with glass sliding doors that brought in a lot of light.
The bathrooms were equally gorgeous and a nice layout. There was a separate bath and shower, so one kid can bath and the other shower simultaneously. I thought this was a very nice touch. Included with your stay is the top of line Asprey bath toiletries and plush bathrobes to use during your stay.
Each room also had an iPod docking station and a flat-screen LCD TV with a plethora of stations and movies available to purchase. One of the neatest features though, is you can connect your own Netflix account to the TV in the room. My kids were able to watch their favorite Netflix shows while they were taking a break from the pool. We ended up running into a friend who was staying for the week there and she remarked she loved this feature because it allowed her and her husband to watch a movie when the kids were tucked into the room. I believe you can also use YouTube and other TV connections as well.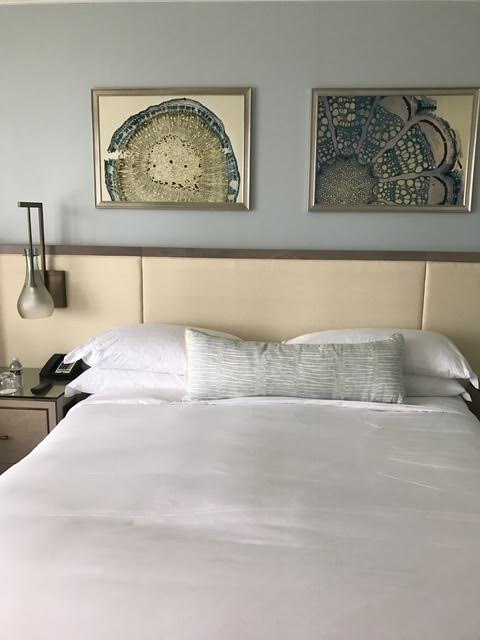 THE POOL AREA: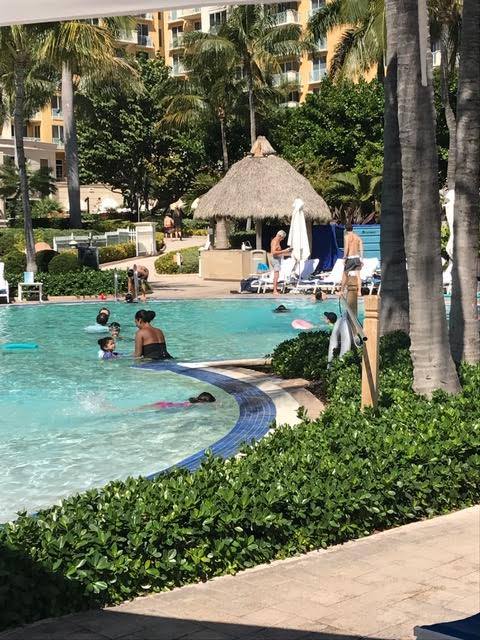 While I have enjoyed all of the Ritz I have been to, none have been as family friendly as the Ritz, Key Biscayne. The reason is they have a huge pool area and hot tub dedicated to the families. Do not worry if you are traveling sans kids, because they also have a private couples area with their own pool, if you want to be away from families.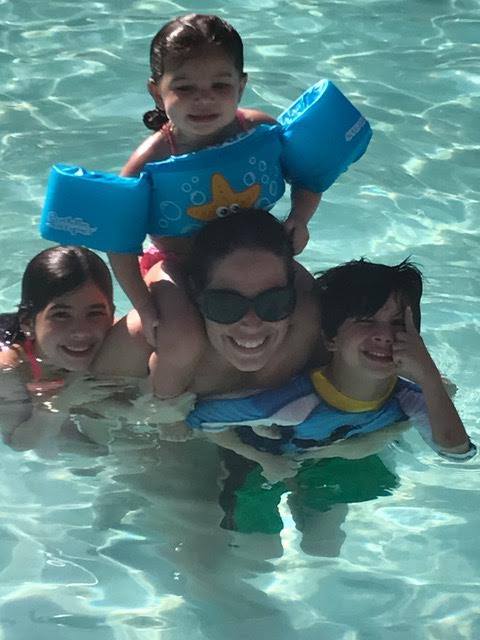 Since we were traveling with small children, we stayed by the family pool the entire time. Take a look how gorgeous the pool area is:
While we did not have a chance to stay by the beach (my kids are much more pool people) the beach area was equally as stunning and had a wide range of watersports that you can try out for an additional fee.
Both areas you visit, you will readily have access to restaurants and bars for your drinking and eating needs.  I enjoyed a great mojito from the many waiters that walk around getting your drink order. My kids also loved their virgin drinks.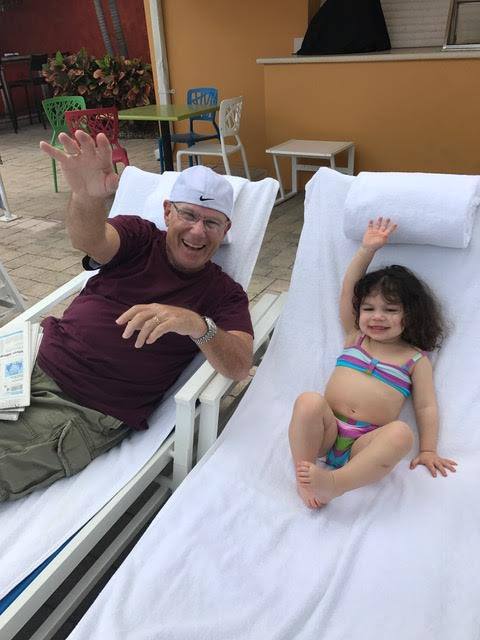 The kids swam for hours upon hours that day. I could not get them out of the pool. They also met friends their ages that they played with during the day. It was really a vacation for them but I could not help but think it was a fabulous vacation for us too! We enjoyed every second as much as they did!
THE FOOD: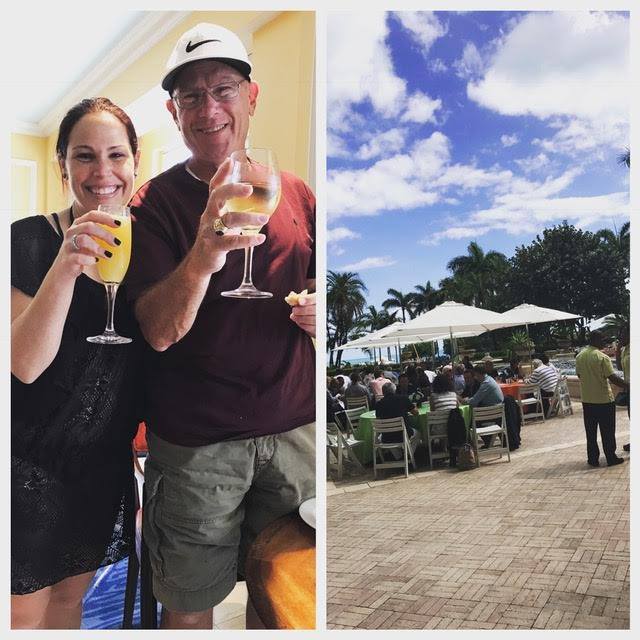 We had dinner upon our arrival at the Cantina Beach which is located right next to the family pool area. This casual, oceanfront restaurant features the best of regional Coastal Mexican cuisine and the largest tequila collection.
We started off the meal with freshly made guacamole made at our table. I have never tasted guacamole so delicious in my life. We then went on to have our main course and they are not joking when they say the fish tacos are the best of the best. If you visit here, make sure to order the fish tacos with a fresh margarita. You can thank me later:)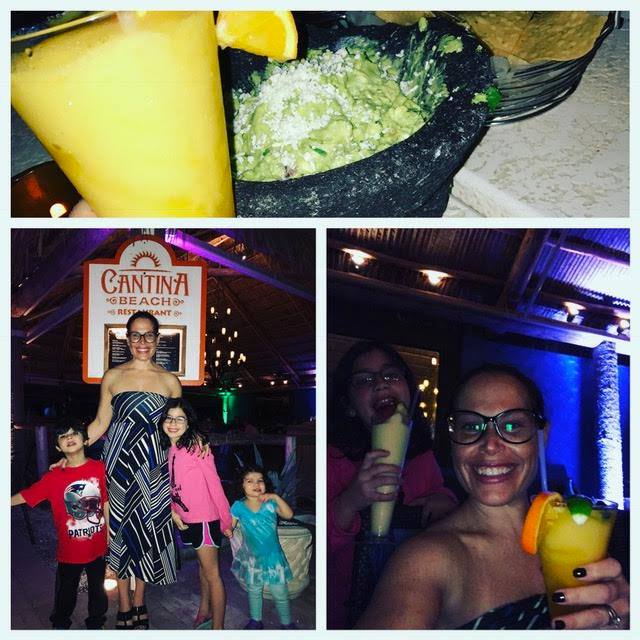 The service was also impeccable. We saw many patrons that night dining and the attention to fine detail was inspiring. My son has a severe peanut allergy and the waiters double checked for us all the food was okay for him to eat. They took care and this is very important to me.
I will also say that if you can afford to do the club level (9th floor) upgrade, I HIGHLY HIGHLY recommend it! At the club level, you can get unlimited food mostly any time of the day. Breakfast, lunch, dinner, and snacks are served every single day with a rotating schedule of various food specials. They also have unlimited drinks such as mimosas, wine, beer, and other speciality drinks. As a family of five, this is one upgrade I would definitely make on our future trips! DO NOT MISS OUT ON UPGRADING TO THE CLUB LEVEL!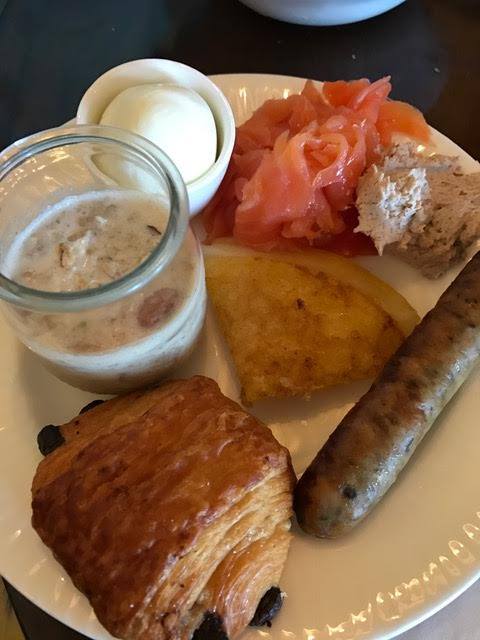 Other restaurants that we did not have a chance to visit include Rumbar with Cuban-inspired light far and a cigar collection, Dune Burgers On The Beach, Scoop which is an ice cream parlor, and the Key Pantry which fears an open-style marketplace.
RITZ KIDS:
We kept the kids with us the entire time but the Ritz has a fabulous program for the little ones age 5 and up.  The Ritz kids is an experience that builds upon travel and adventure. They feature four key pillars: water, land, environmental responsibility, and culture. This allows the children to have a fun filled day while mom and dad enjoy the day to themselves. Next time I go I want to check out this amazing program and let mama have some time to herself.
THE SPA:
The Ritz Key Biscayne has a world famous spa which allows you to escape to your tropical oasis. It features 21 treatment rooms and many carefully chosen services inspired by the history of the native Tequesta Indians. They highlight the spa weekly specials in the room and are readily available to take care of all your spa needs.
If you are looking for the most ideal family friendly vacation, look no further than the Ritz Carlton Key Biscayne. Located just 20 minutes from Miami International Airport and between the hustle and bustle of downtown Miami, you will find this most beautiful resort. This is one vacation you will never forget!