Teens and grandparents take on the Kingdom and still feel the Magic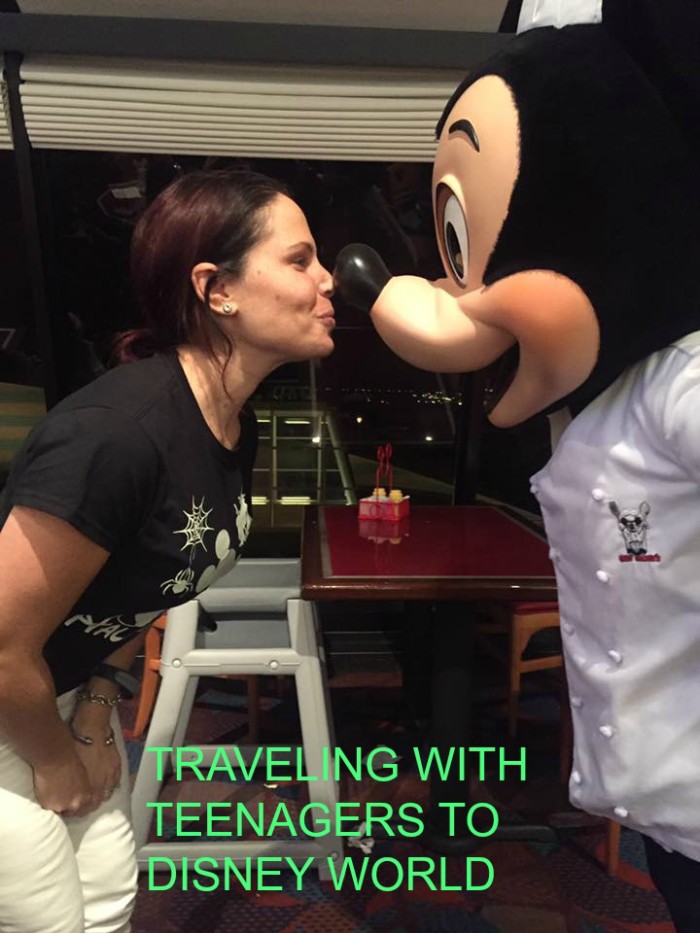 Over February break, I sent my 15-year-old twins to visit their grandparents in Florida. With work and sports, my husband and son couldn't make the trip. I thought the boys would need me more, so I decided to stay with them in Rhode Island. I chose poorly. While my girls are the hardest working teenagers I know and totally deserved the break, I did not appreciate the photos of sunshine…and palm trees…and people wearing tank tops in the Winter. But I digress.
My in-laws live in Cocoa, due East of Orlando and just minutes from the beach. If I had gone, I would have had my toes in the sand every day. My girls…not so much. All they could talk about was going to Walt Disney World. Actually it was all the grandparents could talk about, too! They bought new walking shoes and fired up the fanny packs. The teens made a list of all the rides they would do and of everyone who would need a souvenir. Of course, I forbid them to buy me anything. I grew up in Orlando after all. The Magic Kingdom opened the year I was born, and a few years later my family moved to Central Florida because my father's company was hired to install the telephone systems there. I have been to all of the Disney parks countless times and always enjoyed myself, but it has been years. So I wondered: in today's high-tech, high-expectation society where kids are constantly entertained with the virtual world, would they still enjoy Walt Disney World?
I worried there wouldn't be enough for teenagers to do. I worried that the grandparents would think it wasn't worth the money. I worried that their memories from many years ago were setting them up for disappointment. Well, HAKUNA MATATA my friends! There's never a reason to worry when it comes to Disney. It was all they had hoped and more.
The Teen's take:
"It just keeps getting better," Paige said. "Actually it's cooler now because you don't notice all the details when you are younger. Each time you go back, you appreciate it in a different way. The details are truly amazing."
The girls particularly loved the details in the Peter Pan waiting area, which was designed to look like Wendy's bedroom. "Everything was exactly where it was in the movie, from the furniture to the toys. You feel like you're actually there. They also added interactive activities like touch screen games and costumed characters to the waiting area which made the line go really fast. " The girls were also super impressed with the authenticity of the Tangled castle and enjoyed It's a Small World in a whole new way. "Now that we know more about the world, it's so cool to see the different countries, customs, and clothing and hear the languages. When you're younger you don't really appreciate it all."
As you might have guessed, they did love the "thill rides". Space Mountain is still king, but Thunder Mountain and the new Snow White mine cart ride offer plenty of heart-pumping action. And they both mentioned that the Haunted Mansion, Pirates of the Caribbean ride and Buzz Lightyear ride never get old. "They are a nice change of pace…still lots of action but everyone can do them," Natalie said. "The Little Mermaid ride was also really cool, and now I'm old enough to get the jokes on the Jungle Cruise." Ha…lucky you, Nat.
Paige added, "There's just something special about being there that makes you feel like a child again, in a good way," says the teen who is very much still a child to me. "You just remember happy times and always feel good. It's like there's something in the air!" Maybe there is Paige, maybe there is.
A Grandparent's perspective:
"I loved it and I'd go back tomorrow. Can we go back tomorrow?" joked my mother-in-law. "I can't do the roller coasters, but there are so many other things to enjoy. I love the people movers, the shows, and all the low-impact rides. Basically if a toddler can handle it, so can Granny!" She's right, there are lots of low-intensity rides that are safe for "children" of all ages.
The day was nostalgic for her, too. "I remember when you had to buy individual tickets for each ride at the Magic Kingdom. To save money, I always bought them for the kids and enjoyed the free stuff like the parades, all the fabulous shopping, and the fireworks. They still do all of that, and it's better than ever. You can enjoy so much just sitting and looking around. Disney does everything top notch. Even the landscaping is lovely enough to just look at for quite a while." She suggests going as early as possible and staying as late as you can. "Just take your time, go slow and enjoy a little people watching if you get tired. It's worth it just to be there for as long as you can. And it's a whole different experience at night!"
She is amazed that with so many thousands of people at the park each day, Disney still manages to "make flawless look effortless." "Everyone seems thrilled to be doing their jobs, there is never a single piece of trash on the ground, and you just feel safe and happy all the time. Wouldn't it be nice if the real world was that way!?"
As far as the cost issue, Granny said there isn't a better value anywhere. "Living near Orlando, we've taken tons of company to all the theme parks over the years, and nothing compares to Disney. Everything is perfect every time. Frankly, if you take a teenage girl to a movie, lunch and shopping, you'll probably spend more!" (Don't I know it!)
I'd like to restate something I mentioned early on: I chose poorly. Next time, I'll be at the gates the moment they open. I also wish I hadn't forbidden the souvenir thing. I had forgotten how much all things Disney just make me happy. It's hard to put a price on that.
*Article written by Chris Noland, freelance writer and my friend.*