Cinnamon Puffins, only one of the delicious all-natural offerings from Barbara's, is the perfect breakfast treat for the holidays. And because of its classic cinnamon flavor, it also makes a great base for delicious holiday recipes. With Barbara's Cinnamon Puffins, you can have a delicious cinnamon treat for breakfast or bake it up into any number of delicious holiday desserts for the season.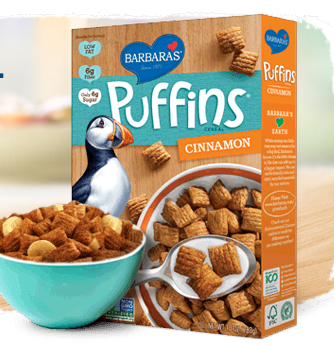 Cinnamon Puffins are a Holiday Feast in the Making
*This is a sponsored post. All my opinions are my own and not swayed by outside sources.*
Whether you're having breakfast or making a sweet treat for the holiday table, Cinnamon Puffins from Barbara's is the perfect choice. This cereal is just one of the varied all-natural, organic, non GMO offerings from this wonderful company. I buy Barbara's products all the time because the company is committed to both the health of its customers and the health of the planet. Of course, we all know that their foods are all-natural and free of man-made junk, but many people don't know that all of Barbara's packaging is 100% recyclable AND made FROM recycled materials, so their food is just as good for the environment as it is for us.
Founded in 1971 by 17 year old, Barbara, the company has always put good food and good health first in equal parts. And even though the company has grown from a family shop into a huge company, Barbara's is still committed to those same ideas, and I love that. When I buy Barbara's, I know that I'm helping keep my family and the environment healthy while still delivering great taste to all of us.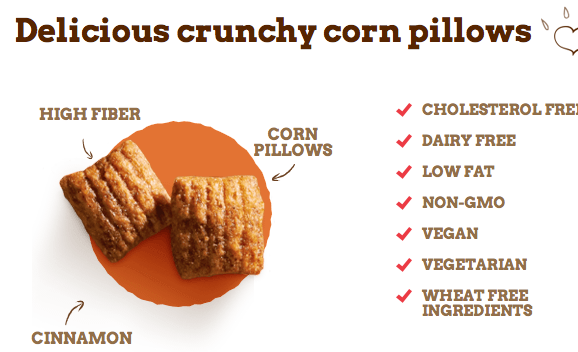 Cinnamon Puffins
One of my family's favorite Barbara's products is Cinnamon Puffins. They're a year-round staple in our house, but around the holidays, I like to mix it up a little. Because the holidays are all about good food, good will, and family, I like to make little treats with Cinnamon Puffins. The lightly sweetened, whole grain cereal makes a healthy base for all kinds of treats. One of my favorite ways to use Puffins in a treat is to make a variation on Rice Krispies treats using Cinnamon Puffins instead of the puffed rice cereal.
It couldn't be easier to make them. All you have to do is find any Rice Krispies treat recipe on the web and substitute that cereal with the healthy Cinnamon Puffins that my family loves so much. You can use them whole or lightly crush them and then continue on with the recipe just as it is. What you end up with is a crunchy, sweet, cinnamony holiday treat that the entire family will love.
Bring Home Healthy Deliciousness with Cinnamon Puffins
Barbara's Cinnamon Puffins are a delicious treat for breakfast or a holiday dessert. All it takes is a little creativity to make this delicious, healthy, cinnamon treat something far more than cereal. Head over to the Barbara's website and check out all the great flavors and products they have to offer. It's good stuff!
Giveaway: One winner will receive a Puffins prize pack. This giveaway is run via rafflecopter so click read more to see the actual giveaway. The only mandatory entry is to visit Barbara's and tell me what your favorite product is. While the other entries are optional, I highly suggest filling them out to increase your chances of winning. US only. Good luck!
a Rafflecopter giveaway