UV sterilization is the best way to keep the objects that our babies use safe. Over the past few years, this form of sterilization has gained major popularity, and it's easy to see why. With UV sterilization, you don't have to boil water, drain, and dry. All you have to do is put the objects inside the sterilizer, and let it do its work. And because this type of sterilization is free of water, you can sterilize almost anything that will fit inside the sterilization pod.

*This is a sponsored post. All my opinions are my own and not swayed by outside sources.*
UV Sterilization with Ellie
Ellie is the future of UV sterilization. With this on-the-go UV sterilizing pod, parents can protect their newborns, infants, and toddlers from germs no matter where they are. It's an especially useful idea for taking trips. You'll definitely want to sterilize anything the baby might be able to grab while you're in the hotel room. Using the world's first digital UV technology based system, Ellie completely sterilizes bottles, pacifiers, and purifies water in only 60 seconds. You can even sterilize remotes for electronics.
The key to Ellie is the digital UV sterilization technology. It kills 99.9% of viruses, molds, and bacteria Not even the heavy hitters like H1N1 and SARS are immune to Ellie's ultraviolet light. Ellie protects your little ones from the really, really bad stuff. It's also medical grade, which means it's built to be durable and effective for years to come. Ellie is vastly more convenient than boiling water – assuming you have a way to boil water if you're traveling.
Digital UV Sterilization to be #Elliesafe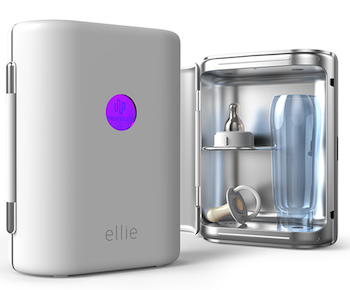 Ellie is the only digital UV sterilization pod you'll ever need. Because it's portable, Ellie helps protect your babies from everything from the common cold to SARS whether you're at home or on the go. I love that because my youngest is still at an age where she puts everything in her mouth. We love to take trips, so that combo can open her up to all kinds of germs. Using Ellie and its digital UV sterilization technology, I can keep her safe no matter where we are, and that's important to me.
To learn more about this groundbreaking UV sterilization pod and support Ellie, please visit the Ellie Indiegogo page. While you're there, you can sign up for the early bird 40% discount AND receive free shipping on your Ellie! UV sterilization is the best method, and now it's easy to do no matter where you are. Check out Ellie for yourself.