**I received an all expense paid trip thanks to Disney. All my opinions are my own and not swayed by outside sources.*
Last week was so EXCITING because I got a chance to carve a Dory pumpkin with the help of master pumpkin carver, Joseph Yakovetic.

ABOUT JOSEPH YAKOVETIC:
"An award winning set and costume designer, Yakovetic's creative expertise
includes sculpting in a variety of mediums, book design and illustration, concept art and prop design for television, theatre and theme parks.
Disney art lovers worldwide have dubbed Yakovetic the "Painter of Shadows." His realistic interpretations capture evocative moments from Disney's most beloved films. Fans eagerly search for shadows and images hidden in his highly sought after paintings."
HOW DID I DO:
I was in awe with meeting the actual guy who carves all the Disney pumpkins. When we sat down, I was a bit nervous because I had never carved a pumpkin before. I am not the most artistic person so I was afraid that my pumpkin would come out awful. In actuality I think I did a good job! I am definitely not getting a job pumpkin carving anytime soon but I did well.
Joseph Yakovetic began our course and did a step by step demonstration on how we were going to carve our Dory pumpkin. We used a pre made stencil and traced Dory onto our pumpkin using graphite. After this, we got to paint our Dory Pumpkin and begin to carve it out. It was a HUGE pumpkin so it would have never made the trip back to Rhode Island. Disney was nice enough to ship us our pumpkin that same day. My pumpkin arrived the next day in Rhode Island and this week we will finish carving it. Once fully completed, we will set it out on Halloween night.
SOME BASIC TIPS FOR PERFECTING YOUR PUMPKIN: 
1. Get a nice, big pumpkin that will be good for carving. Make sure that pumpkin is clean by wiping it off with anti-bacterial wipes.
2. Use a stencil and graphite to get your design on your pumpkin.
3. If you make a mistake, use rubbing alcohol before you carve your pumpkin.
4. Paint your pumpkin and make sure it is fully dry before finishing the carving. Make sure never to carve the stem of the pumpkin, as this causes the pumping to die.
5. Have fun once you fully clean out insides! Light a candle in it if you wish and display!
It was truly a memorable event because I really did not think I could complete it. But I did! I succeeded with Joseph Yakovetic's help! My kids actually thought is looked like Dory too with the exception of Taylor who exclaimed: " Look..It is NEMO"! Girlfriend is 2 so she gets a free pass and besides she has the right movie characters.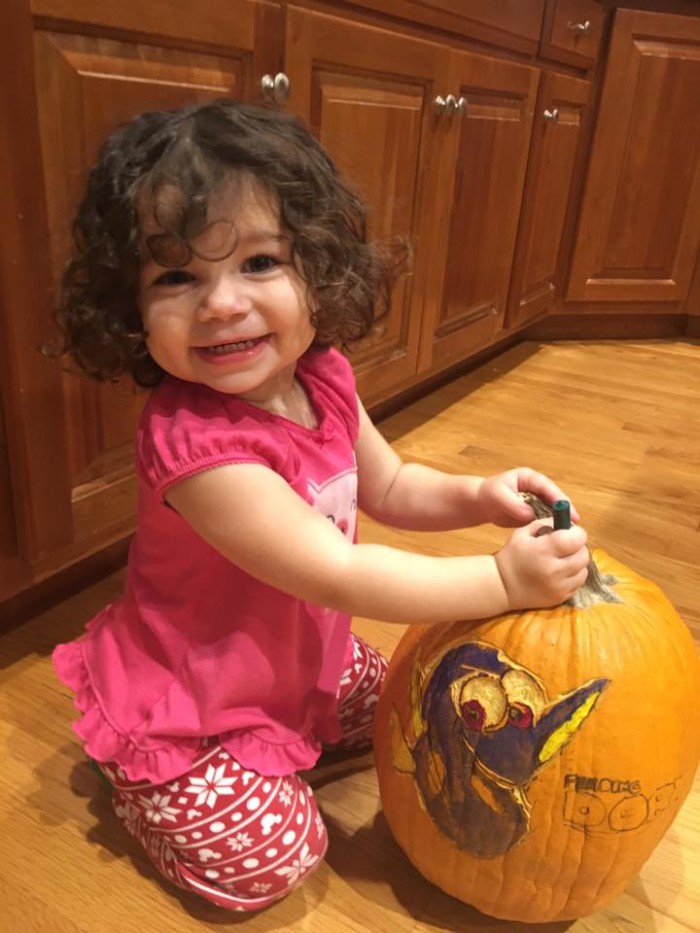 And lastly let's have some fun with these Finding Dory Halloween activities:

Don't forget that Finding Dory will be available on Digital HD on 10/25 and Blu-ray on 11/15!