*Sponsored with Wellements. All my opinions are my own and not swayed by outside sources.*
Tummy trouble is a big deal with babies. In fact, it's one of the most uncomfortable things for them. Whether it's colic, gas, or teething – whatever the cause – tummy trouble can make our little ones miserable. And it's no more enjoyable for us, either! It's so sad to watch your little bundle of joy sobbing pitifully. I've gone through my share of fussy, tummy related troubles with my kids, and it is always super sad.
*This is a sponsored post with Wellements. All my opinions are my own and not swayed by outside sources.*
Combat Tummy Trouble
I have three kids, and over the years, I have learned some things to help me keep tummy issues at bay as much as humanly possible. With these suggestions, you can drastically reduce the amount of tummy issues your baby has. You can't eliminate them, but you CAN reduce them. That's really the name of the game.
A Good Bottle
A good bottle is a must for keeping tummy trouble to a minimum. Old school, straight cylinder bottles are out. They are TERRIBLE. With that design, your baby is practically guaranteed to get a belly full of gas. Opt for an angled bottle designed to let air float to the top of the bottle instead of getting sucked down into your baby's stomach.
A Good Burping
Burping is key to fighting tummy trouble. Even with the best bottle, your baby will still swallow some air while he or she is eating. Make sure you get as much air out of your baby as possible with a good burping. My rule of thumb has always been to burp my baby until they haven't burped for a solid 1o minutes. 1o minutes waiting for burp may seem like a long time, but sometimes there's a rogue bubble down there that needs a little extra time to work itself out.
A Good Remedy
Sometimes, a good bottle and a good burping aren't enough. There are times when you just cannot keep tummy trouble at bay. This is especially true with colic and hiccups. Those are things you just have to do your best to treat for your baby. I love Wellements Organic Probiotic Gripe Water for these times.
I've always used Wellements Gripe Water for my kids, but now they've got an even better version of the product, Organic Probiotic Gripe Water. Using the power of probiotics, this new gripe water from Wellements helps easy tummy trouble as well as guard our kids against it by introducing beneficial bacteria into our little ones' guts.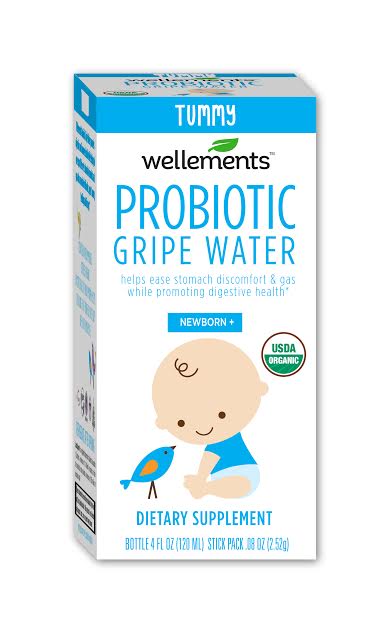 Wellements Organic Probiotic Gripewater:
Promotes digestive and immune health
Relieves occasional tummy trouble due to colic, gas, fussiness, and hiccups
Contains 75 million CFU of Bacillus Coagulans  per serving
Is USDA certified organic
Is safe for everyday use
Can be used in all ages of babies, even newborns
Contains no alcohol, parabens, gluten, dairy, soy, artificial colors, artificial flavors, artificial ingredients, or chemical preservatives
Fight Tummy Trouble. When That Doesn't Work, Treat It
We moms all do what we can to keep tummy trouble at bay. When we aren't able to, we have a great weapon to fight that painful discomfort in our babies' tummies – Wellements Organic Probiotic Gripe Water. With this new gripe water from Wellements, we can combat the symptoms of tummy trouble and help keep it from coming back. Visit the Wellements website to learn more about their new Organic Probiotic Gripe Water today. You can find this great product right now on Amazon, so check it out!
Giveaway: One winner will receive a Wellements prize pack. This giveaway is run via rafflecopter so click read more to see the actual giveaway. The only mandatory entry is to visit Wellements and tell me what you like best. While the other entries are optional, I highly recommend filling it out to increase your chances of winning. US only. Good luck!
a Rafflecopter giveaway