OTC meds are a big part of my family's routine, especially this time of year. Fall is our family's favorite time of year. The leaves are changing. The weather is cooling. The breezes are kicking up. Most importantly – to me anyway – pumpkin spice everything is everywhere! It's fantastic! What aren't fantastic are the colds and allergies that come with the season. My son already has terrible allergies, but when fall hits, they ramp up by 1,000%. My poor little guy can get pretty miserable, and I use OTC meds to help his symptoms. The one thing I'm always aware of, however, is if he has a cold or allergies and if I'm giving him the right meds.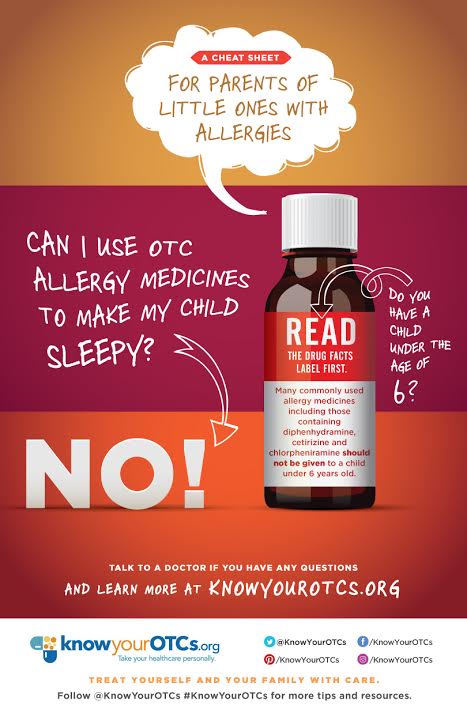 *I am an ambassador for Know Your OTCS. All opinions are my own and not swayed by outside sources.*
Allergies and Kids
This is something that's near and dear to my heart, unfortunately. My little guy has terrible allergies. He has both food AND environmental allergies, and that can make him pretty darn miserable at times. It's tough to watch, and it's even tougher to manage. There's a fine line I walk between protecting him and letting him experience the world. And he and I aren't alone in this battle. Did you know that allergies are the third most common chronic disease among children 18 and under? According to HealthyChildren.org, around 60% of children with parents who have seasonal allergies will also have season allergies.

Is it a Cold or Allergies
Seasonal allergies don't generally pop up in kids until after age 3, and even then, it can be difficult to decide if your child has a cold or if his allergies are ramping up. According to the CDC, the average adult has 2 to 3 colds per year, but kids have far more than that. You can watch a helpful video on telling the difference between colds and allergies here. In the meantime, let's take a look at some ways you can tell if your child has a cold or is suffering form allergies – from one mom of an allergy sufferer.
With allergies, symptoms begin almost immediately after your child is exposed to the allergen.
Colds come with fevers. Allergies don't cause fevers.
Allergy symptoms last indefinitely. There is no cutoff time like there is with a cold.
In contrast to the above, cold symptoms resolve anywhere from 7 to 10 days.
Treating Allergies Safely with OTC Meds
If you determine that your little one is suffering from allergies, OTC meds can be a big help. However, it's important to do so safely. The main thing to remember is to read the Drug Facts label on every medication you plan to give your child. It's also important to note that many allergy relief OTC meds contain diphenhydramine, which is not safe to give to children under 6 years of age. It's also important to note that you should never give your children meds for the purpose of making them sleepy. No one, especially kids, should be taking medications they don't need.
Know Your OTC Meds
OTC meds can be a big help for both colds and seasonal allergies, but it is terribly important to be safe about it. The best way to do that is to read the Drug Facts label on all OTC meds. For more information on allergies and allergy medication ingredients, visit the KnowYourOTCs website. It's the best thing you can do if you plan to give your children any OTC meds.