Yesterday, Disney's The Lion Guard Unleash The Power released on DVD! We are so excited to receive the DVD this week because it looks amazing! My kids LOVE The Lion King so this, I am sure, will be a fan favorite in my household!
Disney's epic adventure The Lion King continues with Simba and Nala's second-born cub, Kion, and his Lion Guard team as they continue on adventures together throughout the Pride Lands! Follow our group of unlikely heroes: Bunga the honey badger, Fuli the cheetah, Beshte the hippo and Ono the egret. Join this heroic band as they use their unique abilities to protect the Pride Lands and maintain the Circle of Life. As King Mufasa said," Everything you see exists together in a delicate balance. As king, you need to understand that balance and respect all the creatures, from the crawling ant to the leaping antelope."

This new movie is packed with laughs, music, beloved characters and heart, The Lion Guard: Unleash the Power is a must-own for the entire family! Bring home this heroic adventure on Disney DVD now!
Synopsis: Join Kion and his friends as they unite to protect the Pride Lands and maintain the Circle of Life. Packed with action, music and over two hours of fun, The Lion Guard: Unleash the Power! proves that when heroes join forces, they are truly a force to be reckoned with.
"The Lion Guard" continues the epic storytelling of Disney's "The Lion King" and follows the adventures of Kion, the second-born cub of Simba and Nala, and his diverse group of friends – Bunga, a fearless honey badger; Fuli, a confident cheetah; Beshte, a friendly and good-spirited hippo; and Ono, an intellectual egret. Together, Kion and his friends make up the Pride Lands' fiercest, bravest, fastest, strongest and keenest of sight.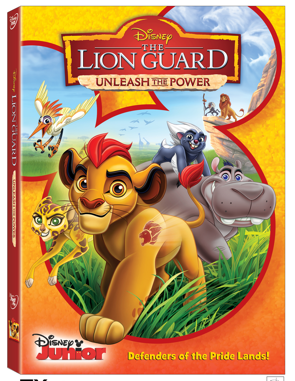 Voice Cast: Rob Lowe ("The Grinder") as Simba; Gabrielle Union ("Being Mary Jane") as Nala; Max Charles ("The Amazing Spider-Man 2") as Kion; Joshua Rush ("The Adventures of Puss in Boots") as Bunga; Dusan Brown ("Blaze and the Monster Machines") as Beshte; Diamond White ("Sofia the First") as Fuli; and Atticus Shaffer ("The Middle") as Ono. Ernie Sabella ("The Lion King") reprises his role as Pumbaa.

Additional cast members include: Eden Riegel ("All My Children") as Kiara; Sarah Hyland ("Modern Family") as Tiifu; Madison Pettis ("Jake and the Never Land Pirates") as Zuri; Gary Anthony Williams ("Doc McStuffins") as Mufasa; Khary Payton ("Teen Titans") as Rafiki; Jeff Bennett ("Jake and the Never Land Pirates") as Zazu; Andrew Kishino ("Star Wars: The Clone Wars") as Janja; Vargus Mason ("Sofia the First") as Cheezi; Jonny Rees ("Star Wars Rebels") as Mzingo; and Kevin Schon ("The Lion King 1 1/2") as Chungu and Timon.
Executive Producer: Ford Riley ("Special Agent Oso")
Director: Howy Parkins ("Jake and the Never Land Pirates")
Episodes: Fuli's New Family
Bunga the Wise
Eye of the Beholder
Follow That Hippo!
The Search for Utamu
Never Judge a Hyena by Its Spots


*Sample will be received.*