Happy weekend everyone! Can you believe it is one month until summer is over:( Let's enjoy it!
As always, come link up any cute or funny post. Definitely check out the other posts who link up as they all provide a great laugh. Feel free to take my button or share on social, although this is not necessary.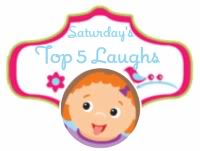 MY TOP FIVE LAUGHS:
5. Hayley left for sleep away camp this week. Every night Tay usually goes into her siblings rooms to say goodnight. When she gets to Hayley's room she gets so confused!
4. We dropped Hayley off at sleep away and asked if she was nervous. She responded, "No mom… I got this"! Little miss independent!
3.  Zane is counting down the days till school begins. I told him we have a bit longer and he asked if he could go tomorrow. Kid is so excited!
2. I ask Taylor her name and she responds Emma. It is the funniest thing ever!
1. Taylor's curly hair! Got to love it!


YOUR LAUGHS: