The Leapstart Learning System is set up to perfectly address each and every child's learning needs from toddler to first grader. The system is broken down into age ranges, with each ranged focusing on the aspects of learning that will allow your child to build from down the line. My kids have been using the Leapstart Learning System, and all of us love it. It's fun for them, and I love it because I know I'm building a strong learning foundation for them.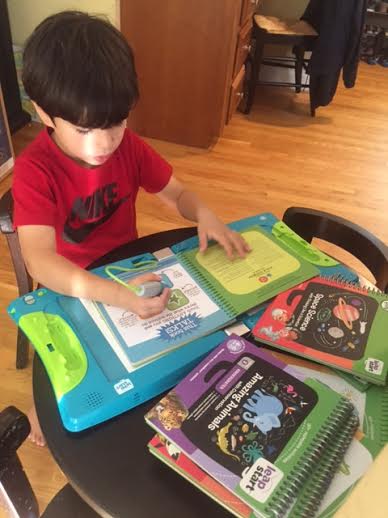 *I am Leapfrog Ambassador. All my opinions are my own and not swayed by outside sources.*
Leapstart Learning is Effective Learning
I am in love with this learning system. Let me stay that right out of the gate. We all know there are so many different learning games, apps, and toys out there, it's almost mind boggling. So why do I love this system from Leapfrog so much? Simple. Because it's got everything that we've all always loved about Leapfrog and that has kept it the leader in children's education for over a decade.
This system is a fully immersive experience for the kids that combines little activity books with technology to create a hybrid of old and new school learning. It includes reading (for older kids), the tactile feel of a stylus, the ability to turn pages, bright colors, sounds, and more. One of my favorite parts is that using the stylus helps the kids with their fine motor skills along with letters, numbers, and the like. Let's take a look at the great things that come with the Leapstart Learning System.
Leapstart Level 1: Preschool
Scout & Friends Math with Problem Solving Activity Book – The kids can join Scout, their puppy pal, and his friends as they play and explore counting, number recognition, and problem solving.
Daily Routines with Health & Wellness Activity Book – The Learning Friends share their day with the kids, exploring the important daily routines that keep us all happy, healthy, and safe.
Shapes & Colors with Creativity Activity Book – Children explore a world filled with dinosaur friends as they learn shapes and colors.
Alphabet Adventures with Music Activity Book – Leap, Tad, and Lily take the kids on an adventure, meeting all the letters of the alphabet at the Letter Factory, exploring letter sounds, and playing and singing.
Leapstart Level 2: Pre-Kindergarten
Read & Write with Communication Skill Activity Book – The kids explore Doodleburg while meeting friends who help them learn early reading and writing along with communication skills.
STEM with Teamwork Activity Book – Kids help the Letter Factory friends on a mission to make things work using STEM (Science, Technology, Engineering, and Math)
Pet Pal Puppies Math with Social Emotional Skills Activity Book – The Pet Pal Puppies play, race, and explore while helping kids understand math concepts.
First Day of School with Critical Thinking Activity Book – The book guides kids from the start to the finish of their first day at school.
Leapstart Level 3: Kindergarten
Kids' World Atlas with Global Awareness Activity Book – Children go on a global journey learning about landmarks, cultures, animals, and more through the eyes of other kids.
Amazing Animals with Conservation Activity Book – Children discover the special ways animals move and communicate and learn to help protect animal environments.
Cook it Up! Math with Logic & Reasoning Activity Book – Carrot, Tomato, and Broccoli take your kids on a cooking adventure, exploring math, logic, and reasoning.
Reading Adventures with Health & Safety Activity Book – Children explore reading and health and safety skills with Lily, Tad, and friends on a camping trip in the wilderness.
Leapstart Level 4: 1st Grade
Spy Math with Critical Thinking Activity Book – Kids use their detective skills to help Opal Possum track down Sneaks Weasel while exploring math and critical thinking.
STEM with Problem Solving Activity Book – Kids experiment with early STEM and problem solving skills to help Professor Hamlin Hamster build a robot.
Space Science with Thinking Like a Scientist Activity Book – Kids learn space science skills and how to think like a scientist while they explore the wonders of outer space.
Superhero Vocabulary with Communication Skills Activity Book – Kids embark on a word-collecting adventure with some amazing superheroes to help save the day in Storyland.
Leapstart for a Headstart
My kids are using the Leapstart Learning System, and both they and I love it. With everything form early number skills to STEM introduction, the Leapstart Learning System gets the kids started out on the right foot, and it builds from simple to more complex ideas as they grow older. I love the concept, and I love the implementation. Checkout the Leapstart Learning System today and see how it can help your kids learn.
Giveaway: One winner will receive the Leapstart Learning System. This giveaway is run via rafflecopter so click read more to see the actual giveaway. The only mandatory entry is to visit the Leapstart Learning System and tell me your favorite feature. While the other entries are optional, I highly suggest filling them out to increase your chances of winning. US only. Good luck!
a Rafflecopter giveaway