Taylor is a HUGE Peppa Pig fan! Oink..Oink..Oink.. She loves to call Peppa her Peppa. When Hayley tells her Peppa Pig is on, she likes to respond, "No Hayley.. That is my Peppa!" Too cute!
Now Peppa Pig Sunny Vacation is available now on DVD!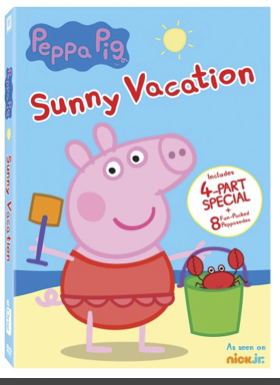 Get ready for adventure with "Peppa Pig Sunny Vacation" from Twentieth Century Fox Home Entertainment and Entertainment One. It's time for a special Family Holiday! Celebrate the summer as we come along with Peppa, George, Mummy Pig and Daddy Pig on a Sunny Vacation abroad. Peppa is enjoying all of the sights and sounds of Italy, but she also can't wait to go home and see her friends! "Peppa Pig's Sunny Vacation" on DVD is packed with excitement as Peppa and her family set off on their trip across Italy. Kids and parents alike will love the four-part sunny special with 8 additional super fun-filled Peppasodes!
This DVD is purely adorable! If you have a Peppa Pig fan, this is the DVD to buy! It is so fun seeing Peppa and family on all their summer vacations. My kids found this DVD extremely entertaining and have watched it over and over. Two thumbs up from this clan.
*Sample provided. All my opinions are my own and not swayed by outside sources.*