Summer safety is key to summer fun. Summer is here, and that means lots of outside play. I love to encourage outside play with all of my kids. I think it's even more important than ever to get them out and moving in this electronic-everything age. I know that they'll be tempted to sit in one place for hours once they get their hands on any sort of device, so I need to teach them to love the outside while they're young.

Part of loving the outside during summer is summer safety. While I want the kids to be free to stretch their imaginations and their little bodies, I also want them to stay safe. Part of that is preventing sunburns, keeping bugs at bay, and treating the inevitable minor cuts and scrapes that come with childhood play.
*I am a KnowYourOTC blog ambassador. Compensation provided. All my opinions are my own and not swayed by outside sources.*
Summer Safety Covering the Big 3
Summer safety always starts with the big three – sunburns, bug bites, and cuts and scrapes. These three are the ones that cause the most grief to kids while they're out and about. In fact, if the kids know their boundaries and stick to them, these three are the major pitfalls of outdoor play 99% of the time. Let's go over how to combat all three.
Check out this video from Dr. Wendy Sue Swanson of Seattle Mom Doc to get information on all three of these issues. And now, on to the info. =)
Sunburn Prevention
Sunburns are serious business. In fact, just one or two sunburns during childhood can more than double your child's chance of developing skin cancer later in life.  It's incredibly important to protect the kids' skin from both UVA and UVB rays – which you learned about if you watched the video above. 😉 You need  a broad spectrum sunblock with the highest rating possible. In addition to that it's important to reapply it frequently, especially after the kids have been swimming.
Bug Bites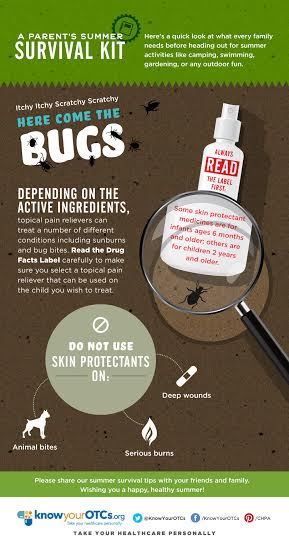 There are two aspects to bug bites and summer fun. The first is preventing bites. Look for an EPA registered insect repellent. These repellents have been shown to be effective and safe when applied properly, and that's a combo you want. Be sure to keep it away from the kids' mouths, noses, and eyes. You don't want to irritate those sensitive areas.
The second part of bugs and summer fun is treating bug bites. When and if a mosquito or other biting bug does break through you insect repellent defense, you'll want to use a topical anti-itch creme containing something like hydrocortisone on mosquito bites. For stings and other bites, you'll want to use a creme with a topical anelgesic. For more information on over-the-counter topical products visit the topical pain reliever page at KnowYourOTCs.
Minor Cuts and Scrapes
Minor cuts and scrapes are a part of summer fun. Knowing what to do about them when they occur is part of summer safety. Minor – and I emphasize the world minor – cuts and scrapes can be easily treated at home to ensure that no infection occurs. You'll want to clean the wound and apply an antibiotic ointment along with a bandage to keep it in place for 1 – 3 days, depending on the severity of the wound. Visit the skin protectants page of KnowYourOTCs to learn more about topical ointments and how and when to use them.
Summer Safety for Peace of Mind
Summer safety is a huge part of getting outdoors during the warmer months. I'm not exactly a worry wort, but I am a huge proponent of making sure that I'm prepared for every eventuality. That's why I love this video from Dr. Wendy Sue Swanson of Seattle Mama Doc. It has information on the three biggies of summer safety – sunburns, bug bites, and minor cuts and scrapes. It's an invaluable resource for summer safety.

What about you? How do you ensure that summer safety is part of summer fun?