Happy weekend everyone! I hope you all have a beautiful summer weekend.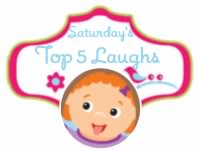 As always, come link up any cute or funny post. Feel free to share on social media if you like. Also check out the other blogs who link up as they all provide a great laugh.
MY TOP FIVE LAUGHS:
5. Taylor turned 2 last week! She loves to tell you, even when you don't ask, I am 2! That girl!
4. I persuaded Zane to finally not wear a pull up at night. So now I wake him to pee around midnight, when I go to sleep. Every time I wake him he nudges me and tells me to go back home LOL!
3. Hayley is having a blast at candy class. The kids makes and eats candy all day! What could be better!
2. Taylor loves singing her ABCs. But she does it over and over again. I need to get video!
1. My beautiful 2 year old:
YOUR LAUGHS: