This is a partnered post with American Heritage Chocolate. I sent my contributor Jen to Philadelphia for an awesome chocolate press trip. Compensation and travel provided.  All her opinions are her own and not swayed by outside sources.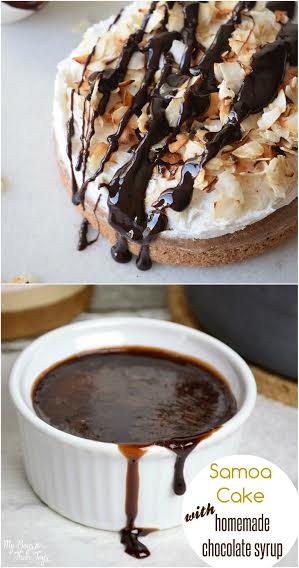 I'm thrilled to announce that I'm headed to Philadelphia for a historic trip including a visit to the Betsy Ross house, and to take part in a chocolate making program. I'm certain I'll be taste testing plenty of chocolate too – my favorite! Be sure to follow along with the #chocolatehistory for all the fun! With that in mind, I was inspired to brush up on my baking skills. Check out this amazing Samoa Cake with homemade chocolate syrup, featuring American Heritage Chocolate.
Samoa Cake with Homemade Chocolate Syrup
First let's begin with the Samoa Cake! Ingredients for the cake:
2 Eggs

½ Cup sugar

1 ½ Cups flour

½ Cup butter

½ Cup water

½ Cup cocoa powder

1 Tsp baking powder

1 Tsp vanilla extract
For the frosting:
½ Cup butter

2 Cups powdered sugar

2 Tsp vanilla extract
Directions:
Preheat the oven to 350 degrees.
Place all the ingredients in a bowl and mix well until there are no lumps in the batter.
Pour the batter into a greased cake pan.
Take to the oven and bake for 30 minutes or until done.
For the frosting: add the butter to a bowl and mix for 3 minutes or until fluffy. Incorporate the powdered sugar and the vanilla extract and continue mixing until light and airy.
Remove from the oven and let it cool down for 10 minutes.
Then remove the cake from the cake pan and let it cool for 20 minutes.
Decorate with frosting.
Now it's time for the chocolate! Ingredients for Chocolate Syrup:
1 cup sugar
1/2 cup natural cocoa powder (I used American Heritage Chocolate Drink Cacao)
Dash of table salt
3/4 cup water
Directions:
Whisk the sugar, cocoa, and salt together in a small heavy-bottomed saucepan. Graudally whisk 3/4 cup of water to dissolve the cocoa mixture. Bring to a boil over medium heat, whisking often. Reduce the heat to medium-low and cook at a brisk simmer until syrup is reduced to about 1 1/4 cups.
Transfer the syrup to a container and let cool completely. (The syrup can be covered and refrigerated for up to 3 weeks.)
Finally, top the Samoa Cake with coconut chips and swirls of chocolate syrup. Serve and enjoy!
Doesn't that sound (and look) amazing? It really is! I can't wait to share details about the American Heritage Chocolate trip this weekend. In the meantime, head to their website for all the chocolate goodness – including more delicious recipes and fun facts about chocolate. Also, I'm excited to announce that one lucky reader will win a bundle of American Chocolate products to make their very own homemade chocolate syrup (or other chocolate recipes)!