*I received an all expense paid trip thanks to Disney. All my opinions are my own and not swayed by outside sources.* Photo credit: Disney and Coralie from LoveBugs and Postcards. *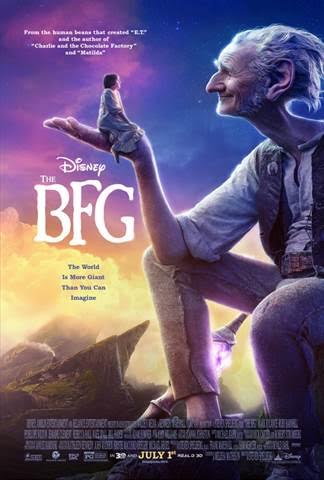 Before I tell you about how incredible our interview with Mark Rylance and Jemaine Clement was, just take a look at this picture:
YES! That is Mark Rylance and I at the party for the #TheBFGEvent Red Carpet. It was absolutely surreal running into him and his wife at the party, having interviewed him prior in the day. He was exactly as I pictured him to be, wonderful and having a real zest for life. I will also mention that it is not everyday you get your picture taken with an Academy Award winner! It was incredibly surreal to say the least.
The morning of the red carpet portion of our trip, we had the chance to interview Mark Rylance , who plays the main lead of The BFG and Jemaine Clement, who is Fleshlumpeater in the movie. When they came into the interview they both had huge smiles on their faces and were eager to talk to us. They were so vivacious and incredibly humble. Just to refresh your memories, Mark Rylance won the Academy Award for Bridge of Spies and has been in many films including The Other Boleyn Girl and Days and Nights to name a few. He also is a big theatrical actor and director involved in many Shakespeare's Globe Theatre productions.
Jemaine Clement is also a well known actor who has over 36 credits to his name. Some of his work included voicing Nigel in Rio 2, Ethan from The Simpsons, and Jerry the Minion from Despicable Me.
INTERVIEW WITH Mark Rylance + Jemaine Clement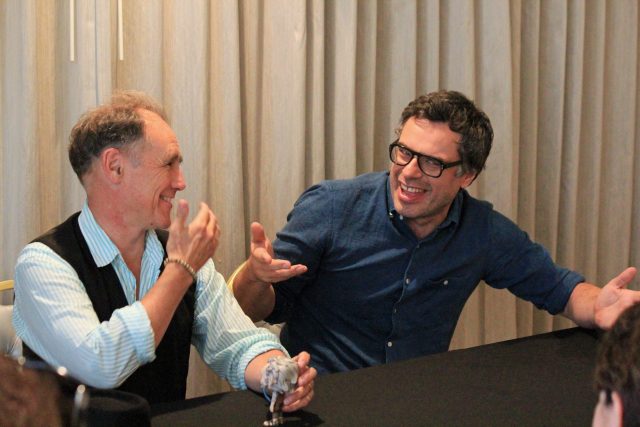 Question 1:  How did you come into character and get into character every day to play that part? -asked to Mark Rylance
He started out telling us that it took him 1.5 hours of them each day sticking dots on him so they can make The BFG come to life on the big screen. He was in makeup getting this done so during that time he had time to think about how he wanted the part to be played.  He loves that acting is really playful, similar to how a child plays. His part was done in motion capture and was not a voice over.
Question 2: How hard is it to speak giant?- asked to Mark Rylance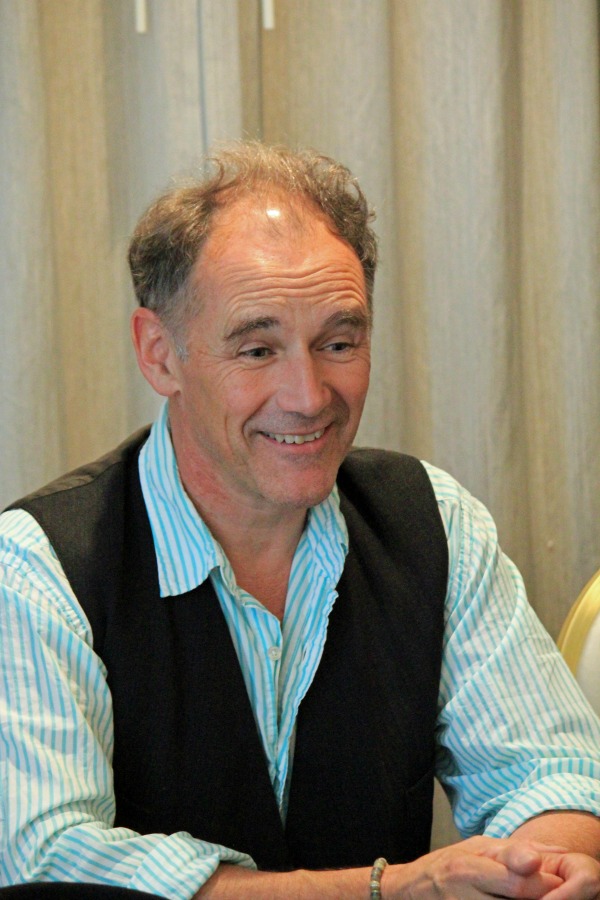 He told us it was very hard to speak giant. He mentioned that he doesn't think there are many actors that would have done what he and Jemaine did in the film. While he didn't speak giant to us that day, we had a lot of fun talking about Whizzpoppers, which you will find out about when you go see The BFG this Friday. A truly hysterical part of the movie.
"Improvising in giant is tricky. I've heard people who can do that actually very well, can improvise sonnets. You can say I wanna sonnet on a fried egg and they will improvise a Shakespearean sonnet on a friend egg. But improvising in giant is a little tricky." -Mark Rylance
Question 3:  How much fun did you have with this  giant because he's very scary but at the same time he's hilarious?- asked to Jemaine Clement
 " Yeah he's really fun! During filming, the bad giants would get to rehearse our motion capture and just walking around like big, lumbering, lumps of meat and that was really fun.  Smashing things, intimidating people, and being stupid is fun."- Jemaine Clement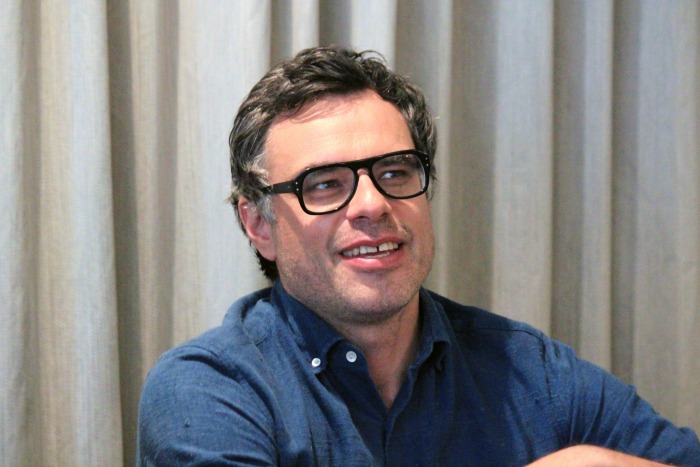 Question 4:   How did your kids like it? -asked to Mark Rylance
He told us his sons really loved it. As a child, he used to read the book to his son. When he was testing out the voice, he would ask his son if it sounded right. He found the voice from trying out different BFG voices on his son.
Question 5:   Was there a particular scene you enjoyed filming the most? -asked to Jemaine Clement
His favorite was the first time that he came on screen and saw Mark in the cave.   He also loved the part where he asked The BFG if he was there and he said no.
Question 5:    How much of the movie did you ad-lib?- asked to both actors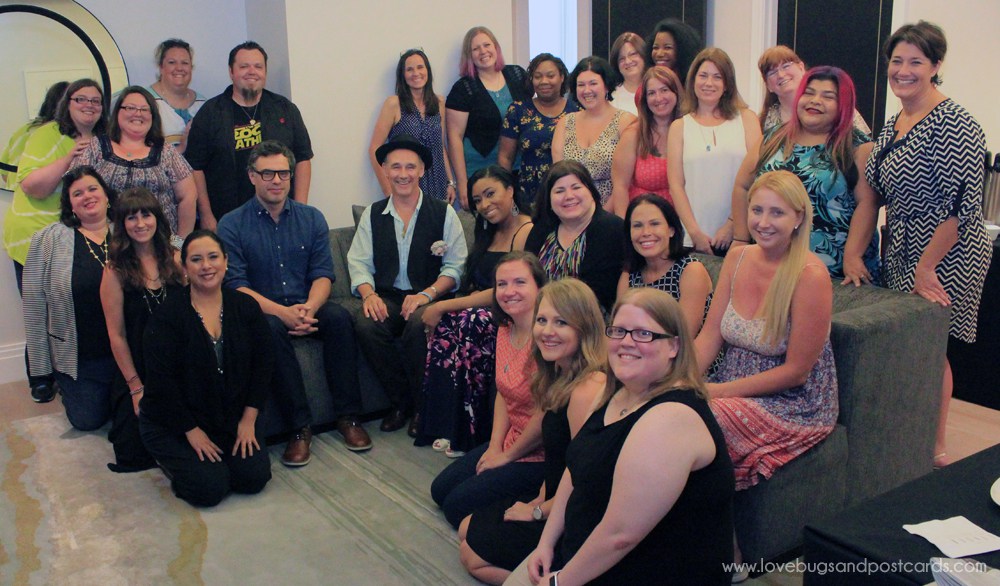 They told us that little parts were ad-libbed.  They mentioned that Steven Spielberg wanted the bad giants to expand from the Roald Dahl novel and have each of the characters be even bigger.
" I think Sophie and I stuck pretty closely to the script that Melissa had written, the adaptation of the book.  I don't think we improvised much. I probably put in lots of little noises and things like that between the lines." – Mark Rylance 
Question 6:    Do you have a favorite scene with Sophie?- Mark Rylance
 "So many of them. Someone asked me on television this morning what was one of the difficult things about being BFG and the most difficult thing is letting a young person go.   Every parent has to do it.  My parents are both teachers, high school teachers. There were favorite kids  that really resonated to their work or were witty or just wonderful kids and it was always sad every year  that those kids had to go off.  They had to go off to college, get married, and live their lives. If you really love them you have to encourage them to leave you and to go away.
 That is a scene I love  very much. It's on the hill at the end and she doesn't even want to go away, she thinks she's gonna stay and live there, but he knows that she's got a wider life to lead. She's mortal of course and he's immortal so I was thinking the other day  that the sequel I'd like to see what would be when Sophie's a 90 year old woman and she's had a family and maybe she has a grandchild. To see if The BFG still visits her and their relationship." -Mark Rylance
Question 7:   What was it like coming off of winning an Academy Award and then going into this film? -question asked to Mark Rylance
He told us he made the film before he won the Academy Award which I did not know!
Question 8:  What do you hope kids come away from this feeling and what are you hoping their reaction is? -asked to Mark Rylance
"I think that the film tells a story of what kids have to offer older people, that older people get tired, they lose faith, they think maybe the world is just a jungle, a dog eat dog kinda thing and nothing will change, so best to just do the best I can, give some money to charity, be kind to some people, but the big problems is nothing is going to change  and we get tired.
 There's still the bravery and the hope like Sophie does to say,  I think we  don't have to put up with this, we can stop these people eating kids, let's go to the Queen. With young people there is a lot of criticism of young people and things seem so hard . Certainly for my daughters, life looks so difficult and hard but they're so essential and they need to keep their bravery and hope and don't get pressed down by  the fears and the apathy of older people."- Mark Rylance
He told us that young people can change things and this is very important!  There are good things even in the worst situations and with many adults growing up with difficult childhoods (whether they are bullying or are poor, etc), they will not give up hope. This is a common theme and so important especially for the younger generation.
Question 9:   You really can't have redemption without having a great villain and Disney stories are known for their heroes and their villains and both of them are seared into our memory so what went into creating this villain that was gonna scare kids but yet they know that that's part of the redemption story? -asked to both
"I think one part of this villain is we see the bad giants as a satire of adults and  that they're very stuck in their ways and fearful of things, they're so stupid that they're dangerous without realizing it. It can be funny but also there's no reasoning with these characters because they won't understand and they don't care. There's no redemption from these villain, it's really for the BFG's character,  he needs Sophie to help him overcome them." -Mark Rylance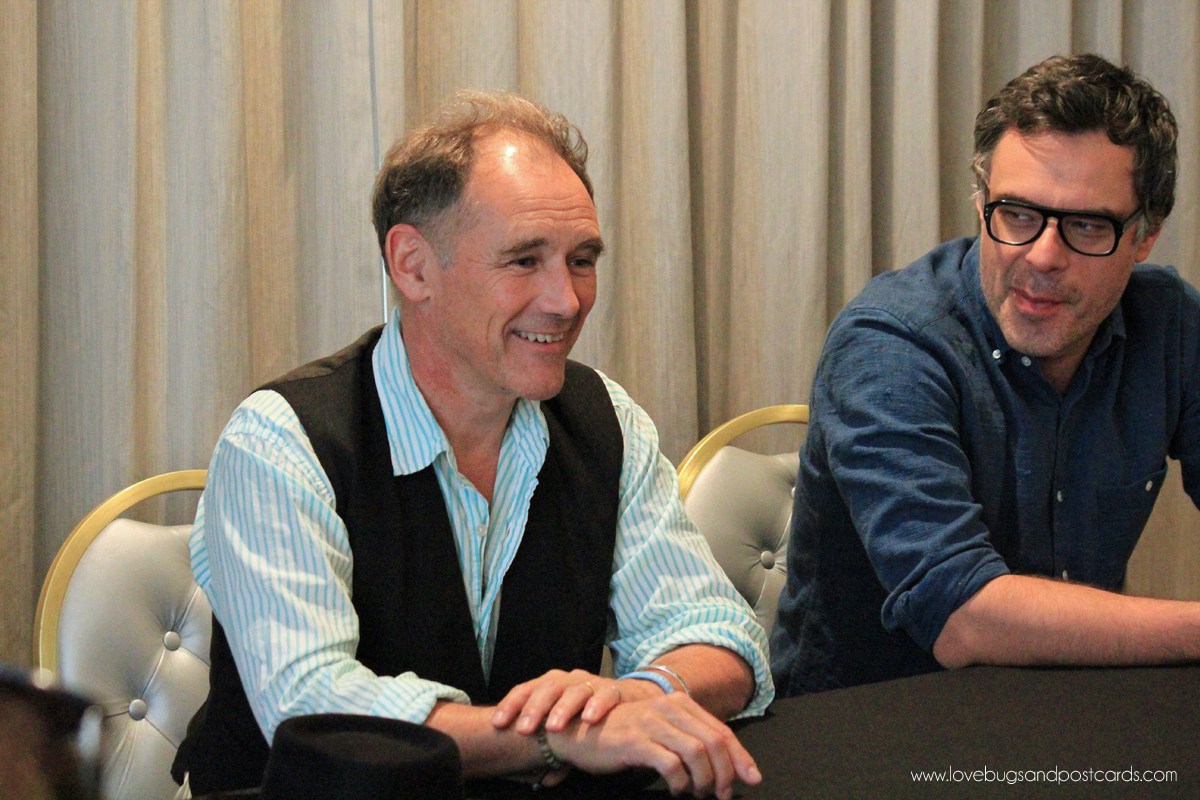 "Melissa, you know Melissa Mathison who so sadly died, she did research into giants and she was of the impression that at one time the giants didn't eat kids, didn't eat people, they actually were warriors who fought with the the people, I think against the Romans, that's the kind of mythology of it, with the Droids, the great female warrior of England, but maybe it's even earlier times than that. They've fallen into a decadent period. I guess the hope is that with a little bit of dietary control on that terrible island they're put on, put on a vegetarian diet, maybe they'll change their habits. I don't know. It leaves open the possibility of a sequel doesn't it, that island."- Mark Rylance
Those two actors were incredible and it was a pure joy to interview them.
Be sure to see both of them in The BFG this Friday, July 1st!
SYNOPSIS:
The talents of three of the world's greatest storytellers – Roald Dahl, Walt Disney and Steven Spielberg –
finally unite to bring Dahl's beloved classic "The BFG" to life. Directed by Spielberg, Disney's "The BFG" tells the imaginative story of a young girl and the Giant who introduces her to the wonders and perils of Giant Country. The BFG (Mark Rylance), while a giant himself, is a Big Friendly Giant and nothing like the other inhabitants of Giant Country. Standing 24-feet tall with enormous ears and a keen sense of smell, he is endearingly dim-witted and keeps to himself for the most part. Giants like Bloodbottler (Bill Hader) and Fleshlumpeater (Jemaine Clement) on the other hand, are twice as big and at least twice as scary and have been known to eat humans, while the BFG prefers Snozzcumber and Frobscottle. Upon her arrival in Giant Country, Sophie, a precocious 10-year-old girl from London, is initially frightened of the mysterious giant who has brought her to his cave, but soon comes to realize that the BFG is actually quite gentle and charming, and, having never met a giant before, has many questions. The BFG brings Sophie to Dream Country where he collects dreams and sends them to children, teaching her all about the magic and mystery of dreams. Having both been on their own in the world up until now, their affection for one another quickly grows, but Sophie's presence in Giant Country has attracted the unwanted attention of the other giants, who have become increasingly more bothersome. Sophie and the BFG soon depart for London to see the Queen (Penelope Wilton) and warn her of the precarious giant situation, but they must first convince the Queen and her maid, Mary (Rebecca Hall), that giants do indeed exist. Together, they come up with a plan to get rid of the giants once and for all.
TRAILER: