Phone Lasso makes it easy to keep track of your phone at all times. As a mom of three with her own dental practice, keeping track of my phone is kind of a big deal. Not only is it how I keep in touch with my family and business contacts, it's also not a cheap piece of equipment. With all the craziness of everyday life, keeping track of my phone can be a challenge. Keeping it in one piece can be a challenge, too! With Phone Lasso, I always know where my phone is, and it's always securely fastened in place.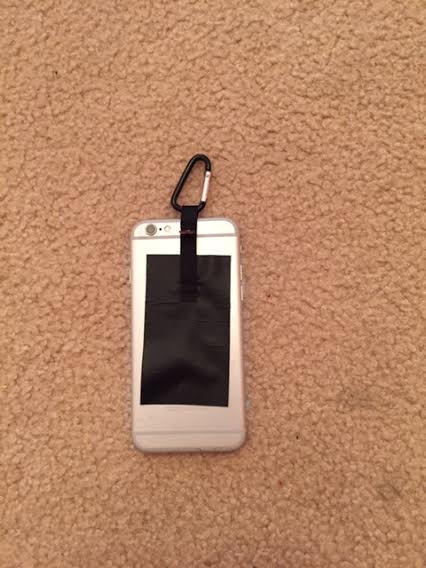 *This is a sponsored post. All my opinions are my own and not swayed by outside sources.*
How Phone Lasso Works
Phone Lasso is a new kind of phone securing device. It allows us to take our phones anywhere with us in a way that's safe and secure. The product is made up of a super adhesive patch which comes with two carabiners, as well as a lanyard and wristlet, making it next to impossible to lose your phone. The adhesive strip is strong enough to hold a 15 pound weight, making it more than enough to keep the carabiner in place, and yet it can easily be removed in seconds without damaging the phone.
I like to think of Phone Lasso like those strips you see on television that are used to hang pictures and what not. You know the ones. They're strong enough to hold a mirror, but you just pull the tab, and they pop off the wall with no damage to the paint. Phone Lasso is kind of like that. It's super strong, but it won't leave a gross residue on your phone, strip the paint, or warp the case. Winner!
Phone Lasso Highlights
Keep your phone securely on your person at all times
Works with any brand phone
Works with or without a case
No speaker, camera, or charger port obstruction
Easily trim patch to fit other devices like iPods or remotes
Adjustable wristlet, neck lanyard, and two carabiners
Like I said, I'm a mom of 3, and I own my own dental practice. I'm on the go all the time, and I NEED my phone on me at all times. I've been using Phone Lasso to keep track of my phone, and it's been fantastic. Not only is my phone always where I put it, I know it's safe a secure with its uber sticky patch. I also know that if I decide to remove it, my phone is going to be in exactly the same shape it was in before I put the patch on it. That's important. Smart phones aren't exactly cheap!
I love Phone Lasso, and I think it's something all busy moms and dads can use. Visit the Phone Lasso website for more information on this amazing invention. You won't be sorry. Whether you're an on the go mom, career woman, hiker, or a little bit of all of those, the Phone Lasso WILL make your life easier.