Sample was received in exchange for this review. All my opinions are my own and not swayed by outside sources.
Lionsgate's family adventure Norm of the North is heading to Blu-ray Combo Pack April 19, next week! Follow the adventures of Norm, a polar bear from the Arctic who happens to have some very unusual talents and who has to head outside of his comfort zone to save his home! Norm embarks on a laugh-filled adventure in New York City with his lemming pals as they all try to stop greedy humans from turning the Arctic into a suburban neighborhood, and he makes some new friends along the way.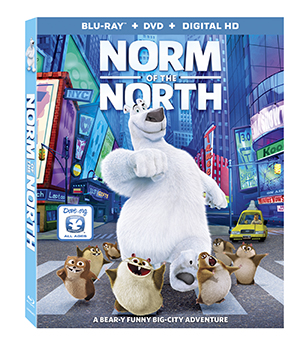 This new movie is packed with laughs, music, fun characters and heart.  Norm of the North is a must-own for the entire family! Bring home this heroic adventure on Blu-ray Combo Pack April 19!
Telling the ultimate tale of a loveable underdog who proves anything is possible with determination and a posse of loyal lemmings, Norm of the North features the voices of Rob Schneider (Grown Ups), Heather Graham (The Hangover franchise), Ken Jeong (The Hangover franchise), Colm Meaney (Con Air), Loretta Devine (TV's "Grey's Anatomy"), Gabriel Iglesias (Magic Mike), Michael McElhatton (HBO's "Game of Thrones") and Bill Nighy (Love Actually).

Life can be a real bear—just ask Norm, a polar bear with unusual talents and a heart as big as the great outdoors. When he hears that human homes are going to be built in his Arctic backyard, Norm comes to the rescue. With a team of ragtag lemmings at his side, Norm heads to the concrete jungle of New York City on a freewheeling, fun-filled mission to stop the madness and save the Arctic.

Experience even more exhilarating adventure with special features including deleted scenes, outtakes, "The Arctic Shake" sing-along and a trivia challenge for the whole family to enjoy! The Norm of the North Blu-ray Combo Pack and DVD will be available for the suggested retail price of $34.99 and $29.95, respectively.
BLU-RAY COMBO PACK/DVD/DIGITAL HD SPECIAL FEATURES*
Deleted Scenes
"Do the Arctic Shake!" Sing-Along
That's Funny! The Movie's Best Jokes & One-liners
Arctic Challenge Trivia Gam
This is an ADORABLE DVD! We did not have a chance to check it out in theaters so happy that we now added this to our DVD collection! Perfect family night film. Be sure to pick up this movie next week!