I received a School Zone learning tablet for review. All my opinions are my own and not swayed by outside sources.
My children just LOVE to steal whatever electrical devices I am using at the time. If I am using my iPad, they swipe it. If I am using my kindle, they swipe it. It is really quite unfortunate that my favorite devices end up in the littlest hands. That is why I was excited to receive the School Zone Little Scholar Tablet so that Zane and Taylor can have their own awesome, just-for-them kids tablet.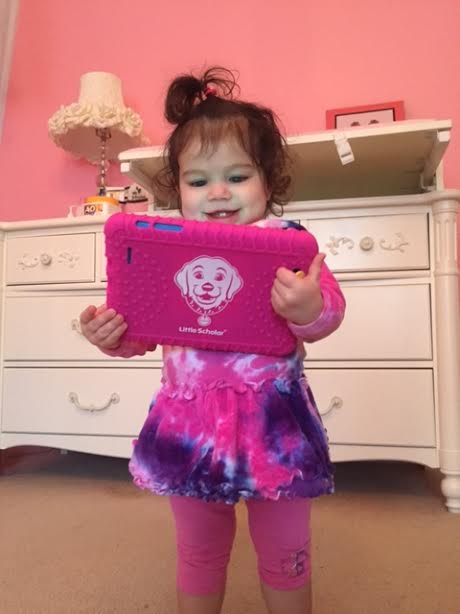 This tablet is the introductory tablet perfect from ages 3-7 and including the preschool through 1st grade level. It is a big tablet that supports 8 inches of learning fun. Even though Taylor is on the young side, she loves taking her Little Scholar tablet and playing with it. With the large screen, it makes it easy for even the youngest children to grasp.
What I love about this tablet is you can use it with a WiFi or without a WiFi connection. We took the tablet on the plane with us this past week, and Taylor loved playing with it without me ever connecting it to the WiFi source. It has 200+ preloaded games, songs, books, apps for your little ones so they can start playing the minute it is set up. Gone are the days where you have to download all the apps! Hello are the days where everything is done for you by School Zone already. A true score if you ask me! If you want to add more apps, you can readily do that through the School Zone Amazon App.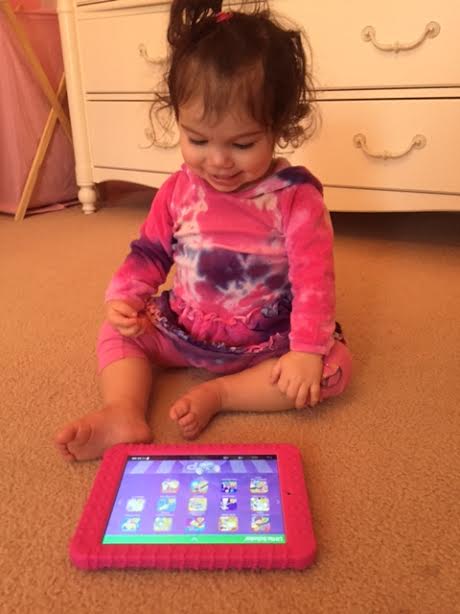 As a parent, I love to monitor how my children are using their devices. With the School Zone Little Scholar Learning Tablet, I can get all the reporting through the reporting parent app. I can see how much time they are playing on their devices, view which apps are being used the most, and measure overall performance.
I love the fact that it has 54 preloaded books that allow me to start the reading process with Zane and Taylor. Each story has beautifully illustrated lessons that parents and kids will enjoy alike. I love the life lessons that some of these books teach and love how it gives a level of reading on each book.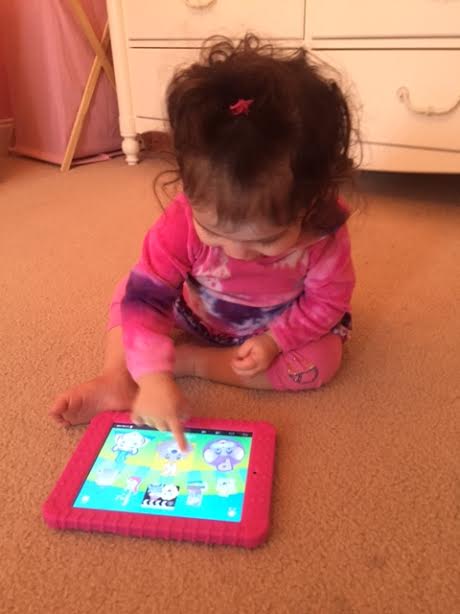 Of course, no tablet is complete without a fun camera. The camera on the Little Scholar is quite good and my kids love snapping images on their new device. This tablet is available in pink or blue and is the ideal beginner tablet. For only $130, you can get a tablet that your kids can enjoy time and time again. I have to say that since we started using the Little Scholar tablet, I noticed Taylor is starting to say some new words and is enjoying the learning process.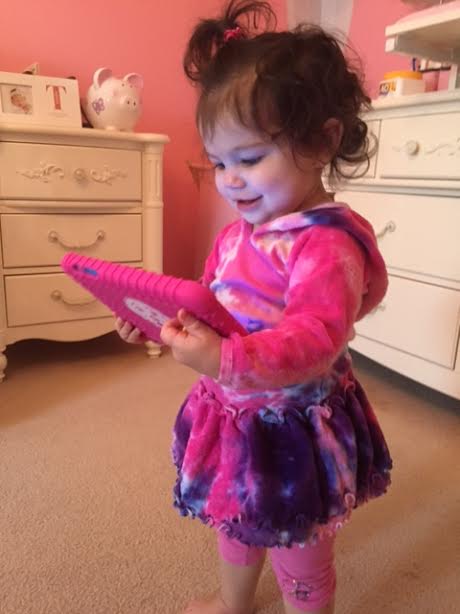 Giveaway: One winner will receive the School Zone Little Scholar Learning Tablet. This giveaway is run via rafflecopter so click read more to see the actual giveaway. The only mandatory entry is to visit Little Scholar and to tell me what you learned by visiting their website. While the other entries are optional, I highly suggest filling them out to increase your chances of winning. US only. Good luck!
a Rafflecopter giveaway