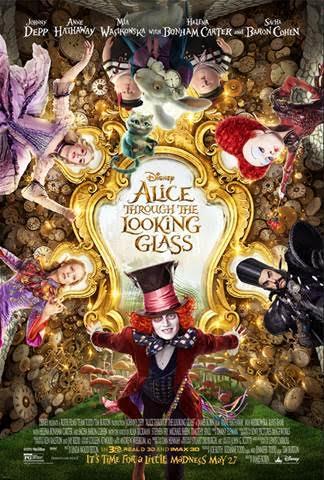 ALICE IS BACK and this girl is very excited!! I really can't wait to introduce my kids to Alice in Wonderland like they have never seen before!

SYNOPSIS: 
In Disney's "Alice Through the Looking Glass," Alice returns to the whimsical world of Underland and travels back in time to save the Mad Hatter. Directed by James Bobin, who brings his own unique vision to the spectacular world Tim Burton created on screen with "Alice in Wonderland," the film is written by Linda Woolverton based on characters created by Lewis Carroll. The producers are Joe Roth, Suzanne Todd and Jennifer Todd and Tim Burton. John G. Scotti serves as executive producer. "Alice Through the Looking Glass" reunites the cast from the 2010 worldwide blockbuster phenomenon, including Johnny Depp, Anne Hathaway, Mia Wasikowska, Matt Lucas and Helena Bonham Carter and introduces new characters played by Rhys Ifans and Sacha Baron Cohen. Also back are the talented voices of Alan Rickman, Stephen Fry, Michael Sheen, Timothy Spall, Barbara Windsor and Paul Whitehouse, and they are joined by Toby Jones.
Walt Disney Studios is partnering with three-time GRAMMY®-winning singer/songwriter P!nk on the studio's upcoming release "Alice Through the Looking Glass."
P!nk will write and record an original song which will appear in the film and on the motion picture soundtrack from Walt Disney Records featuring four-time Academy Award® nominee Danny Elfman's score. She has also recorded a cover version of the iconic song "White Rabbit" for the film's marketing campaign.
"Alice Through the Looking Glass" is an all-new spectacular adventure featuring the unforgettable characters from Lewis Carroll's beloved stories which stars Johnny Depp, Anne Hathaway, Mia Wasikowska, Rhys Ifans, with Helena Bonham Carter and Sacha Baron Cohen. The film opens in U.S. theaters on May 27, 2016.