Remember Radio Flyer when you were a kid? You probably just think of a red wagon, right? It was an awesome wagon, wasn't it? I think we all had one. I had one, and I loved it. These days, Radio Flyer is so much more than wagons. I recently got my son a Radio Flyer Monster Truck with Lights & Sounds, and he's completely obsessed with it.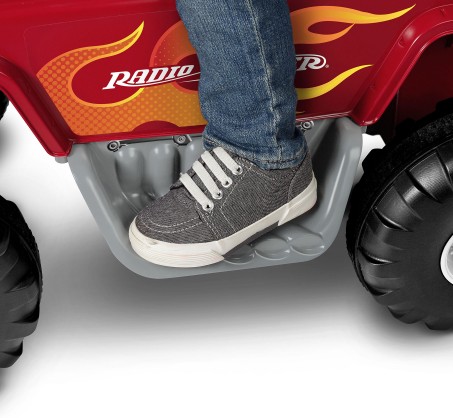 "Off Roading" with the Radio Flyer Monster Truck
It took about 10 seconds for my son to jump into the monster truck when my husband and I had gotten it all set up and the battery fully charged. Once he was on it, we actually had to force him to get off! With its chunky wheels and flaming side decals, it makes him feel like an off roading super star. He likes to start off in the driveway and then "off road" on the lawn. Another thing my son loves about the Radio Flyer Monster Truck is the real working horn. He likes to "warn" us when he's coming so we can be safe while he tears it up – at 2 mile per hour, of course.
I love it because it's safe. 2 MPH is just fast enough for him to be excited, but slow enough for him to stay safe. Its has an extra wide foot rest for comfort and big, 8 1/2″ grip tread tires for extra stability whether my son is on the driveway or the lawn. I also love that the 6V battery is designed for long life, so there's no need to replace it down the line.
Radio Flyer Monster Truck Features
Rechargeable 6V battery
Realistic sounds
Up to 2 MPH speeds
Easy push start button
Classic "lifted" monster truck design
Wide footrest
8 1/2″ grip tread tires
Radio Flyer is More Than Wagons
My son is loving his new Radio Flyer Monster Truck, but that's only one of the many outdoor toys offered by Radio Flyer these days. Head to the Radio Flyer website to see everything else they have to offer, like scooters, trikes, and more. It's a great place to find wonderful gifts for the holidays or birthdays.