Home Alone is celebrating its 25th anniversary by returning to cinemas nationwide for a special one-night event, on Wednesday, December 9th. Relive one of the greatest holiday films ever with John Hughes' classic film starring Macaulay Culkin. Are you all excited?! This is one of my Christmas favorites so you know I am!!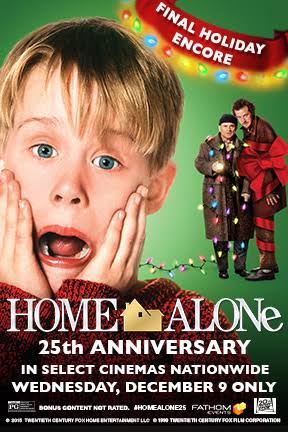 I can't believe Home Alone is celebrating 25 years already! It just seems so surreal! You do not want to miss this ONE night movie experience on Wednesday December 9th at select theaters across the country. Limited seats are available and most shows start at 7:30 pm. To check if Home Alone is coming to a theatre near you, check out FathomEvents.com.
Do NOT MISS #HomeAlone25 on December 9th- TOMORROW!
Be sure to get your tickets today to see Home Alone on the Big Screen. This is one of my favorites and I can't wait to introduce my children to this timeless classic!