*I am a Rubbermaid ambassador. I was compensated for posting. All my opinions are my own and not swayed by outside sources. *
The holidays are  a wonderful time of year. The family is all together. Presents are being passed around. There's good food, good cheer, and good vibes. It's no wonder that we wait for the holidays to roll around. And while the holidays are full of family and happiness, they can also be full of stress as well. That's why I've put together a list of things you can do to help you enjoy the holidays rather than just survive them.
Make the Holidays Your Jam
Instead of just surviving the holidays, wouldn't it be nice to enjoy them thoroughly? We all love the holidays but the stress that goes with them is just awful. There are some things you can do to make this time of year more joyful and less stressful.
Down Size
You don't have to go to EVERY holiday event. If you can, that's great. If you can't, don't feel guilty. Holiday get togethers are about the joy of being together. They are not about the stress of trying to cram every single holiday event into your holiday schedule. This year, instead of running around like chicken little, only go to the holiday parties that are full of your friends and family – they're the people who matter most.
Clean Early
This is one I've been working on myself. I absolutely kill myself with cleaning when the holidays roll around. I'll wait until the night before guests are coming over, and I'll clean the entire house from top to bottom all at once. That makes no sense! Instead, start the holiday cleaning a few days in advance. Do all the big things first, and then you can polish it off with a good dusting before the guests arrive.
Shop Early
One of the best way to make the holidays a joy instead of a nightmare is to get all of your holiday shopping out of the way over the year. The days of always having to fight the Black Friday masses are over. Now we can all find great deals on any gifts throughout the year. Now that every credit card in the world has cash back, we all have an ebates account, and stores frequently host huge sales, shopping early is a real option.
Gift Cards
Speaking of shopping early. One of the best ways to make the holidays a more enjoyable experience is to give gift cards. If you have a particularly difficult person to buy for, gift cards are the best. You can't go wrong! With a gift card, you have gifted them with possibilities and the ability to get whatever they want.
Avoid Messes
And finally, the best way to enjoy the holidays is keeping the mess to a minimum. I travel to a few different houses over the holiday season, and there's nothing more stressful than an overturned casserole in the car or the possibility of it. That's why I use Rubbermaid Party Serving Kits and other Rubbermaid products. With Rubbermaid products like their Serving Kits, I can safely transport all of my potluck feasts, or I can easily serve nom noms at my house.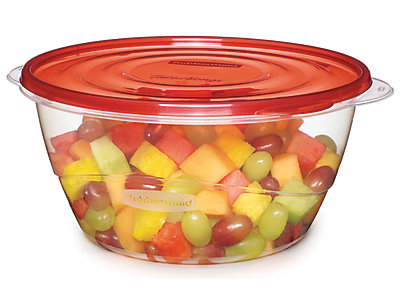 The Holidays are About Joy. Not Stress
Whether you're celebrating Hanukkah, Christmas, Kwanzaa, or something else, the holidays are all about joy and family. At least, they're supposed to be. Unfortunately, they've turned into a stress fest. However, if you follow the 5 tips above, you should be able to drastically reduce the amount of stress you have for the holidays and increase the fun.