*I was compensated by Toys "R" US. All my opinions are my own and not swayed by outside sources. *
Every year my kids eagerly wait near the door for the Toys "R" US Book of Awesome which is a cumulative gift guide for everyone in your family. The 2015 Interactive Christmas Edition lists sale prices valid from today to 11/21/2015. It is a 95 page book the incorporates the complete family fun zone. There are so many AWESOME gifts from Star Wars to Marvel to DinoTrux and SO MUCH MORE!!!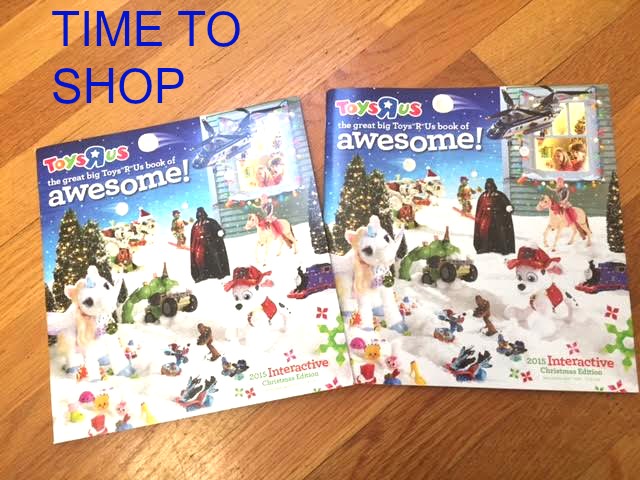 With the gift book coming out, Hayley went through it and began circling what she wanted to receive. This year Star Wars and Shopkins are on her list. She also wants gifts from the My Little Pony line. Then I had Zane circle them and he found the Doc McStuffins Pet Vet Checkup Center, that he added on his list. Do not worry if you did not receive their book via mail, you can visit their Toys"R"Us store to obtain a copy! So many great deals to be had!!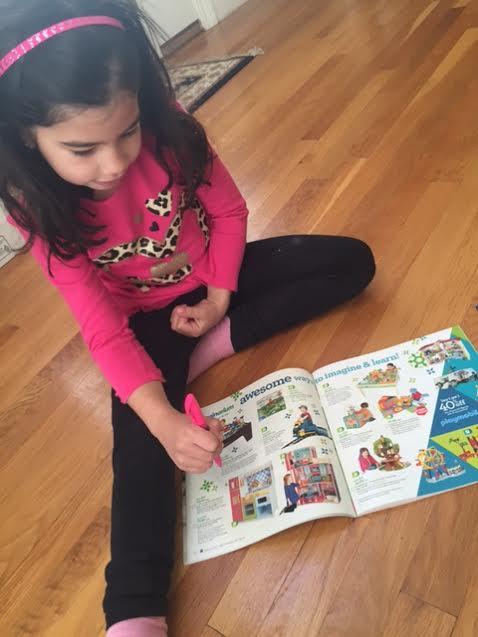 To get you started, check out this awesome 3 minute video that shows everything about The Book of Awesome!

NEW THIS YEAR:
New this year, the company has introduced an augmented reality experience through which kids are able to bring their favorite toys from The Great Big Toys"R"Us Book of Awesome to life within The Geoffrey Shuffle app game. In the palm of a hand, kids can examine their favorite toys by zooming-in to see intricate details, spinning or walking around pages of the interactive edition of The Great Big Toys"R"Us Book of Awesome for different angles or capturing photos of their favorite toys within the game.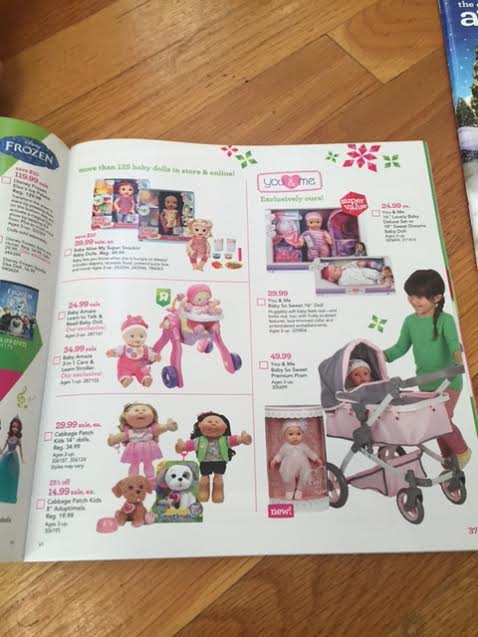 To play, using an interactive edition of The Great Big Toys"R"Us Book of Awesome ,  players should look for a golden Geoffrey coin, located at the bottom corners of the book's pages. Once located, hold a smart phone or tablet over the respective page and the game will begin loading. The game encourages players to find Geoffrey as he and two other kid-favorite licensed characters, such as Teenage Mutant Ninja Turtles, Barbie, Darth Vader and more, hide in shuffled gift boxes.
Upon completing the game, players can enter Geoffrey's Awesome Christmas Sweepstakes for a chance to win awesome prizes, including a $2,000 Toys"R"Us Gift Card and a Beaches® Resorts Luxury Included® Vacation.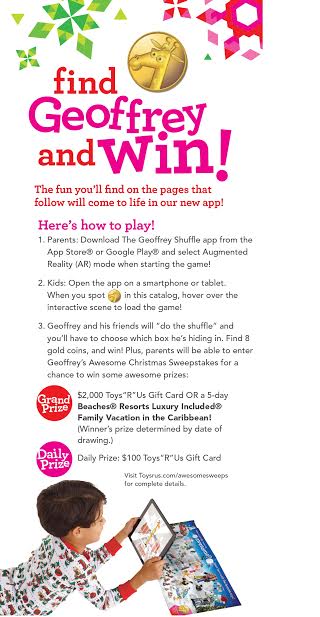 Seriously how awesome is this?!
Be sure to pick up your Book of Awesome today!!