*I received compensation in exchange for posting. All my opinions are my own and not swayed by outside sources. *
For the guys on your shopping list, I have a great idea. How about ties from The Dark Knot?!  The Dark Knot is a luxury necktie company that has breathtakingly beautiful ties. Not only are their neckties gorgeous and affordable, but  they  provide their customers with custom notecards inside of every gorgeous box, which recommends suit and shirt pairings. What an awesome idea for a gift for the men in your life!
Their mission is to provide gorgeous ties that complement any outfit. The Dark Knot was created to provide a line of luxurious, affordable ties for gentlemen, while helping alleviate their style concerns. Shopping for ties can be hard but The Dark Knot makes it easy!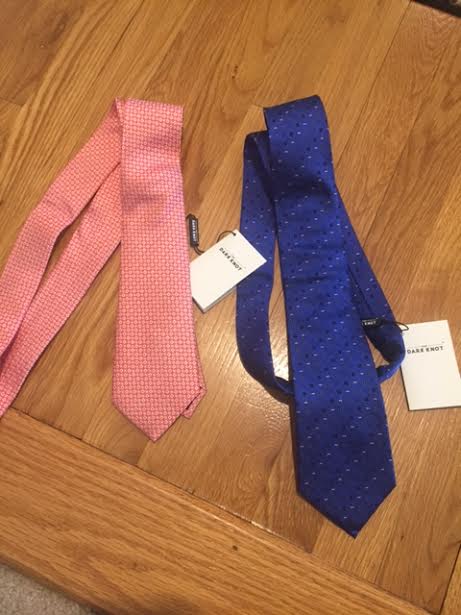 The Dark Knot offers approximately 120 hand made silk necktie designs through both woven and printed silk, across a range of designs and patterns. They have so many gorgeous designs that you can be sure to find something you like in their wide range of selections. Not only that but all of their neckties are interlined with a double layer of wool and cotton, resulting in luxurious feel and a rich thick knot that every discerning gentleman strives for. Additionally, each of their ties are tipped with silk, further accentuating the attention to detail with their product.
Along with the beautiful packaging, each tie  comes with clips so once the guy in your life puts the tie on, it stays put! Reasonably priced at around $55 a tie, these ties are made to last. They are made with fantastic materials and the look of the tie is just gorgeous.
Greg received these two ties and I have to say that he truly loves them. My husband is picky with ties but these two happen to be his favorite design of ties that he owns. He is looking forward to wearing the tie when we go our 10th anniversary trip next month.
The Dark Knot has also introduced a line of exquisite hand made Pocket Squares and Lapel Flowers this Holiday Season, further building out their accessories platform.
Of specific interest are The Dark Knot's Starter Kits. These make for a particularly great Christmas Gift, as they will guide you or your significant other with relevant product items through a Free Style Consultation! They provide this service over email where they work with you to figure out which accessories best suit your existing wardrobe and lifestyle needs!
For all your tie needs, give The Dark Knot a try today!  If you use CHRONICLES25, you will get a 25 percent discount on all ties! Happy Shopping!