**I received an all expense paid trip thanks to Disney. All my opinions are my own and not swayed by outside sources.** Ya'll, I had the chance to meet the ONE and ONLY Aladdin creator and animator, Eric Goldberg. It was sort of surreal sitting in a room with him and him telling us about how he started with Disney, when he started drawing, how he decided what the Genie was going to look like, and finally walking us through how to create our own genie. It was honestly, in every sense of the word, amazing to be in the same room as a world famous Disney animator.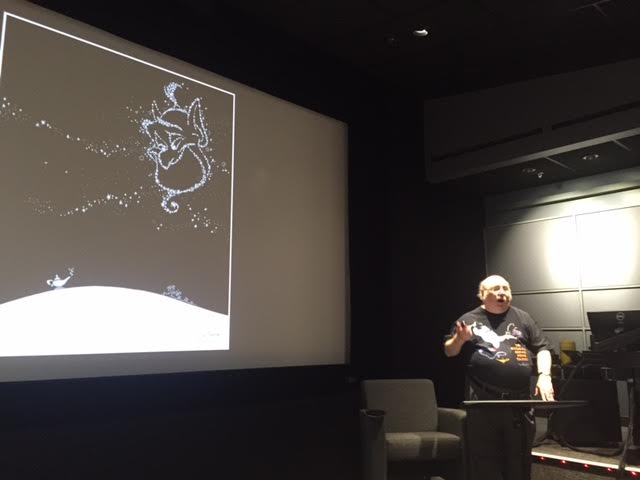 Eric Goldberg holds three jobs being an American animator, film director and voice actor. Some of his work previous works include  Phil from Hercules, Frozen, Winnie The Pooh and also his most favorite one, The Genie From Aladdin. When we started the interview with him, I noticed first off how gracious as well as funny he is!  He is a truly a wonderful and sincere man in every sense of the word. He started doing some of his famous impressions which had us in stitches. Man is he is good! He continued on telling us all about Aladdin and how it was working with the world famous Robin Williams. Just by listening to him talk, you could tell how much in love he is with being an animator!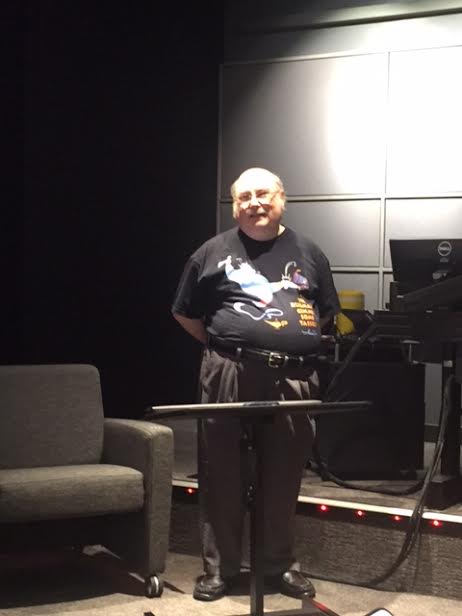 Eric Goldberg told us that the character of Aladdin was first written as an archetype. Then Robin Williams came and said they needed to use him to voice the Genie in the movie. The directors asked if he wanted to be on stage with Robin Williams to get some ideas. Eric told us that Robin went on and on for 30 minutes and gave them so much humor in such a short a time. His humor allowed them to do so much visually and to riff visually. For instance when he is talking about the royal recipes to make Aladdin a prince, they put a crab on his fingers to make it match. It was jokes upon on jokes and was easy to do all the work with Robin Williams being so wonderful. The stuff they thought was funny actually stayed in the movie.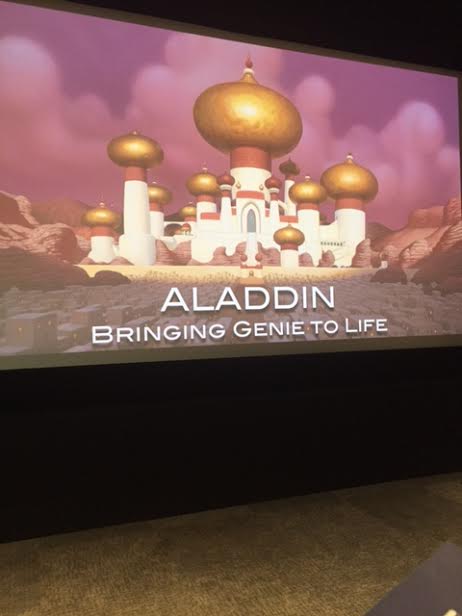 Robin would do a lot of improv and he knew the animators would pick up on it. This happened when he thought Aladdin wouldn't do the third wish and they incorporated Pinnochi into it. They constantly shifted to accommodate all the twists and turns that people like Robin Williams provided. Robin did four hour sessions at a time.  Eric said he was actually quite quiet but when the microphone went on, he gives it a hundred and ninety eight percent. He challenged all the riffs throughout the entire character as well as all the warmth he brought to the characters. Robin Williams gave them so much material but they were not able to use everything on the DVD. Eric listened to all 16 hours of tape and dedicated a section on the DVD to Robin with the Genie's outtakes. When you buy this DVD, you will see all this amazing Robin Williams extra Genie pieces.
It brought tears to my eyes hearing how much Eric cared about Robin and how he took it upon himself to storyboard all the hours and add it to the DVD. They made it actual outtakes on the DVD version being released next week. Robin could take one line and make it into 28 characters. He was brilliant like that. His mind was so fertile and brought so much depth to the character of the Genie. Eric Goldberg had to do this in his memory and to honor the great works he provided as the Genie. He said the whole team of Aladdin was a pleasure to work with and this was one of his favorite movies to work on. Next up, he will do some work on Moana, but you will have to wait and see that!!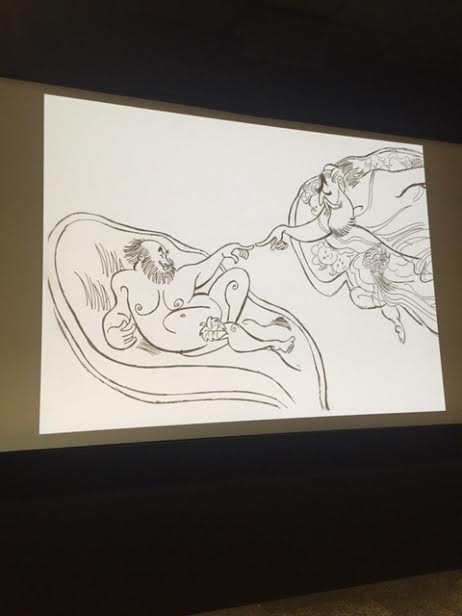 Before we got to drawing, he showed us some of his favorite clips of the movie, which was a delight to see, especially with the DVD being released so soon! He told us his favorite scene in the movie was "A Friend Like Me". Eric Goldberg really brought the character of Aladdin to life, which is the key job of animators. He does it so well!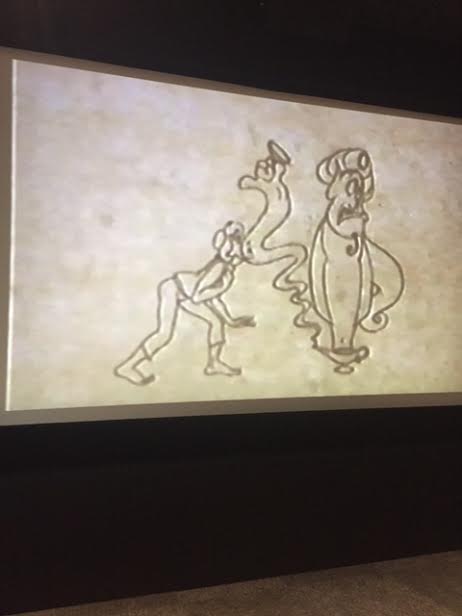 Then he walked us step to step on making a Genie ourselves. Seriously, a HUGE Disney animator walking us through how to make Aladdin. That wins for one of the coolest things I have done. While I have no art ability whatsoever, with his patience on showing us how to do it, I think I did a pretty good job. What do you think?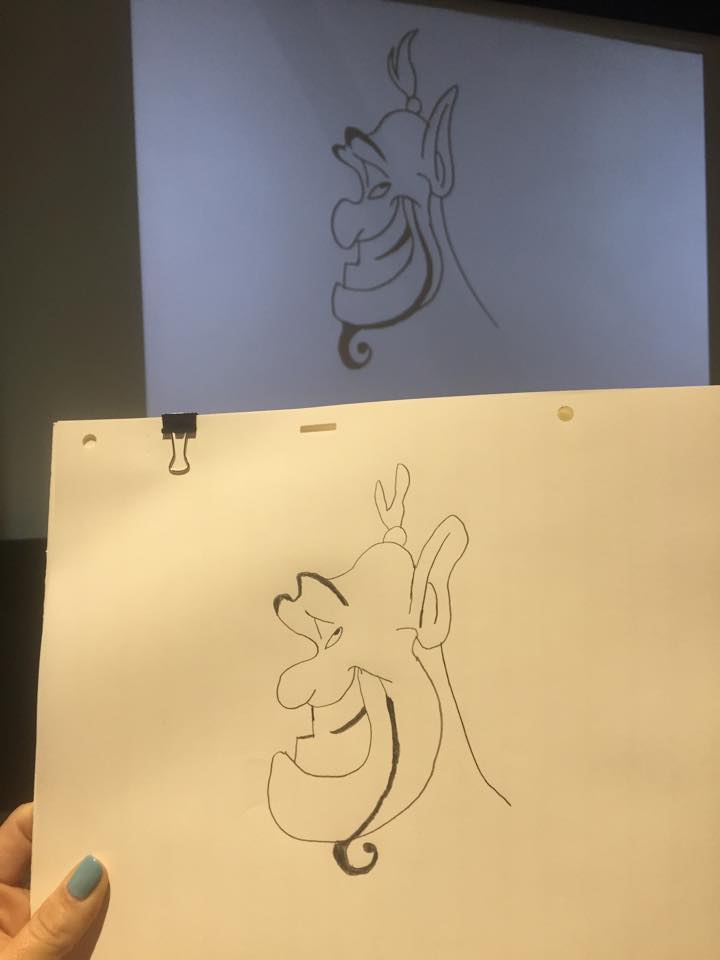 Finally we walked away with a signed lithograph of the Genie that he took the time to sign for each and everyone of us. I can't wait to hang it up in my house. It is a memory I will never forget.
Eric Goldberg has a book out called 'An Animators Gallery 'which features black and white drawings of all the Disney characters. Aladdin is being released from the vault on October 13th on Blu-Ray Combo Pack and DVD! Save the date in your calendar!