**I received an all expense paid trip thanks to Disney. All my opinions are my own and not swayed by outside sources.**

Discover How Three Wishes Can Change Everything
in Disney's Timeless Adventure
for the Whole Family Available for the First Time on
Blu-ray™ and Digital HD!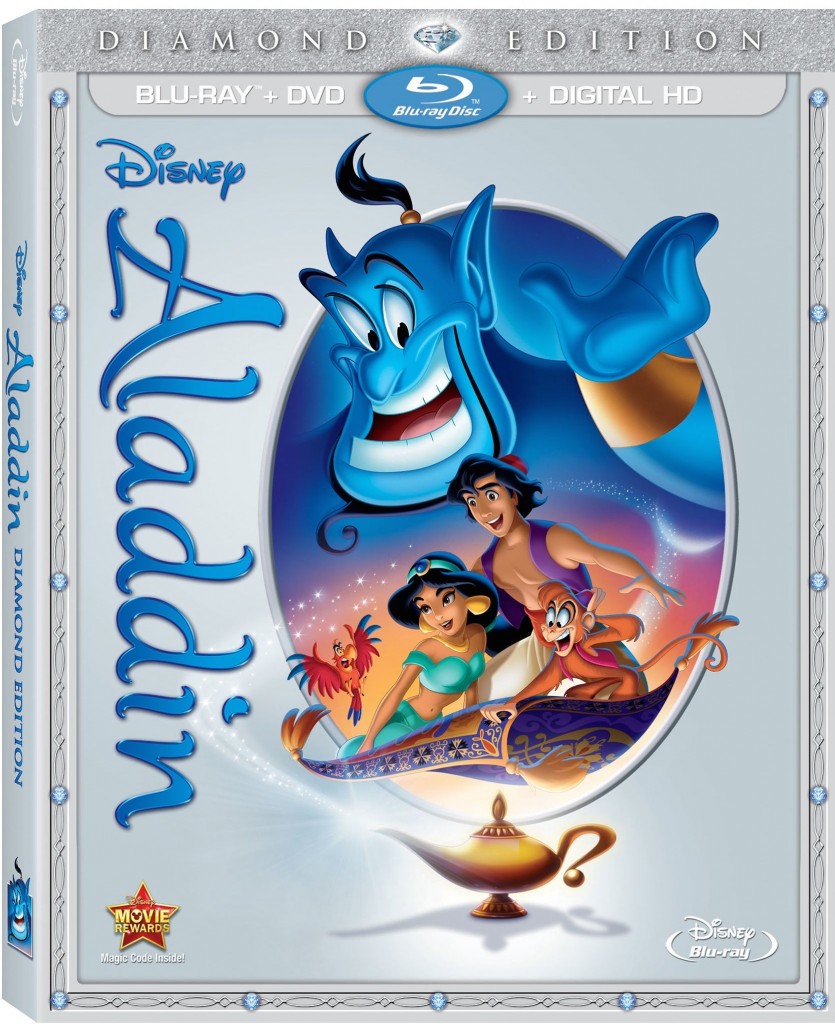 TODAY is the DAY!!! Aladdin just came out of the vault and is now available on Blu-ray, DVD and Digital copy! This is very exciting because as you know once it releases from the vault, you have a limited time to purchase it before it goes back into the vault. It has been at least a decade since this was last released so do not miss out on this new release! Today you can show all your kids the fun and excitement of the original Aladdin with some special extras added in!
Synopsis:                     Disney's beloved masterpiece will make your heart race and your spirit soar. Experience the laughter, adventure and Academy Award®-winning music (1992: Best Music, Original Song, "A Whole New World," Original Score) for the first time on Blu-ray and Digital HD. And now Aladdin shines even brighter with never-before-seen tributes to the enchanting talent of Robin Williams, the "Genius behind the Genie
Voice Cast:                 Robin Williams(Jumanji, Night at the Museum) as The Genie, Scott Weinger (TV's "Full House") as Aladdin, Linda Larkin as Jasmine, Gilbert Gottfried (TV's "Saturday Night Live")as Iago, Jonathan Freeman (Aladdin: the Musical on Broadway) as Jafar, Douglas Seale (Rescuers Down Under, For Love or Money) as Sultan and Frank Welker (Mulan, The Smurfs 2) as Abu.
Aladdin originally came out in 1992, which would have made me 13 years old at the time. I remember celebrating my Bat Mitzvah with some girlfriends and receiving a bundle movie package as a gift. In that was Aladdin and we immediately all watched it together the weekend after. It quickly became of of my girlfriends and I childhood favorites.

Aladdin has brought so many special memories to my life but one that I will not forget is watching this movie with my mom and dad. Since I really did not know who Robin Williams was, they introduced me to him via this film and we talked all about him that night. I will never forget it! We all really enjoyed family movie nights and watching Aladdin was one night that will live on in the memory books. I remember how much I loved all the music and animation. Now I get to relive that again when it is released today with even better picture and sound, since well it is 20 years later, and the technology has improved on DVD!
More than anything, I am so excited to relive these memories I made with my family, with my own children now. I may have teared up a bit when Zane, Hayley, and I sat down to watch this movie all together last week. We were singing and dancing along, and I loved hearing my daughter learn "A Whole New World" and singing it every night since to me. So many memories were made with Aladdin and I will get to continue on with that with my own family! Again thank you Disney!
Here is a small clip of Brad Kane discussing his experiences recording the memorable songs that we all know and love from Aladdin!

Be sure to pick up Aladdin TODAY on Blu-ray, DVD and Digital copy! Make memories with your children again!