Happy weekend everyone and a very happy July 4th! I hope you all have a great weekend with whatever you do!
As always, come link up any cute or funny post. Definitely check out the other blogs who link up as they all provide a great laugh. Feel free to take my button or share on social media, although this is not necessary, just appreciated.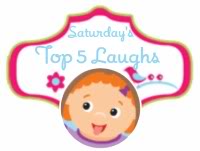 My top five laughs:
5. Hayley went to her first camp this week. When I tried to kiss her on the bus, she said, "Mom…I am a big girl! Please don't embarrass me with my friend!" LOL!
4. Zane loves to swim but sometimes he hates when water gets in his eyes. He asked the lifeguard the other day, "What is wrong with this pool? The water is always getting in my eyes! LOL again!
3. Taylor is turning one next week and already she is such a diva. She loves blowing kisses to everyone male she sees. Any female and you don't get kisses!
2. Taylor also really wants to walk but hates when I try to help her. Whenever she tries (she can't do it yet), she falls and raises both of her hands in the air. It is really quite cute!