*I was invited by Sony pictures to attend the junket of Pixels. All my opinions are my own and not swayed by outside sources.*

I was so excited to be invited by Sony to screen the Pixels movie and attend the press junket for Pixels. As a huge Adam Sandler fan my entire life, this was a dream come true for me to actually interview him, as well as the rest of the spectacular cast including Josh Gad, Kevin James, Michelle Monaghan, Adam Sandler and director Chris Columbus. This interview was only between a few bloggers and some press, so we really had a chance to find out all about this brand new movie Pixels opening July 24, 2015!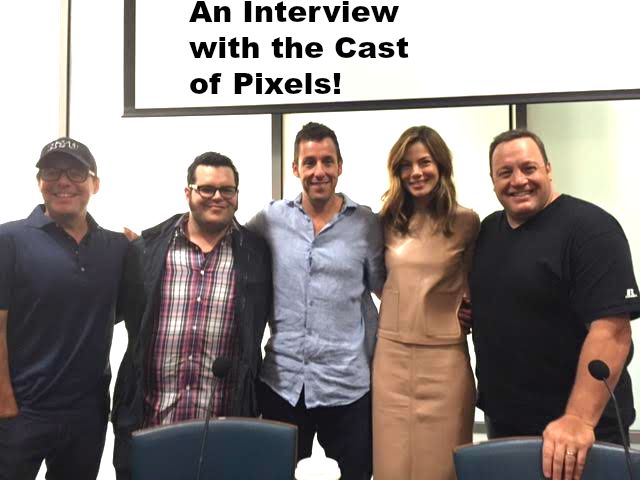 On Friday you will be able to see my full review of Pixels but I will say that it is an extremely fun and interesting movie that will take all of you back to your childhood. The special effects in this movie were second to none and I for one, am so excited to take my kids to see it on the 24th! It is truly a spectacle that will come alive right before your very own eyes! All of your childhood favorites including Donkey Kong and PacMan are seen in this movie.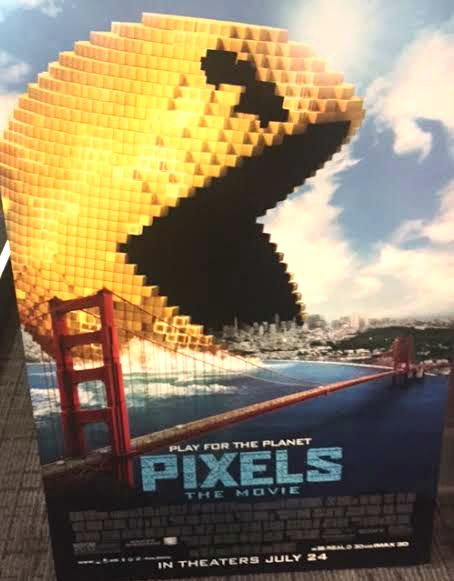 When the interview started Josh Gad, told us it was absolutely amazing that Dave N Busters had a press conference for this movie. It was so cool because they set up all the childhood games on site. It was a perfect setting for the movie since it revolves all around gaming.
We first asked Josh Gad what it was like working with Kevin James and Adam Sandler for the first time?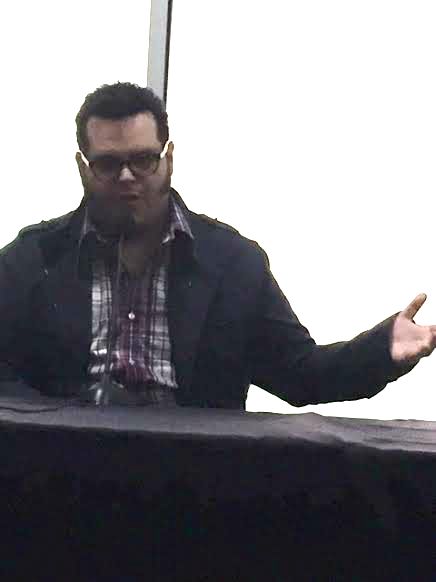 "It was a nightmare. LOL! It was a truly a dream come true. I grew up in the generation of Adam Sandler being on Saturday night live and watching it religiously. And I feel like Kevin and I are from the same cloth and always wanted to work with him. He originally didn't want me to do the movie.
I am also obsessed with Michelle and I can't say enough about Chris Columbus."-Josh Gad
Josh told us that Goonies and Gremblins were the movies that defined Josh Gad and made him the nightmare that he is today. SO funny! He joked around about being a Jewish actor! From a Jewish girl, this was so funny!
Next we asked Michelle Monaghan, how it felt playing the girl power role?
"It felt awesome! The job title and the name of the movie got me. She was Lieutenant Colonel Violet van Patten. She is a weapon designer for the president and developed the weapons used to conquer the world. She is cool..She is strong.. She is confident.. She has beauty and brains all together."- Michelle Monaghan.
Then we asked if they played classic video games in preparation for the film since the movie was all about this?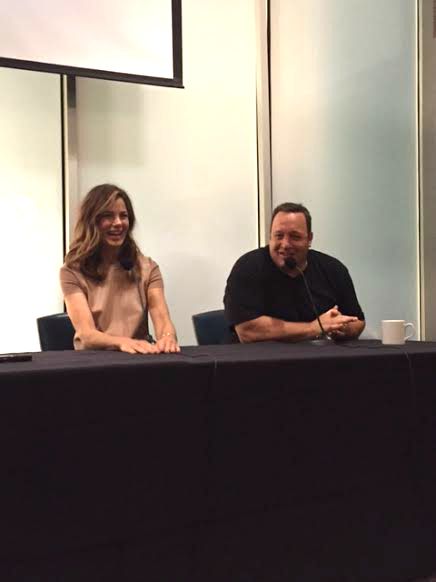 Chris Columbus told us he only played Donkey Kong and PacMan growing up. When he got the movie, he had to learn a lot of the games like Centipede. The rest of the cast were experts because they all grew up with these games. Kevin James told us that he was too hip for the standad games which made me laugh. Adam Sandler told us around 11/12, the arcades opened up and they played tons of video games growing up. It was a staple of his childhood. He used to take a bus to the Electric Dream Factory where all the standard games were. It was the time of their lives back then.
The soundtrack for the movie is completely awesome. We were curious how they narrowed down the soundtrack?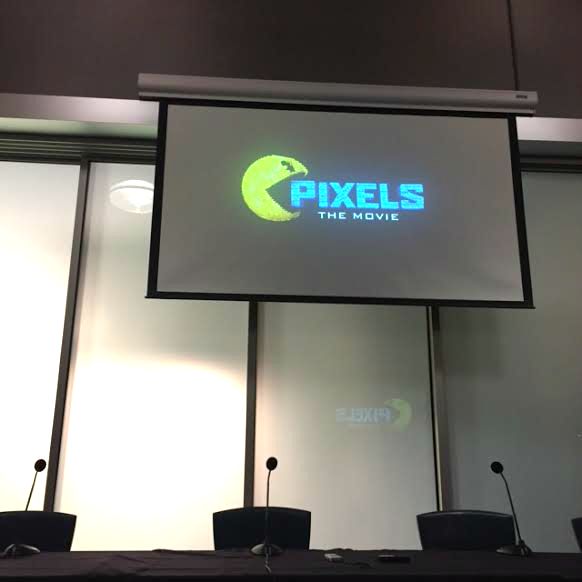 "Surrender was in the movie since the very beginning. Working for the weekend they tried in the editing room but when they put it in the movie, it was really cool and worked. Some of the songs that you didn't think were cool in the 80s, are cool today. The Queen song became Brenner's theme and was put in at the end of the movie."- Chris Columbus
Adam Sandler told us that the movies back then were a little less violet and more gender neutral. The games back then and today are quite different.
We wanted to know if they ad -libbed in the movie?
"Josh Gad loves to ad-lib. He is the best at this. We were shooting an R rated movie for some of it and had to cut some of it. There is a lot of amazing improv especially from Josh Gad."-Adam Sandler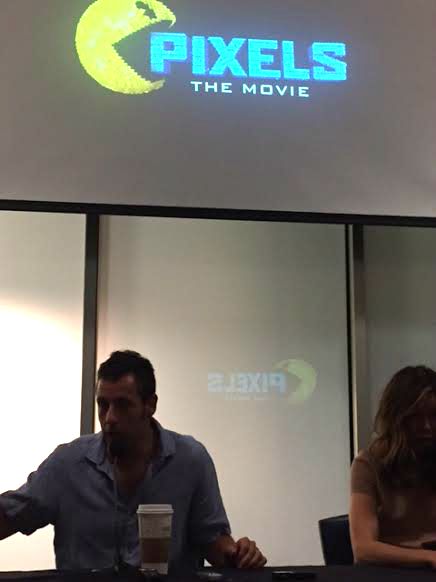 For their favorite quotes, Josh Gad said he loved when PacMan went "WagaWagaWaga". For Michelle, he loved when they said, "He is my sweet boy". For Josh, he loves Dinklage's lines. They all said Peter Dinklage was hysterical.
To get the rights, Chris Columbus needed to meet with the licensing characters. In the movie you will see the creator of PacMan telling PacMan to be good and that he is like a son. The inspiration from this came from Chris Columbus knowing how die hard the creators of these games are and he wanted to make it right with them too.
At the end there is a fabulous Donkey Kong scene. We wanted to know if this was CGI?
"We were pretty high up there. There was a giant scene that was 70 feet high. All the platforms were built and we were all wearing harnesses."- Adam Sandler
Chris Columbus said he didn't want to do everything CGI and wanted a tangible set that they could actually perform on. He said it was a pretty gruesome couple of days filming this end scene. The CGI was basically only on the Donkey Kong and on the barrels. They were able to see the computer generated action as they filmed this.
Chris Columbus said it was basically like a complete animated cartoon with the lenses. The actors knew exactly what they were looking at when filming the scene.
Kevin James then joked that he would make the Mets go the World Series and make it mandatory to have a siesta if they he was president. Quite funny! I think he should make these things happen.
Lastly we wanted to know how it was on the set everyday? Adam Sandler told us everyone was great and one big team. Everyone had a great time. They all had a lot of fun making Pixels. He said Chris Columbus went for a 5 mile run every day during lunch while everyone else napped.
Chris Columbus said it was not the easiest shoot but they all worked so hard ogn very long days. It certainly payed off because the movie is terrific.
Stay tuned because my review is coming soon and don't forget that Pixels opens July 24th!