*This is a sponsored post with TempTraq. All my opinions are my own and not swayed by outside sources.*
I love TempTraq. Let me just say that right now. I love the idea of it, and I love the execution. Why do I love TempTraq? I love it because it helps ease a bit of my worry when my kids are sick. TempTraq is the world's only wearable, wireless thermometer. It allows me to track my child's temperature for a full 24 hours when he or she is sick, easing a little of my worry when one of my kids is down in the dumps.

TempTraq Technology is a Life Saver
If you're a mom or dad, you know how worrisome it can be when your child is sick. You hate to see them feeling so terrible, and you're constantly taking their temperature. You also know how squirmy and irritable the kids are when they're sick. Trying to take their temperature is like trying to wrestling with an agitated, greased pig. It's no fun. With TempTraq, all of that is a non-issue.
TempTraq is the world's first and only wearable, wireless thermometer. It's a comfortable patch that continuously monitors your child's body temperature for a full 24 hours, allowing you to keep track of their temperature without becoming a nervous wreck. It even comes with a free app that sends alerts to your mobile device. That's pretty great! It's also been featured on TODAY, in TIME, and in The Wall Street Journal as a the next best thing in temperature monitoring.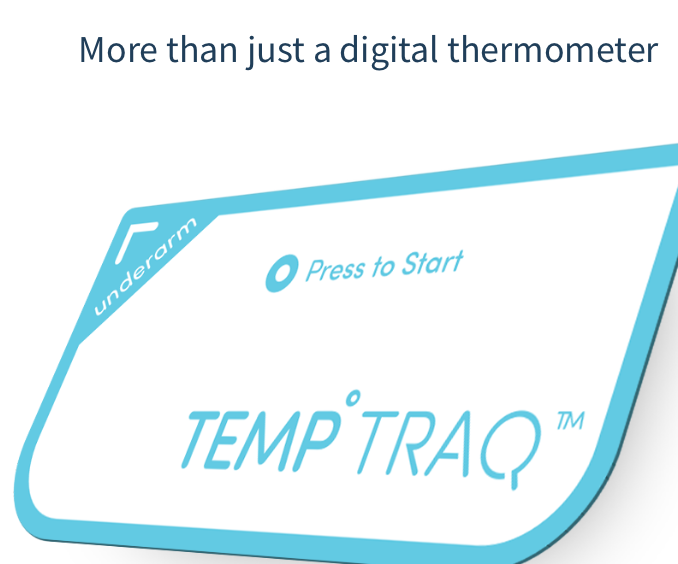 I received the TempTraq for review. It was amazing. Even though none of the kids were sick, I still popped it on one of them and began monitoring. It was quick and easy to attach and the app was very simple to navigate. With a product this great, there's not much to say other than it works, and I'm so glad I'll have it when my kids ARE sick. I can see this saving me a ton of worry. It has a 40 foot range, which means I can be in another room while my child is resting, and still know exactly what his or her body is doing. That's a huge stress relief.
TempTraq Specifications
Thin, safe, comfortable printed battery.
24 hour continuous monitoring
Wireless signal is 100% harmless. It sends out less signal than most fitness bands
Durable and water resistant
40 foot wireless distance
Highly accurate
The TempTraq wireless body temperature monitor is one of the best healthcare inventions I've seen to date. As a mom, being able to keep track of my child's temperature for a full 24 hours when he or she is sick is a piece of the healthcare puzzle that will save me a massive amount of worry and time. With the TempTraq app, I can set updates, check my child's temperature at any time, and continue to do what I need to do while still taking care of my little ones. It's amazing!