*I received compensation from Staples in exchange for posting. All my opinions are my own and not swayed by outside sources.*
I absolutely love Staples! I seriously visit there at least once a week. With Taylor's big first birthday coming up, I was in need of some great banners for her birthday party. For all my banner and party needs, Staples Copy & Print Center is who I turn to! And guess what….They have AMAZING deals going on right now!! Yes you need to take advantage of them today!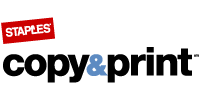 Staples is always trying to help their customers "make more happen", and now they are offering great deals with their Copy & Print services. Ahead of the busy Spring and Summer seasons of graduation parties, sporting events and more, Staples Copy & Print is offering 40% off large posters, banners and lawn signs as well as 50% off custom invitations and announcements through June 27th.

"Staples Copy & Print is a one-stop destination for all small business promotional product and print needs, including postcards, invitations, promotional materials, posters, banners, lawn signs and even customized promotional apparel," said Damien Leigh, senior vice president of business services, Staples. "With hundreds of products to choose from and thousands of ways to customize, Staples Copy & Print offers convenient and easy ways to showcase your business, no matter the budget. Our Staples associates provide expertise and support, ensuring an easy, seamless process to get your idea created and printed."
We brought our pictures to the Staples Center to make a first birthday banner that will be ready shortly! In no time and at such an amazing cost, I will have a beautiful banner to hang up for her first birthday. What could be better?!
Here are some additional tips for making a party a smashing success:
Annette Joseph's tips on how to create a great party:
1.Pick a theme. This can start with a graphic on an invitation. Staples Copy & Print invitations offer an amazing array of beautiful images.
2.Pick an invite and you've picked your theme. It's a great jumping off point.
3.Use banners and posters to create a festive entrance to the event.
4.Make the event memorable with goodie bags and takeaways – a little gift to take home at the end. Create a personalized tote bag with Staples Copy & Print.
5.Use fresh flowers or branches from your garden to create a beautiful table scape that reflects the season.
"Staples Copy & Print can help to spruce up your windows and build curb appeal to help drive customers into your store," said Joseph. "With the help of Staples Copy & Print, small business owners can easily brand all of their collateral. You want to give customers a polished, first impression."
For more information about Staples Copy & Print, visit: www.staples.com/copyandprint.
Be sure to visit Staples today and take advantage of this great offer!