Happy weekend everyone! I am getting these up a bit late because I was not feeling well last night. I hope you all have a great weekend with whatever you do.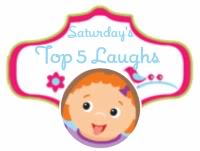 As always, come link up any cute or funny post. Definitely check out the other blogs who link up, as they all provide a great laugh. Feel free to take my button or share on social media if you like.
My top five laughs:
5. Hayley's graduation was yesterday and she asked me why I was tearing up. I told her I was happy to see what a beautiful little girl she has become. She told me to reserve my crying for a sad event!
4. We left Zane home yesterday during the graduation ceremony because he could be loud. He responded that I was not very nice in doing this and then proceeded to scream the ultimate temper tantrum about something unrelated. I told him that was the reason I didn't bring him and he just nodded.
3. Taylor loves to crawl and stand up. The only problem is she will crawl to anyone she sees (even if I have no idea who they are) and give them hugs. Girlfriend is friendly!
2. I told Zane camp starts soon and he told me that he just wants to go back to school, and skip camp. He seriously loves school!
1. Yesterday:
Now your laughs: