Two all new shows premiere tonight on ABC! After all your Father's Day celebrations be sure to tune in tonight to "Celebrity Family Feud," hosted by Steve Harvey and then Battlebots! Happy Watching and Happy Father's Day!!
The BattleBots Series Premiere is on ABC Sunday at 9|8c
The epic battle commences as builders and Bots face off. Only one can reign supreme — who will build the best Bot?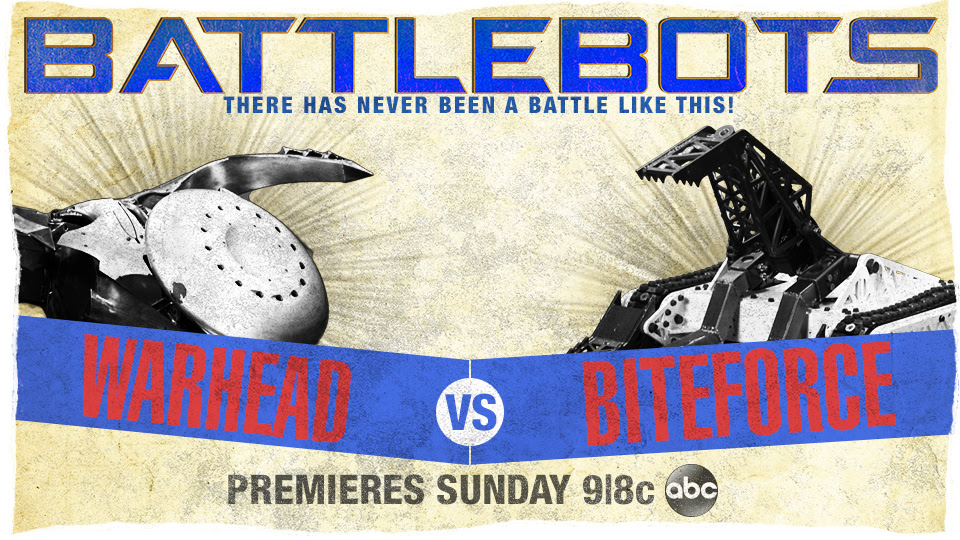 Episode Summary: "Episode 101" — "BattleBots," the epic robot-fighting tournament, kicks off SUNDAY, JUNE 21 (9:00–10:00 p.m., ET) as the first round of next generation robots, that promise to be bigger, faster, and stronger than ever before, go head to head on the ABC Television Network.
During the first night of the six-episode tournament, 8 teams will converge in an arena of minefield and hazards for the ultimate shot at glory during the Qualifiers round. Each match will consist of a single three– minute bout in which the goal is to completely destroy or disable the opponent. If there is no knockout during the three-minute battle, the panel of judges will declare a victor to move onto the next round.
Competitors range from NASA engineers, to teenage students, to everyone in between — each with one goal — to claim the ultimate title and walk away with the grand cash prize.

The 8 teams slated to compete during the Qualifiers round are listed in alphabetical order below:
1. Bite Force: Team Captain – Paul Ventimiglia
(Hometown: Wayne, NJ / Currently Resides in Mountain View, CA)
2. Icewave: Team Captain – Marc Devidts
(Hometown: New Orleans, LA / Currently Resides in Sunnyvale, CA)
3. Nightmare: Team Captain – Jim Smentowski
(Hometown: Colorado Springs, CO / Currently Resides in Bradenton, FL)
4. Plan X: Team Captain – Lisa Winter
(Hometown: Madison, WI/ Currently Resides in Berkeley,CA)
5. Razorback: Team Captain – Zack Bieber
(Hometown: Fort Morgan, CO / Currently Resides in Wellington, CO)
6. Warhead: Team Captain – Ian Lewis
(Hometown and Currently Resides in: Bournemouth, UK)
7. Warrior Clan: Team Captain- Terry Ewert
(Hometown: Colby, WI / Currently Resides in Abbotsford, WI)
8. Wrecks: Team Captain – Micah Leibowitz
(Hometown: Berkeley, CA/ Currently Resides in Hayward, CA)