Happy weekend everyone! I hope you all have a great weekend with whatever you do!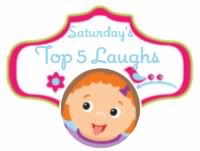 As always, come link any cute or funny post. Definitely check out the other blogs who link up as they all provide a great laugh. Also feel free to share on social media or take my button if you like.
My top five laughs:
5.  Hayley asked me yesterday to see the AVENGERS and I was like what?! I had no idea that she knew it was being released. Probably TV commercials:) She then explains I love the Hulk so much. Funny girl!
4. Taylor is a crawling machine these days. She thinks it is cute to climb into the closet and then close the door. Too funny that little one!
3. Zane and his friend Declan love to play all sorts of games. Their new game is lets hide for mommy so she can never find us. LOL!
2. Taylor is also beginning to say words. Whenever she sees me, she goes MA..MA..MA.. Three times in a row. So cute!
1. And sharing her most recent pic:
Now your five laughs: