*This is a sponsored post with Lysol. All my opinions are my own and not swayed by outside sources.*
I have three kids. Two of them love to help me cook, so the kitchen often looks like a food terrorist dropped a weapon of mess destruction in the center of it. Between "helping" me make cookies or my oldest stirring the pot, the kitchen can get pretty grimey. That's why I love Lysol Tap Top. It's a multi-purpose surface cleaner that makes my paper towels do more than just spread the mess around.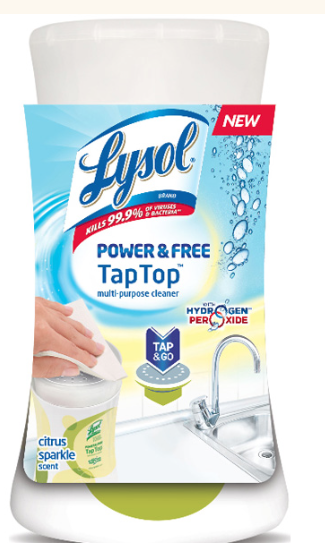 Lysol Tap Top – An Easier, More Effective Way to Clean
I'm a walking paper towel commercial. The kitchen is always in need of a touch up, and I'm a paper towel swiping machine. I know I should at least use soap, but I'm just too busy! With Lysol Tap Top, all I have to do is tap the top with my paper towel, and I've got a quick and easy way to actually clean my counters, faucets, and what not without the hassle. With just a couple of taps, my paper towel becomes a powerful cleaning instrument.
I am beyond pleased. Before, I'd clean up after the "help" my kids gave me with a paper towel, and the results were just a sort of hazy smear that I had to come back to later with a soapy sponge. With Lysol Tap Top, the paper towel actually gets the messes clean, so I don't have to come back later. It's made life so much easier for me. It's also saved me time, which means I have more time to spend with the family now that it's not taken up with cleaning and recleaning.
Now, when the kids spill flour or pop or make smears, all I have to do is bust out the Lysol Tap Top, and I'm good to go. At this point, I'm convinced that no matter what the mess, Lysol Tap Top will get it clean. And since it uses peroxide instead of bleach, I get all the cleaning and germ killing power without any harmful residue. If that wasn't great enough, it also use Tap & Go pump technology to dispense the solution, which means no more overspray.
Win Your Own Lysol Tap Top
I love Lysol Tap Top so much, I want to give one of my lucky readers a chance to feel the powerful, easy cleaning for themselves. I want you to be able to experience a new way of cleaning like the one I've found. All you have to do is comment why you want to win the Lysol Tap Top. One winner will be chosen on 6-1. Good luck! Please leave a valid email address.