I have received information and materials from McNeil Consumer Healthcare, Division of McNEIL-PPC, Inc., the makers of TYLENOL®. The opinions stated are my own. This is a sponsored post.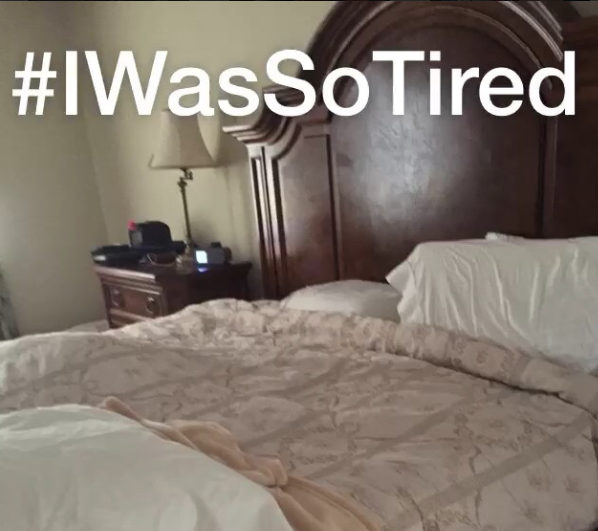 Have you ever been so tired you felt like tying your shoes was a struggle? I certainly have. It's especially true – and bothersome – for me when I've got a particularly nasty bug. When the aches and pains start coming on, I have a tough time sleeping. That's why I love TYLENOL® PM.
TYLENOL® PM is the TYLENOL® I've used for years, but with a little something extra to help me fall asleep on those occasions when it's just not going to happen. I'm sure you've had those nights. Sometimes, when you go to bed, the Sandman just skips you. Maybe you're wired from being on the computer too late in the evening. Or maybe you're like me, and that cold you have is just kicking your butt. It's really hard to fall asleep when all your muscles hurt. Those are the times I use TYLENOL® PM. It helps a person with no chronic sleep issues like me fall asleep on those rare occasions when it just won't come.
Once I was so Tired I…
Put the milk in the pantry. Yep. I had a wicked bad cold. I mean bad. It was the total package, congestion, headache, body pain. It was all that and a crappy bag of chips. I was so sore, I couldn't sleep. The next day, I groggily made my breakfast. I then proceeded to put the cereal in the fridge and the milk in the pantry. True story. I had called off of work that day, and I didn't move for a solid 10 hours. Of course, by the time I went to the pantry for crackers, I had spoiled milk and ice cold cereal. Yum.
Needless to say, I tried TYLENOL® PM that night, and it worked! It lessened my symptoms and helped me fall asleep. The next day I wasn't 100%, but I wasn't a cereal refrigerating, milk curdling zombie.
Tips to Help You Sleep
If you have issues falling asleep, there are some things you can do to help train your body to sleep better. These tips can make it easier for you to fall asleep and get the much needed rest your body needs.
Sleep Schedule: It's so important to have a schedule. A routine sleep schedule lets your internal clock know when it's time to go to sleep. This can make falling asleep easier.
Get Out of Bed if You Can't Sleep: If the Sandman isn't making an appearance after 30 minutes, get up. You're not going to sleep any time soon, and just lying there can actually make it even harder to sleep. Instead, read a book or go for a walk. Do something that takes your mind off the fact that you can't sleep.
Unplug: Stop all computer work, television, and the like, an hour before bed. Your body needs a chance to wind down before hitting the sack. You'll be too wired to sleep if you go directly from the computer to the bed.
Power Nap: If you have a schedule that makes getting a full 8 hours impossible, try slipping in a power nap. Studies have shown that naps increase performance, concentration, and wakefulness.
No Pain, Definite Gain: If you're having trouble getting shut eye because of pain, try TYLENOL® PM. It has a pain reliever and fever reducer along with a sleep aid to help alleviate your cold symptoms and help you fall asleep. Because sometimes, no matter what you do, you need a little help.
What's Your #IWasSoTired Sleepless Story?

I told you mine, now tell me and TYLENOL® PM yours. Right now, you can share your story using #IWasSoTired #Sweeps with the makers of TYLENOL® on Instagram for a chance to win a $1,000.00 Bed, Bath & Beyond™ Bedroom Makeover. Three winners will be chosen each week. Just take a photo or video to show you felt or what you did when you didn't get enough sleep. It's a great contest, and I look forward to the creative videos and photos I'm sure I'll see.
Official Contest Rules:
NO PURCHASE OR SUBMISSION NECESSARY. OPEN TO LEGAL RESIDENTS OF THE 50 US & D.C., 18 AND OLDER. VOID WHERE PROHIBITED. Sweepstakes ends 5/1/15. Prize awarded as a gift card. For Official Rules, how to enter without use of a mobile device or submission, prize descriptions and odds disclosure, visit http://goo.gl/HyO1jc. Bed, Bath & Beyond™ is not an official sponsor of this promotion. Sponsor: McNeil Consumer Healthcare Division of McNEIL-PPC, Inc., 7050 Camp Hill Road, Fort Washington, PA 19034.