*My sister is a blog contributor. All her opinions are her own and not swayed by outside sources.*
Hi Everyone! Melissa's sister Shara here with you, now at 29 weeks preggers. Baby things are starting to roll on in, and the nursery will come together in the next month or so! It's overwhelming as a first time Mom, but also very exciting that this little human my husband and I created will be here in a little over two months!
Baby devices and furniture and play things are coming in by the truckload, and I am always scared when a large package arrives, because it looks like it would take an entire day to put together. But, I'm happy to say that Graco makes very user friendly baby things. Our first baby related piece was the 3-in-1 travel system stroller by Graco and was floored by how easy that was to put together and take apart.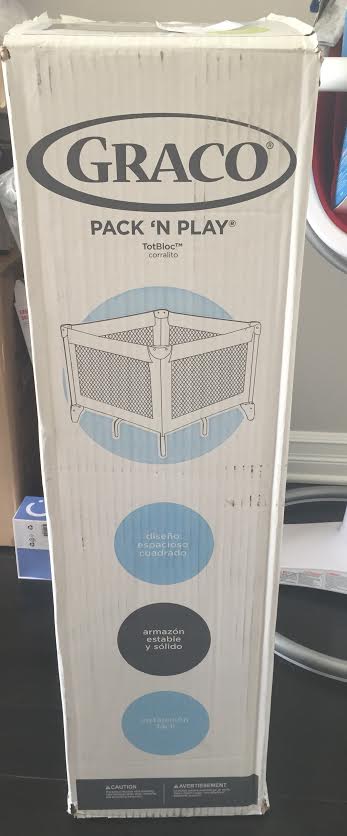 ​
Now, this Pack 'N Play has to be the easiest thing in baby land existence to put together. It's basically all done for you. We opened the box, and found the play mat wrapped around a tent like looking thing. We put the mat aside, and saw in the instructions that you shouldn't straighten the middle part until you straighten the four sides of the railings. The railings have two snaps on both sides that you straighten and unstraighten, which are found under the fabric. After everything was in place, we put the mat in the middle and there you have it- it was all put together! Assembly took less than a minute.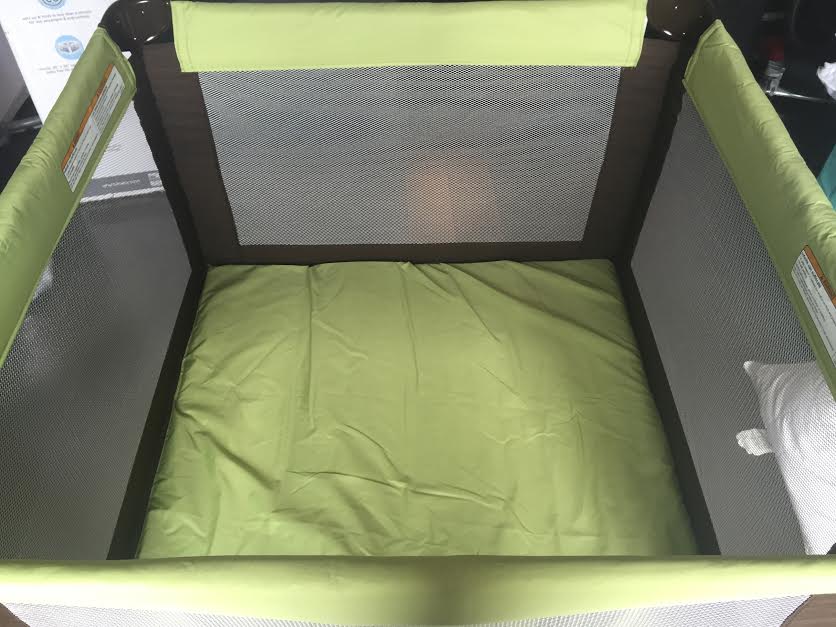 After I snapped a few photos, packing it up was just as easy. We just unsnapped all four sides of the railing, took the mat out, and wrapped the Pack 'N Play in the Mat and then velcroed it together. Then, we zipped it in it's handy bag and put it away.
​
​
I love how durable looking and feeling this product is. It looks very safe to put my little one in! Also, its very pretty colors. The bright green and brown are complimentary colors that I'm sure baby will love! Graco always has a way of creating such nice looking, sturdy, and usable products for baby.
One of our priorities is allowing baby girl to feel safe and comfortable. This Pack N' Play does just that. It doesn't have many parts whatsoever, so it makes taking it to travel so easy. I love that there is a bassinet to allow baby to play and rest and its automatic set up and take down. The airy mesh on both sides is so safe and comfortable for baby!
Another great feature is that it's designed to grow with your child- all the way from newborn to infant, and then to toddler. I read that there is a newborn napper you can put right on top of the pack and play for your infant to sleep in, which sounds awesome. It's called the "infant napper". Graco says you can use that attachment up to 25 pounds and I have read it always stays a nice temperature and has a good "give". So, basically you can use this product for all three life stages of your child's development, which sounds awesome.
Another huge plus is that I have done research on how much the pack 'n plays cost, and this is the most affordable model, and people really seem to love it!
I can see is using the Pack 'N Play when we take baby to visit her grandparents and for our mini trips- so I do think we will get good use out of it. Hubby, who isn't the most patient man in the world and really dislikes putting together baby things said it literally was the easiest thing ever to put together! Go for it, you won't regret it.