*I received an all expense paid trip thanks to Disney and ABC studios. All my opinions are my own and not swayed by outside sources.*
This coming Friday, February 20th, McFarland USA is debuting on the big screen. I had the chance to screen this movie last weekend and I have to say, this is honestly one of my favorite "non-animation" Disney movies to date. To say this movie is good, is quite an understatement. This movie is superb and is a fantastic family movie to see. Adults and kids alike will not only enjoy this movie, but it will have a profound impact on them. The key to determination and believing in yourself resonates throughout the entire movie.
While I will be having a full review in a few days of this movie, I thought I would give you a brief synopsis to tie you over. Set in the late 1990's, this story follows Jim White (played by Kevin Costner) who lands in McFarland USA (one of the poorest towns in the country) and sets to create a track team made up of a primary Latino population, who have never run as a sport before. He takes this team of exceptional young men to win the state championship, and McFarland is put on the map as the small town who continues to win year after year, eventually becoming Division 1. Based on a true story, this movie showcases the struggles that Jim White and the boys go through to win the championship title. Much more information on this to come, but I wanted to give you a tiny bit of a synopsis before you head to the theatre on 2/20.
While on the press trip for McFarland USA, we had the chance to interview the spectacular Kevin Costner. Kevin Costner plays the role of Jim White, the school's coach who leads the team to win a championship but not without some social issues that stand in the way to make his and their dreams become reality. He faces a lot of challenges to actually make this team win the championship, such as showcasing how he takes primarily Latino men, with no training nor any real desire in the beginning, to the finish line. The end result brings actual tears to my eyes, as I am sure it will to you too!
When Kevin Costner entered the press room, I honestly sat and stared for about 5 minutes. Seriously, Kevin Cosnter was about 2 feet away from me and I was nervous as anything. However, the minute he started speaking, we all saw that while he is an Academy Award Winner and a legend, he is an actual person just like you and I. He made us all feel comfortable from the time he started speaking to the very end. He was eager to talk to us and get all our questions answered. He was one of the most gracious and humble actors I have ever met. I actually think he was intimated by us because his first thing he said to us was, " There is nothing more demanding than a room full of mommies!"
He then started out by telling us that making movies was like attending school recess to him. When that bell went off for the break from school, that is when his desire to start living began and to make up his own life. He equated this to why he went into the movies in the first place. When he went into the movie business, he wanted to be interested in everything he partaked in. While he loves making movies, what he stressed to us is movies, while a very important sector of his life, is actually only a small part.
That is why he truly wanted to take on the role of Jim White in McFarland USA.
"I don't plan my life so much to the point that I miss something like McFarland, a little story about Latinos and, and a community that I actually participated against in high school. "-Kevin Costner
I find it amazing that he was involved in sports as a child and actually played against McFarland. I don't think any of us knew that and it made it even more exciting to see him in this role that relates back to his childhood. Kevin Costner lived in the Central Valley  and saw this culture in his childhood, driving down the roads of his hometown.
"It was important to highlight this little town and there's little McFarland's everywhere in America. It's a very important part of my filmography to be a part of this movie." -Kevin Costner
Being a runner, I was interested in the next question that was asked about how much training he did for the movie. Plain and simple, he told us that he trained by running in one scene that we see in the movie and the rest of the time he enjoyed watching the running of the cast, while he sipped on a Coca-Cola. Seriously, he is awesome, right?! I laughed over and over with some of his answers. So true..So honest! He mentioned though that he had to be resourceful and learn about the art of running, so he can adequately portray the role of Jim White and take a deep understanding of these young boy lives.
He was so positive by everything he told us and stressed to us how important it is so live our life. Living is never done!
"You know, we're not done at all. You know, we're here, you're doing your job but what you want to be in your life is still in front of you. The same things that we offer our children, we shouldn't be so ignorant to not offer up to ourselves." – Kevin Costner
Kevin Costner met with Jim White and his family to get their backhand experiences before making this film. While they took some license with his character, the story was not changed at all with the actual plot or storyline. Nine championships were won under the direction of Jim White.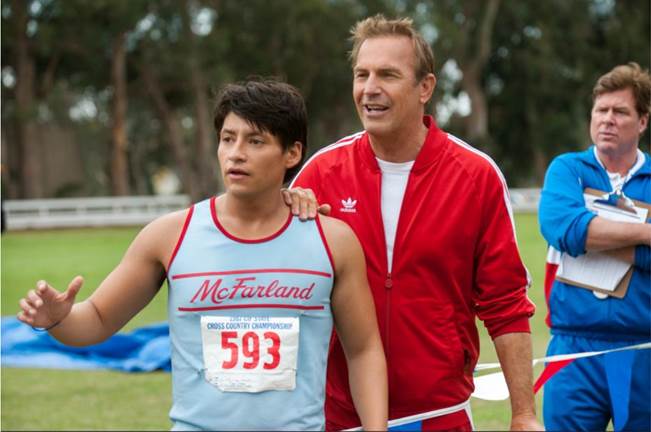 It was very interesting to also learn that he grew up around "migrant workers."
"When I left Compton, that's where I was born, I moved up to a place, called Ojai and there were orchards up there. Then moved down to a place called Ventura and that was just all agricultural, and then went to a little Mexican barrio school called Saticoy. So a lot of the kids I competed with, their fathers were pickers." – Kevin Cosnter
I also found it interesting about the next question that was asked, about how he loves to be in sports movies. He told us that while sports were a part of his life growing up, a lot more sports films want him to be in their pictures, but he wants a true story with real people involved, rather than the actual sports part. He wants a people story that intertwines with the sport aspect.  With McFarland USA, when he saw the script, he knew it would be easy to slip into character and bring the amazing Jim White to the big screen, and a household name for all of us.  He also told how he really formed a bond with the boys in the film, and coached them on how important it was to make a winning film, like McFarland USA was.
He  mentioned that while the film is very emotional, the last race in the movie was the one he truly thought was the most emotional for him.  It was where the boys, who didn't have the best uniforms or the biggest busses that drove them to the race, saw what they were up against. The began to shrink out of fear but overcame that and began the journey to truly believing in themselves. It showcases how important it is that if you work at something and you believe in yourself, the fear shrinks and you can win. This resonates in life too. If you put your all to something, you will succeed!
I will be back talking more about McFarland USA over the next few weeks but do follow McFarland USA on Facebook/Twitter to continue to learn more about this fantastic movie!