**"I participated in an Influencer Activation on behalf of Influence Central for Blue Dragon. I received product samples and a promotional item to thank me for my participation.**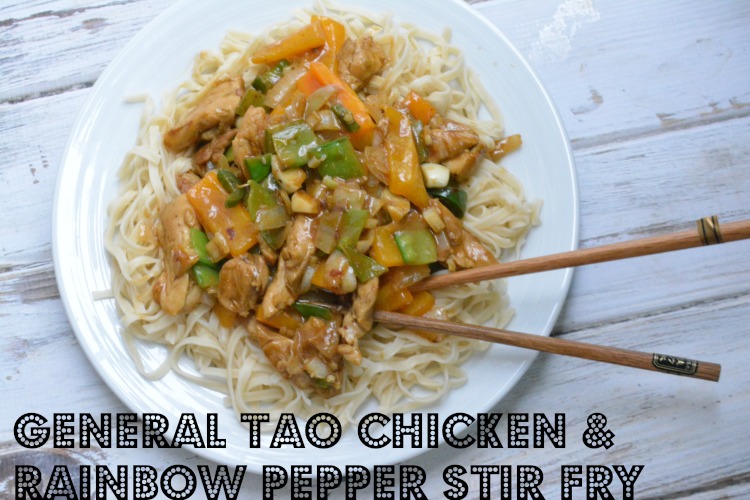 I love Asian food. There's just something about the flavors and textures working together that does it for me. I've always loved a good Asian dish, but when my husband and I went to Asia, it cemented my love of the cuisine. My husband and I had a wonderful trip last summer. We stopped in Japan and China, taking in the scenery and the wonderful food along the way, but the bulk of our trip was Thailand. It was amazing. We got to ride elephants, which was worth the trip itself! It was so exciting – and a little terrifying – to climb up onto the back of those enormous, majestic creatures. We also got to pet monkeys, go in cages with lions, and sample local Thai cuisine like General Tao Chicken. It was marvelous! It was the trip of a lifetime. The kind of trip you never forget.
That's why I was so excited to give Blue Dragon sauces a try. I thought it would be a great way to bring back the flavor – and the memories – of our Asia trip, and I was right. When I started to cook, the aromas instantly brought me back to that wonderful trip and all the sights, sounds, and tastes that my husband and I had the opportunity to enjoy!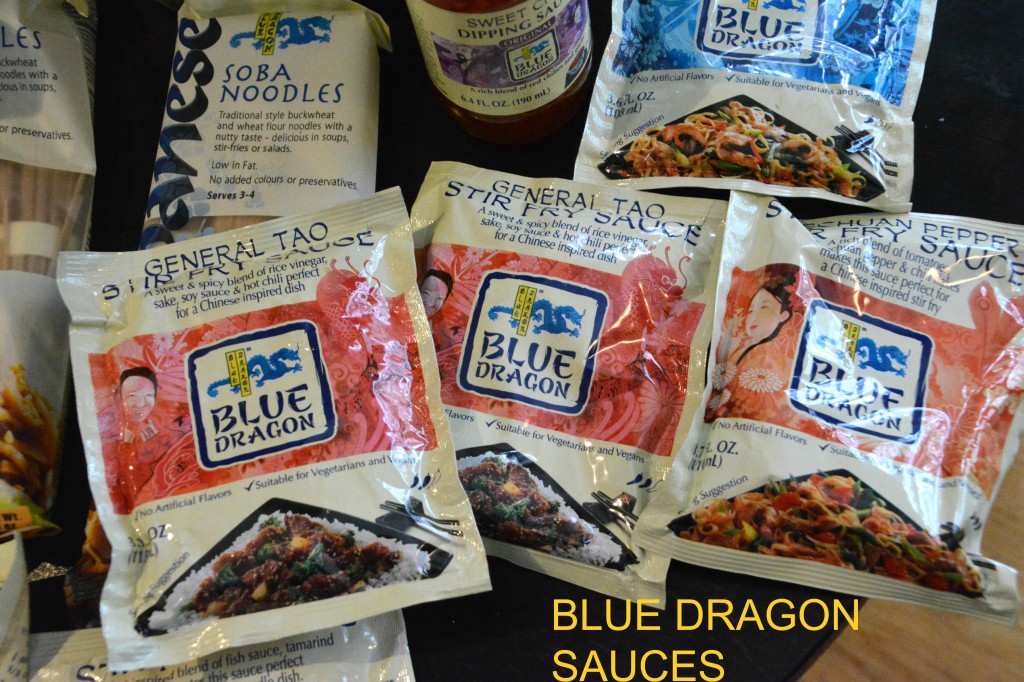 General Tao Chicken & Rainbow Pepper Stir Fry
I decided to use the Blue Dragon Cookbook to make General Tao Chicken & Rainbow Pepper Stir Fry. When I read about this recipe in the cookbook, I knew I needed to make it for my family. This is a similar recipe to one I made in Thailand and I wanted to share those memories with all of the important people in my life who didn't have a chance to taste this wonderful dish in Asia's beauty,  the way my husband and I were able to. I absolutely loved how it turned out and how easy it was to make!
Ingredients: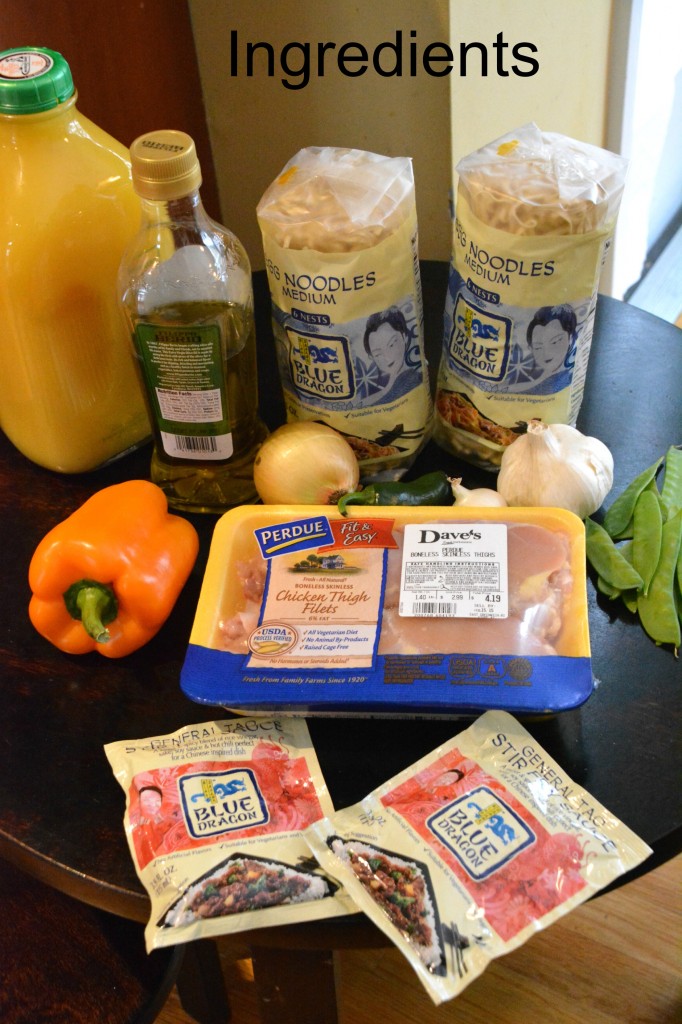 2 tbsp. vegetable oil 1/2 lb. (225 g) chicken breast, thinly sliced
1/4 tsp. salt 1 1/2 cups sliced rainbow peppers
1 cup snow peas,
trimmed 1 green onion, sliced on the diagonal
1 red hot chili, sliced 2 cloves garlic,
minced 1 tsp. minced ginger
1/4 cup orange juice
1 tbsp. hoisin sauce
1 sachet (3.9 fl. Oz./115 mL) Blue Dragon General Tao Stir Fry Sauce Blue Dragon Medium Egg Noodles (2 nests) or Blue Dragon Japanese Soba Noodles (2 bundles)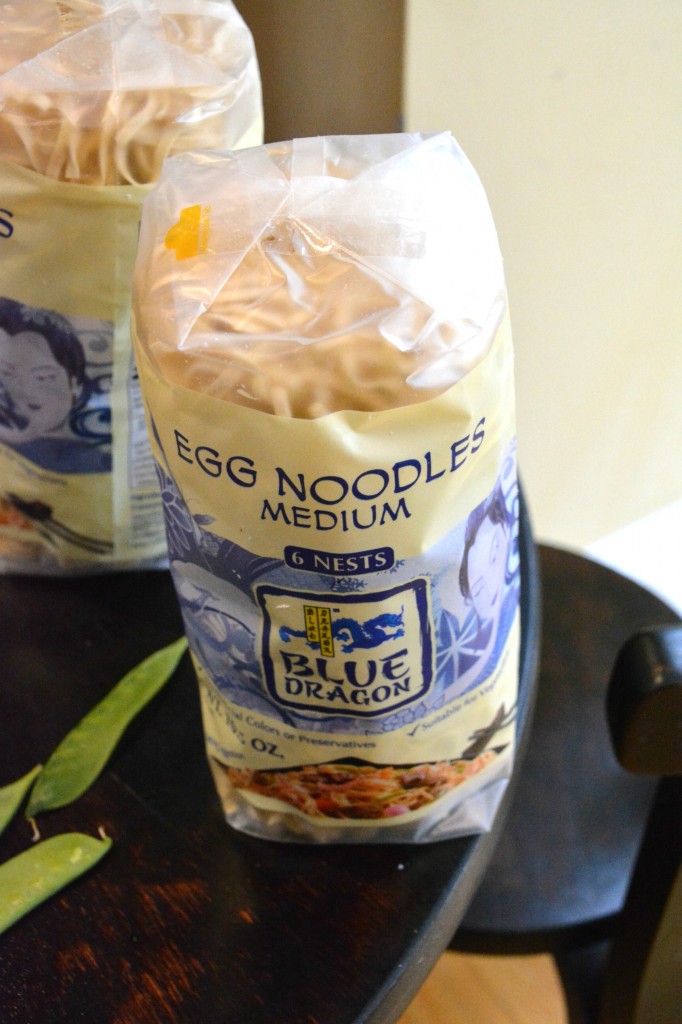 1 tbsp. toasted sesame seeds
Directions: 
1. HEAT oil in a wok and set over high heat. Season chicken with salt and stir-fry for 2 to 3 minutes and until cooked through.
2. MIX IN vegetables and stir-fry for 2 to 3 minutes or until tender. Add wet ingredients and Blue Dragon General Tao Stir Fry Sauce into the wok; return chicken to wok and cook until heated through.
3. SERVE with Blue Dragon Medium Egg Noodles or Blue Dragon Japanese Soba Noodles. Garnish with sesame seeds.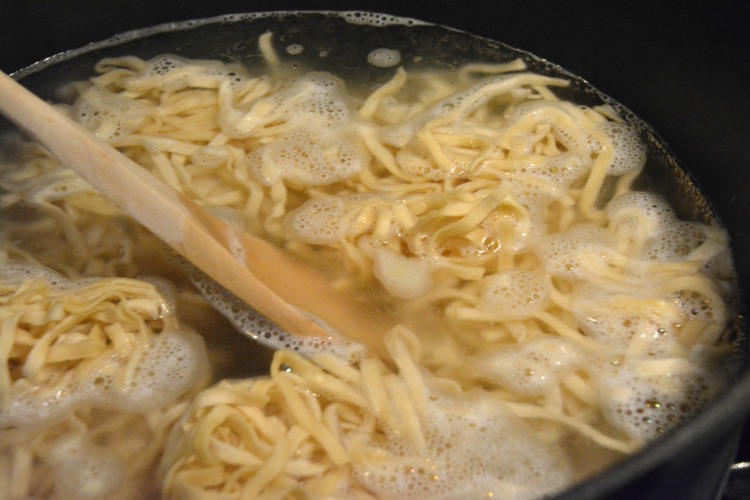 *recipe directions and ingredients taken from Blue Dragon Sauces Cookbook with permission*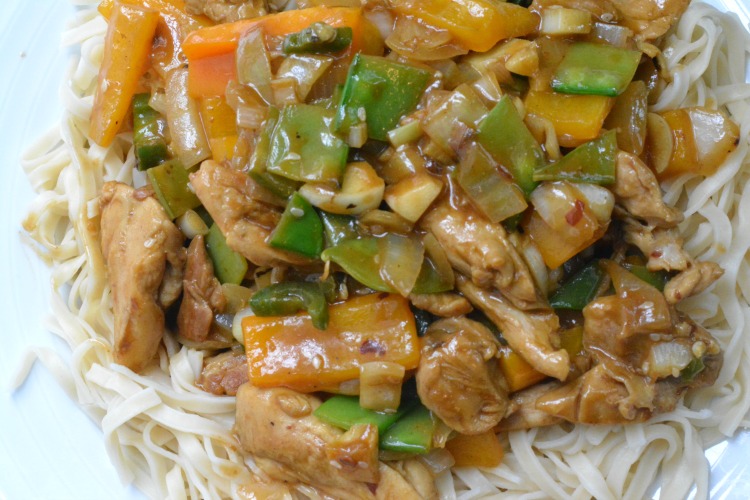 My family loved this recipe, and I'm so glad! It was a wonderful way to share the tastes that I love so much, and it was fast! Take out can take FOREVER, and it's always stale tasting after you finally get it home. My General Tao Chicken recipe was hot, fresh, and ready to go in half the time, and it tasted twice as good! The kids loved it, and they also loved using the chop sticks! Eventually, they gave up and used forks, but it was hilarious to watch them try to pick up the food for those few minutes that they "used" the chopsticks. =D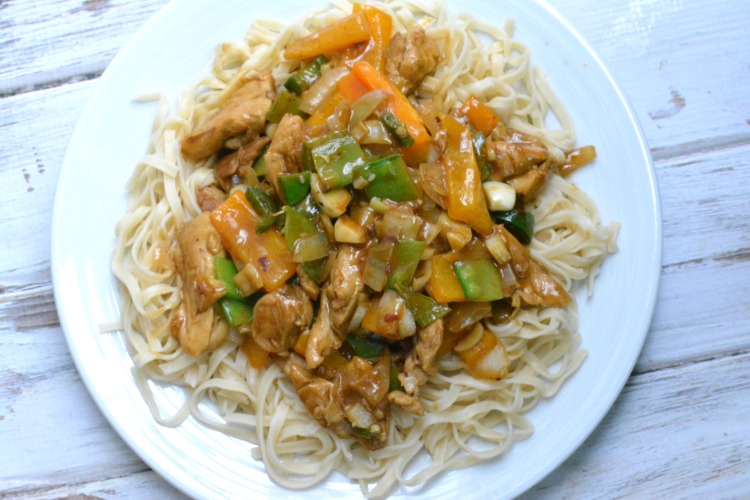 I had such a great time making General Tao Chicken & Stir Fry, and I'll definitely be making it again. The kids say that it's the best aroma that they've ever smelled come from our kitchen. The food was great, but the family time was the best! We laughed and ate and fiddled with chop sticks, and my husband and I got to tell the kids – again – all about our trip. They even loved the "take out" containers. It really was home made take out, and it was delicious.
I would encourage you to go pick up some Blue Dragon sauces and have a home made take out night of your own. It's so much fun! It's also very easy to make authentic "take out" with all of their great sauce varieties. You can be sure that your meal will have the authentic taste we all love. Blue Dragon has been around for more than thirty years, and they feature sauces the bring you the flavors of China, Thailand, Japan, and Vietnam. Whatever you're in the mood for, they'll have a sauce for it including Broccoli Beef, Phad Thai, Szechuan Pepper, Chow Mein, and General Tao.
Great news because now you can try them at your local stores! They are delicious and you can try them for yourselves at the local samplings that are going on all month long. Some of the great locations include this coming Sunday  2/15 in Cranston, Rhode Island and Worcester, MA. For a complete list, click here: Sampling going on for Blue Dragon Sauces.  Definitely take advantage of these delicious samplings today!  To learn more about Blue Dragon Sauces, follow them on their Facebook and You Tube Page.
Giveaway: One winner will receive  Blue Dragon sauces and a cooking kit including a wok, spatula, chopsticks and take out containers. This giveaway is run via rafflecopter so click read more to see the actual giveaway. The only mandatory entry is to visit Blue Dragon and tell me what sauce you are most excited to win in the comment section proceeding the post. While the other entries are optional, I highly suggest filling them out to increase your chances of winning. US only. Good luck. Ends Feb 19!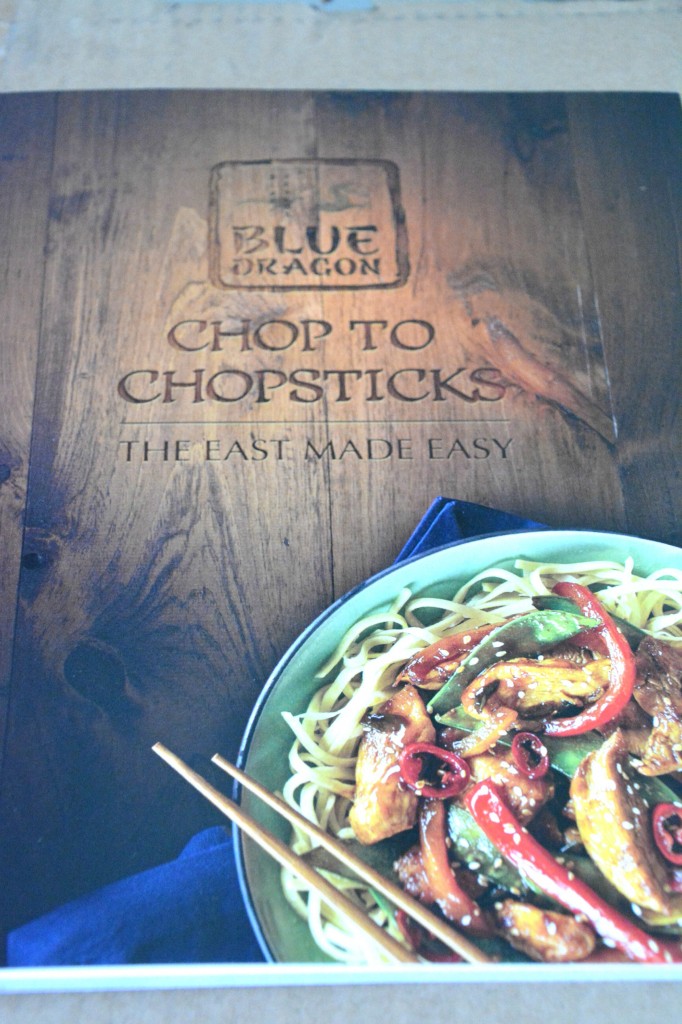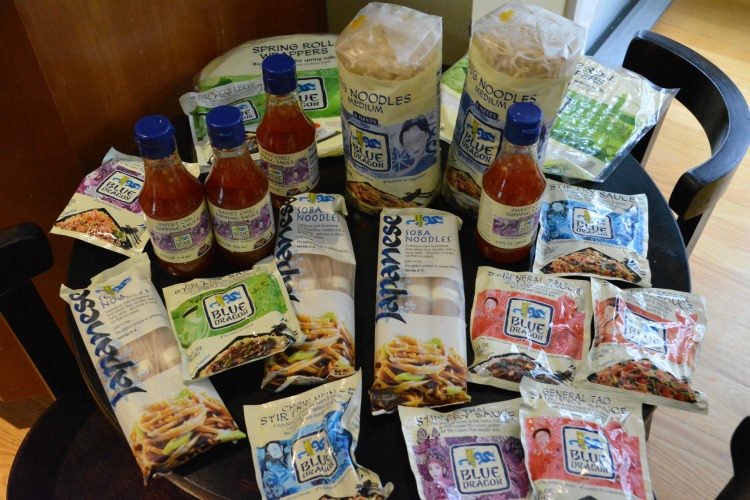 *Contest entrants are only eligible to win once per sweepstake, per household as part of a campaign sponsored by Influence Central."