*I received an all expense paid trip thanks to Disney and ABC studios. All my opinions are my own and not swayed by outside sources.*
If you have seen Big Hero 6, you are familiar with the short cartoon called Feast that debuted right before the movie started. If you have yet to see it, do not worry, as Feast can also be seen on the Big Hero 6 DVD.  This 6 minute cartoon directed by Patrick Osborne, is one you do not want to miss! The premise of the cartoon revolves around a Boston terrier named Winston and his owner. In the beginning, Winston is fed a meal by his owner consisting of leftovers and junk food.  A typical diet for a single man living alone. Once Winston's owner meets a women, love is in the air, and Winston's diet changes to one that is healthy/organic because the women likes to eat healthy. Winston does not like this, as he is not a health food fan. The women and the owner then break up, and the leftovers are back. While this makes Winston happy, he hates seeing his owner so unhappy over losing his girl. Eventually Winston changes things and brings the two back together. Love follows and a baby is born.  It is an adorable story!  If you are a dog person, like food, or just love a feel good story, then Feast is one you do not want to miss out on!
This amazing short was produced by Patrick Osborne, who I had a chance to sit down with on the press trip for in the home release of Big Hero 6. Patrick Osborne joined WDAS as an animator on the 2008 feature film "Bolt," and went on to work on the "Prep & Landing" movies and Disney's 2010 hit "Tangled. Osborne served as head of animation for WDAS' Oscar®-winning short "Paperman," and acted as co-head of animation for the upcoming feature "Big Hero 6" prior to assuming full-time directing duties for "Feast." Prior to joining Disney, the Cincinnati, Ohio, native was lead character animator on "The Chronicles of Narnia: The Lion, the Witch and the Wardrobe." He also worked as an animator on "I Am Legend," "Surf's Up" and "Open Season."
Once Patrick Osborne started the interview, we were immediately so drawn to his passion with working Disney and producing animated cartoons. In this day and age, it is hard to find people who truly love their job, but Patrick is one of them. It made it interesting to listen to him with all the work he puts into the movies and his desire to make shorts. I was also completely amazed by how much goes into making a short. It is only 6 minutes but it took him 51 weeks to make. That is incredible!
Patrick Obsorne originally had three different ideas for Feast before his final work was even brought to tuition. He started Feast with just food and then added on Winston later. He had the vision of Winston and the thoughts of Feast several years before the film even began in production. In 2012, Osborne documented all his meals he ate every day and put it on a vision board. He told us how he ate them and what he ate, said something about his life. He took all his photos to create this vision board, which resulted in the making of Feast.  After he came up with idea, he needed to bring it to a pitch board to get accepted and go through many different steps along with the Disney chain.
Once he got the go ahead to start Feast, he brought in a food stylist to make sure his look really matched up to what he wanted to achieve. With the food stylist, they made sure the light was what they wanted such as being dark for the lower emotions and then brightening up the food, when his owner begins to find love. If the food is good, it should be lit up. If is not good, it should be hidden. For example if Winston did not like it, the visual lightening would be much darker.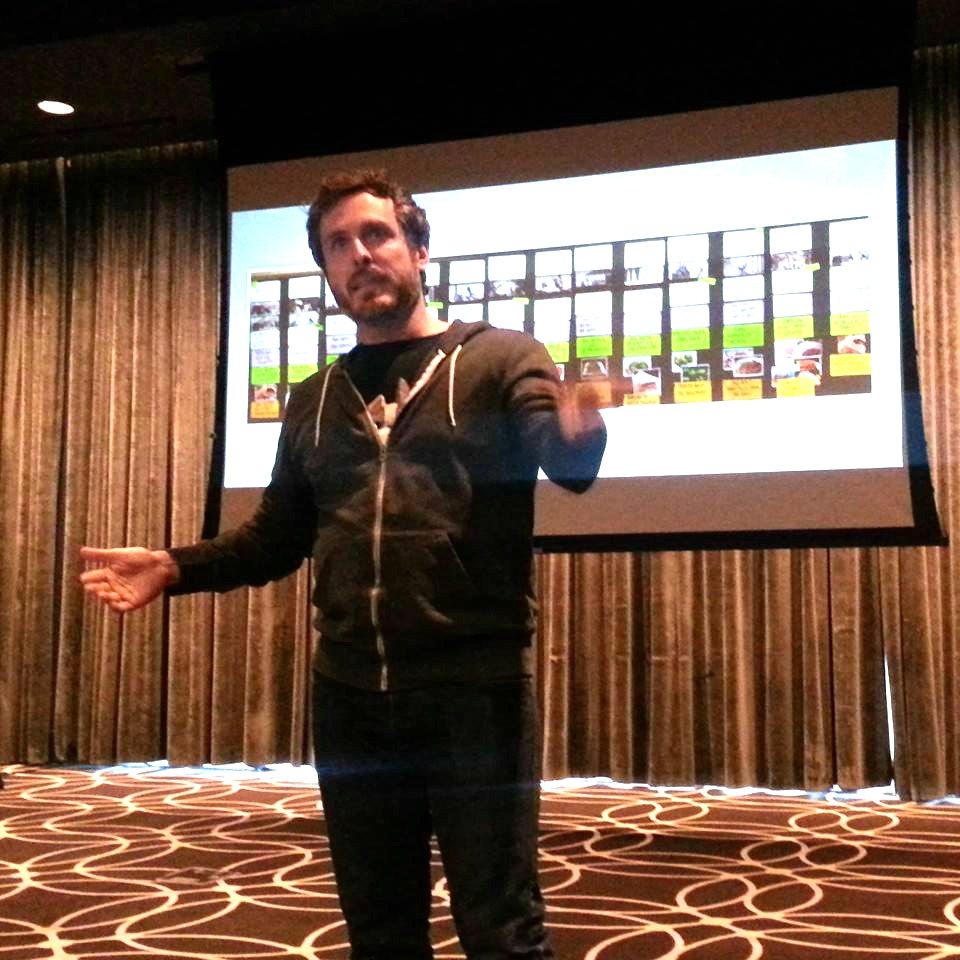 There were so many details I have never even thought would need to be made to make a short. For example in this film, they had to get the perfect food and the right dog. While there are many breeds of dog to choose, they actually brought in dogs to see what breed they thought fit the film the best. In the end, they chose the Boston Terrier but that was after doing real life tests in their studio. They wanted to depict Winston as realistic as they possibly could. Everything from Winston's mouth to his stance, was sketched over and over again, until they achieved the correct final product.
They ran many light tests and light makeovers to achieve the vision that Osborne had when he first started making Feast. Once shot lighting was achieved, the technical animation began. That was where Osborne said he had the most fun. He loves animation and working with Disney, which certainly shows in the final product of Feast. While it was a long endeavor, the end result is what he, along with audiences, are most proud of. From start to finish, it took 51 weeks to make Feast.
I was honestly amazed how much truly goes into making a 6 minute short! Each still of Feast was drawn out to make sure they got the results they wanted. It really gave me such a great appreciation of the work that Disney and the film makers do to create a Disney picture. While I loved anything and everything Disney before, now I realize the depth, ambition, and hard work that it makes to put a Disney film, long or short, before our very own eyes.
The animation in Feast is also unlike anything I have seen before in a Disney film. Feast was animated using the Meander system developed for Paperman, and was the first time the tool was used in color. The animation was more of a hand drawn feeling, rather than the crisp, traditional Disney movie animation we have seen for many years. However, I think with a film like Feast, this technique was certainly needed, especially by showcasing a dog's feelings though his food. The coloring is beautiful, and it sets on the dog/food relationship, rather than highlighting the adults in the film. The adults were more out of focus in this animation style. Patrick Osborne wanted the adults out of focus because he wanted Winston and the food, to be the highlight. Most of the time, we do not see the owner fully in the scenes, except for a few select events. One scene where we see the adults in focus was when the owner and his bride get married. The dress that is worn in that animation scene was modeled after the actual dress Patrick Osborne's wife wore at their wedding.
Feast is an amazing short and one that should be definitely watched. Be sure to pick up Big Hero 6 on 2/24, where you will get the animated Feast as a bonus feature on the  DVD set, along with other great bonus features. Enjoy Feast!