*This is a sponsored post. All my opinions are my own and not swayed by outside sources.*
I love safety barriers. I use them extensively in my home. A good safety barrier is a must in my opinion. I use them to keep the kids off of the stairs and out of certain parts of the house that I consider to be potentially hazardous. I'm all about safety first. My only problem with any safety barrier is that they are always so ugly. They're usually a wooden frame with some sort of plastic mesh in the center. They do the job, but they are hideous to look at! Not anymore.
A Good Safety Barrier Doesn't Have to be Ugly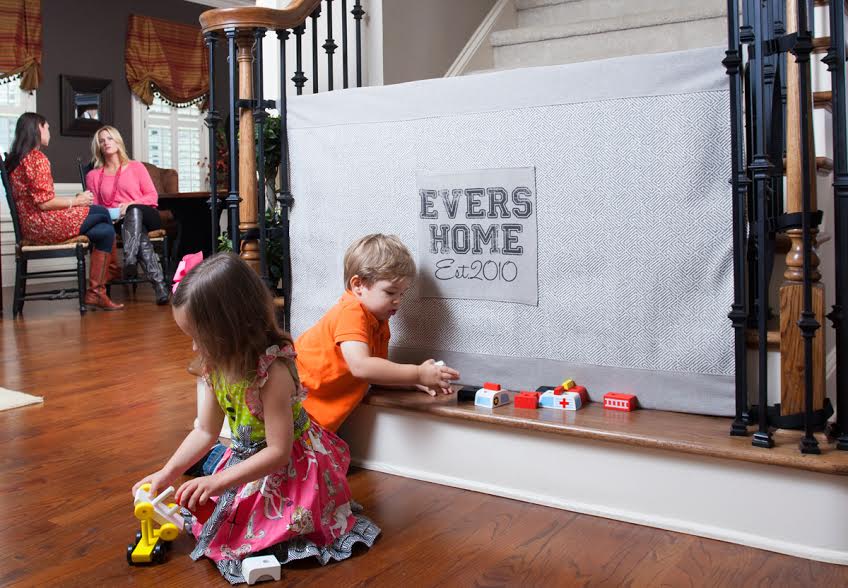 I just discovered a wonderful alternative to a traditional safety barrier. It's The Stair Barrier. The wonderful thing about this product is that is works AND it doesn't hurt your eyes when you look at it. The Stair Barrier is portable, requires no hardware, and it works on almost any stair setup. This safety barrier is both attractive and functional, and I love it for that. Now, instead of coming home to some fugly wood and plastic contraption, I come home to a beautiful fabric banner. While it may not be traditional home decor, it certainly looks nice, and it doesn't detract from the rest of my home's beauty.
The Stair Barrier currently comes in five varieties.
BB Basic Home – A lovely camel colored safety barrier with "WELCOME" embroidered across the center. This was the model I chose.
BB Basic Home – This also comes in camel, and it has a cute embroidered pattern in the center that reads "NO" along the top, has a paw print below that, and then "ALLOWED" below the paw. it's adorable.
BB Signature Chevron – This has a gorgeous black and white horizontal chevron pattern. It's very striking.
BB Signature Gray – This beautiful safety barrier comes in a classic gray color with an available personalized embroidered center piece.
BB Signature Khaki – Another wonderful choice. The Signature Khaki comes in a lovely khaki color.
As you can see, they have a variety of colors that will fit into almost any home's decor. So there are no more unattractive baby gates sitting on the stairs and no more screws in the walls. I would encourage any parent to check out The Stair Barrier. I'm glad I did. I've finally found a safety barrier that I can live with! Yay!