We all want to stay connected with our friends and family, and social media is a great way to do that. Let's face it though, we all have at least one family member who would rather cut off their own arm than do anything associated with social media. That's why #Cube is so great. It allows you and your family to stay connected in real time with your favorite social media feeds as well as family photos and videos.

Stay Connected with Who and What You Love
I love my family. We're all very close in spirit, but geographically some of us are pretty far apart. That's why I think #Cube is so great. It's the perfect solution for easily staying connected whether you're a social media fiend or want to stay as far away from it as possible. The thing that makes #Cube so great is that you can use it with or without a social media account. So I can use it to easily stay on top of my favorite photo and video feeds without having to rummage through all the other posts, and my less techie family members can stay connected to only what they want without having to do anything at all! Here's how it works.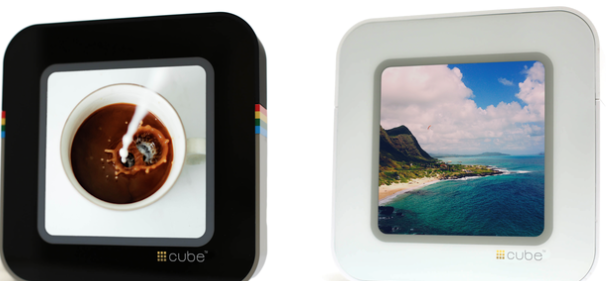 With just the touch of a few buttons, I can set up my #Cube to follow photo and video feeds on Facebook, Twitter, Instagram, and more. After the initial setup, I simply keep the battery charged, and I see all of my favorite imaged and videos in real time with no logging in or sifting through tons of other posts that I have no interest in.
With that same quick setup, I can help my less tech minded family members stay connected to all of my family's photo and videos in real time. All we have to do is set up the #Cube to follow a specific hashtag, and then use that hashtag whenever we post photos or videos. Everything with the family hashtag is shown on the #Cube in real time. I can't think of a better way to stay connected than that!
Here's an overview of the great features of #Cube
Wireless, real-time photo and video streaming of your favorite photo and video feeds
No social media account required – great for keeping non-social media users connected
Follow feeds from Facebook, Twitter, Instagram, and more
Set up a family hashtag to easily see all the family fun in real time no matter where you are
8″ LCD touch-screen display
Classic, elegant design – no eyesore sitting on the table
Rechargeable battery
Built in WiFi with free lifetime updates
I think #Cube is the easiest, most innovative way I've ever seen for the family to stay connected, and I think if you give it a try, you'll agree. Head over to their website and check it out for yourself.