Happy weekend everyone! Did you all have a great holiday?! We celebrate both Chanukah and Christmas so the past week or two has been a bit crazy, but also so much fun!
As always, come link up any cute or funny post. Definitely check out the other blogs who link up as they all provide a great laugh. Feel free to take my button or share on social media, although this is not necessary.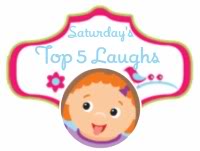 My top five laughs:
5. My kids finally got the idea of Chanukah. I asked Hayley what she wanted and she told me that she wanted anything Frozen. So I got her 8 gifts of all Frozen. We love Frozen here but man, her room looks like she vomited Elsa and Anna. LOL!
4. Zane got so excited when he received presents this year. Even if it was a T-shirt, he would come up to me and thank me profusely. It was the cutest thing.
3. I realized that Taylor truly is the third child. I got gifts for everyone and then Christmas Eve realized that we actually have a third child. Poor third kid. So I ran out and bought her, her first gift- a toy piano:)
2. Hayley and Zane helped me make latkes this year. They came out really good. Hayley asked if she could try to create the recipe again and lined up what she thought were the ingredients- potatoes, ketchup, mustard, and cereal. Not quite Hayley!
1. And look at my Boo-Boo:
Now your laughs: