**This review and giveaway was made possible by Double Duty Divas and Luvs. I was compensated for my participation in this campaign, but all opinions are 100% mine.**
Baby Taylor was born this July and so far everything is going great. She might not be an awesome sleeper but she is truly one of the happiest babies out there. Always smiling from ear to ear! She is a true delight. The only way she gets truly fussy is when she is hungry or wet. The girl hates to be wet. I can't say I blame her one bit. If she wakes up at night, usually the culprit is a wet diaper or she is hungry. Thankfully now though, she can sleep comfortably because of the trusted diaper brand, Luvs.

Luvs Diapers are a trusted name in baby care. They are a brand that you can trust for all you baby needs. This holiday season is stressful enough that I don't have to worry about the diaper failing in the middle of the night. The worst nights are those  pre-Luvs that she woke up leaking through the diaper and soaking her clothes. Long gone are these days thanks to Luvs!
Luvs wants everyone to celebrate a Leak-Free Holiday this season! Luvs with NightLock offers its largest absorbency area EVER to help lock wetness away, which means less leaks during the holiday season for baby and more time for parents to enjoy the festivities. When the baby is dry, the baby is happier, but most of all the parents are happier. Gone are mornings where I need to change the sheets! Now we can just enjoy the festivities during the holidays and after.
LuvsLeak Barrier Leg Gathers ensure leaks are kept away from holiday outfits and in our diaper – where they belong! Not only are the diapers great, but they are a company that cares.  Right now they have a "Will It Leak" video series.They are going to make the holiday season even more special with this video. From December 9th – 25th, for every view their Will It Leak "Santa Suit" video receives on their social media channels, Luvs will give a diaper to a child in need through the Children's Miracle Network. So be sure to click on this video today to help out!
The holiday fun doesn't stop there! This holiday, Luvs is also inviting parents to whip up a baby book for their child in a few quick clicks with Luvs and
Tweekaboo. Get yours here: Tweekaboo.
Twitter Party alert: Please join Luvs and celebrity dad, expectant father and Donald Faison for a #LuvsLeakFreeHoliday Twitter Party on Thursday, December 11th, from 9-10pmEST, where we'll be sharing personal holiday leak stories.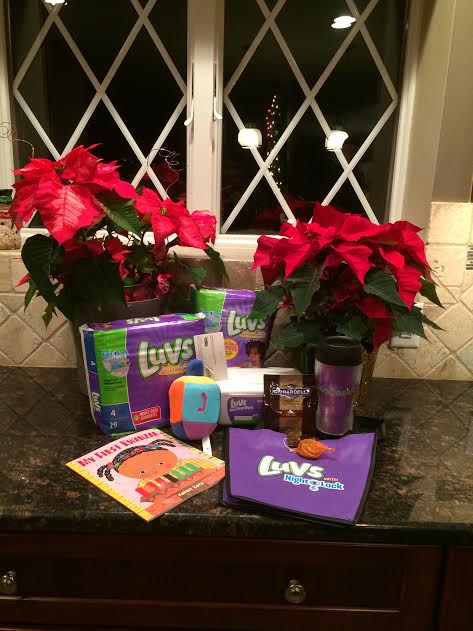 Giveaway: One winner will receive the following: Branded Luvs tote bag, #LuvsLeakFreeHoliday travel coffee mug, Hot chocolate, Luvs branded purple star ornament, MyFirst Kwanzaa book, Plush Musical Dreidel, Hanukkah gelt, Two packs of Luvs diapers and a tub of Luvs wipes. This giveaway is run via rafflecopter so click read more to see the actual giveaway. The only mandatory entry is to tell me how old your kiddos are who you want to win this for. Please put all comments in comment section proceeding this post. US only. Good luck!
a Rafflecopter giveaway