**This shop has been compensated by Collective Bias, Inc. and its advertiser. All opinions are mine alone. #EurekaPower #CollectiveBias**
I am going to be straight forward with you all and admit that I HATE cleaning. I know hate is such a strong word but there is nothing I enjoy less than the physical act of cleaning. That being said, I absolutely LOVE having a clean house and do everything in my power to assure my house does stay clean. It is not an easy task with three small kids 6 and under, but I try my hardest to make my house as presentable as possible. Since tidying up and cleaning the house is a necessity in my eyes, I try to find ways to make the act more enjoyable and easier on me. For that reason, I thought it would be fun to relay to all of you what I do to get my house looking spiffy!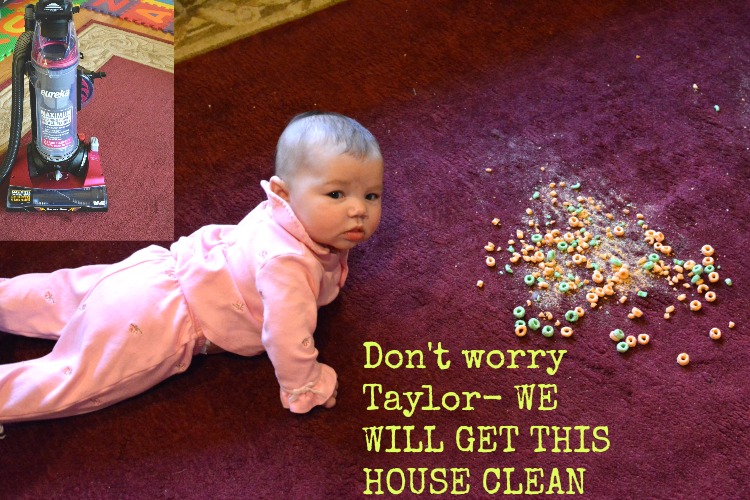 TIPS FOR GETTING YOUR HOUSE SPIFFY CLEAN:
1. Make cleaning fun! Yes I know I said I hate cleaning but because I need to do it on a regular basis, I make sure to have some fun doing it. What I like to do is find a time when the kids are in school, put on my headphones, blare out the tunes to the latest JZ song, and do some vacuuming. I know you might laugh at the visual but it is actually very therapeutic to dance my way through my cleaning.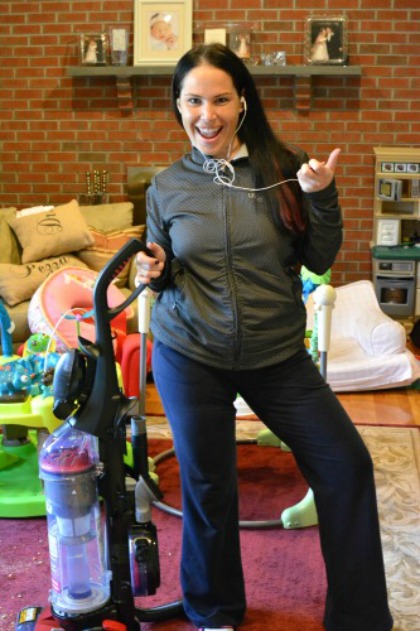 2. Try not to tackle all areas of the house at the same time!  I usually make a plan to do one area of my house at a time. It is fine if you are not able to do your whole house in the same day. With three screaming kids and my work schedule, sometimes I only have 1 hour to my day for myself. I do not want to spend the entire time cleaning so I allot about 20 minutes a day to do my cleaning. If you follow a cleaning schedule, you will become much less stressed and perhaps even enjoy yourself. My first stop on my cleaning schedule is usually the kids playroom because that drives me batty if it is not cleaned.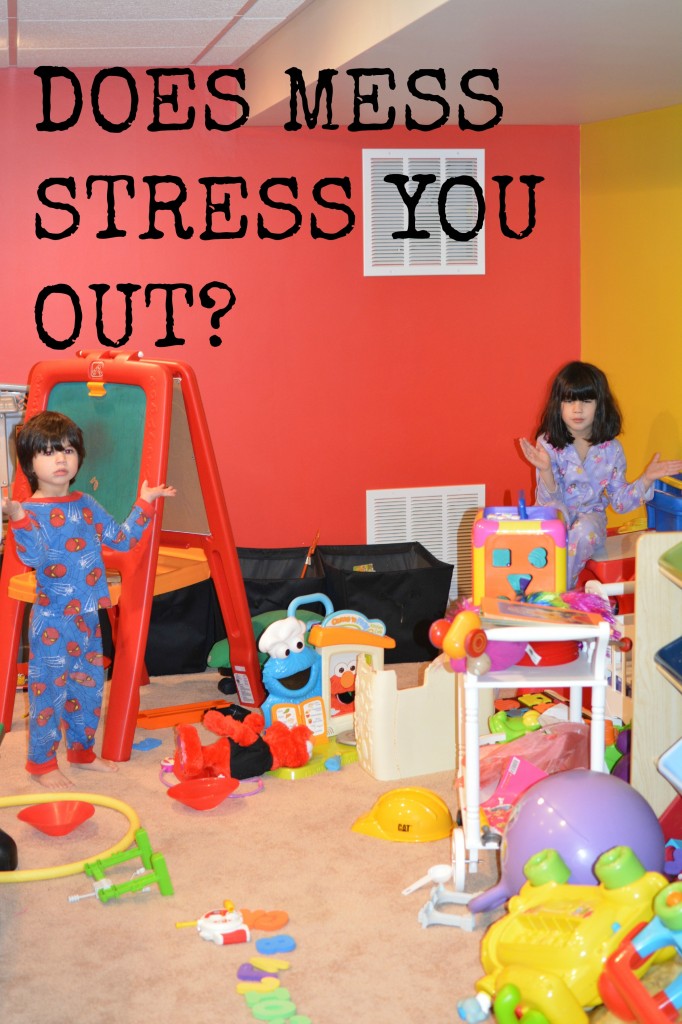 3. Now comes the most important tip. It is ESSENTIAL to invest in a good vacuum. I have tried many through the years but ultimately they all didn't do the job I wanted them to do. They did not perform up to my standards. So many times I would get a vacuum and be utterly disappointed. However, this all changed since the Eureka Suction Seal 2.0 vacuum came into my life. This powerful vacuum with a fantastic suction seal has made cleaning a pure cinch.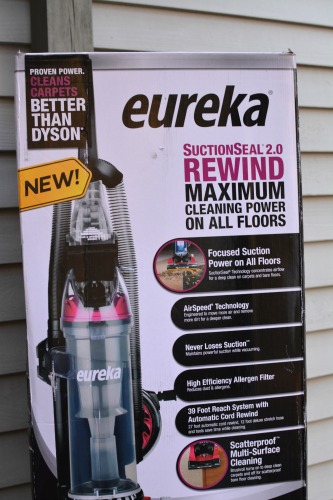 First up, if you are unfamiliar where to purchase the Eureka Suction Seal 2.0, I will tell you that it is readily available in your vacuuming aisle at Walmart. This vacuum is a featured product at Walmart during November and is currently on Rollback from $148.88 to $129.  You can not beat this price!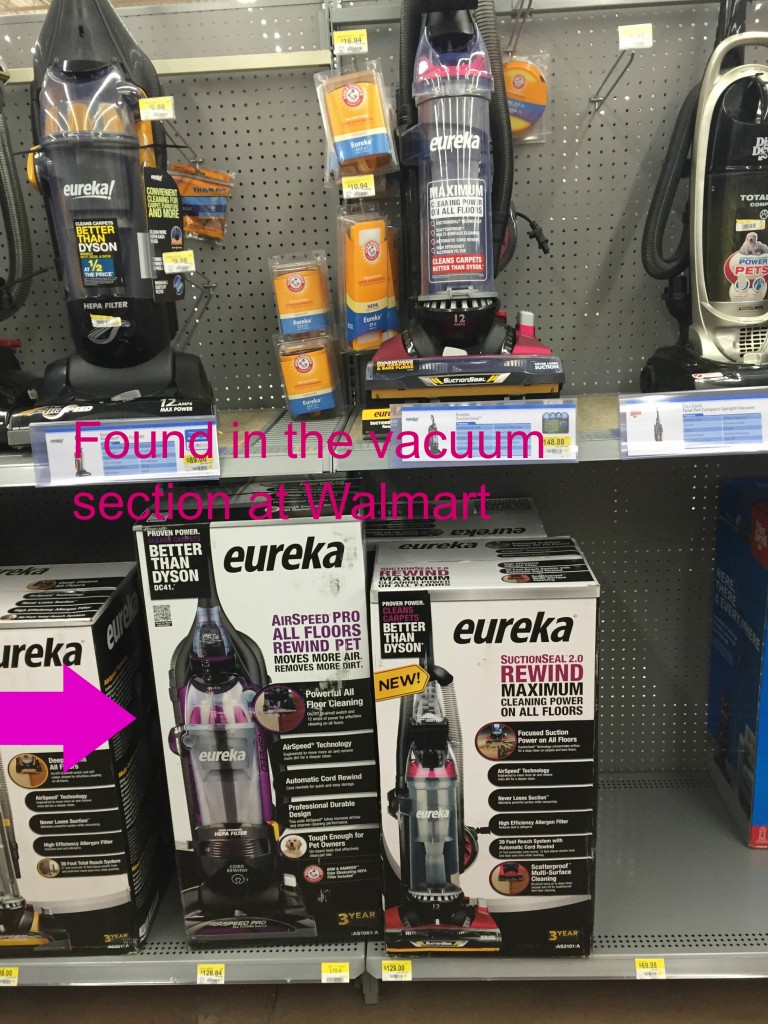 I had many days where I had a chance to test out this vacuum. Let me give you an example of the type of mess the Eureka Suction Seal 2.0 takes care of. The story starts out with Zane and Hayley bringing their cereal into the living room, even after repeatingly telling them that food stays only in the kitchen.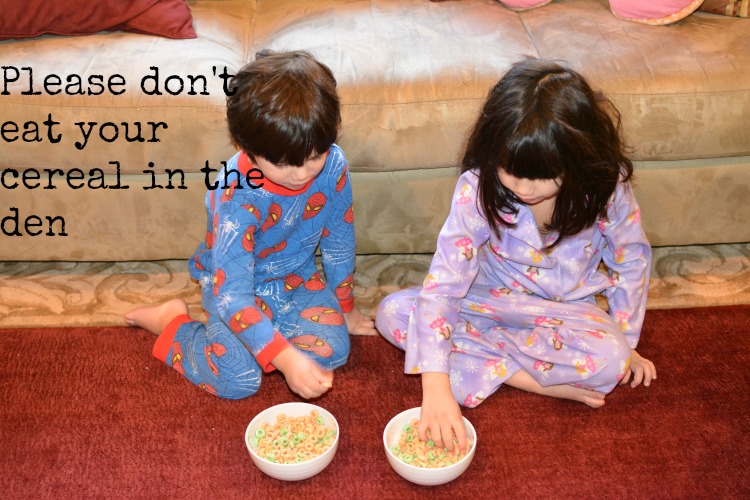 Next I see Zane eyeing the cereal bowl, which is now smack in the middle of our rug.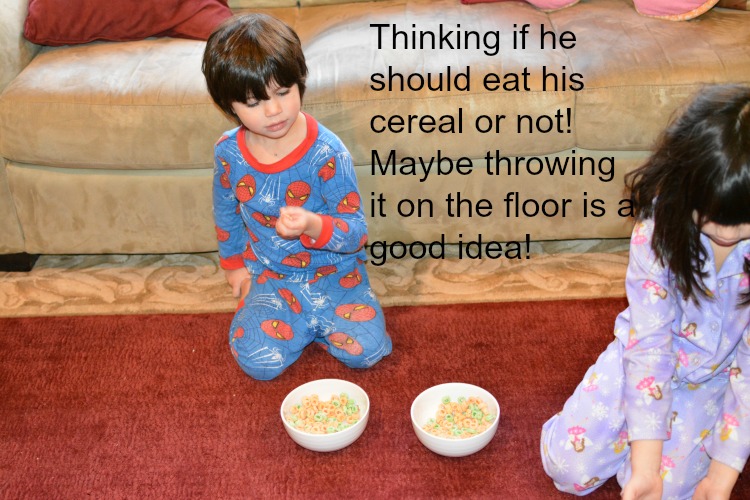 After seeing himself eyeing it, I know what I am in store for next. The epic mess is soon to start. The culprit is putting his hand in the cereal bowl. By this point, I know all bets are off on where the cereal is going.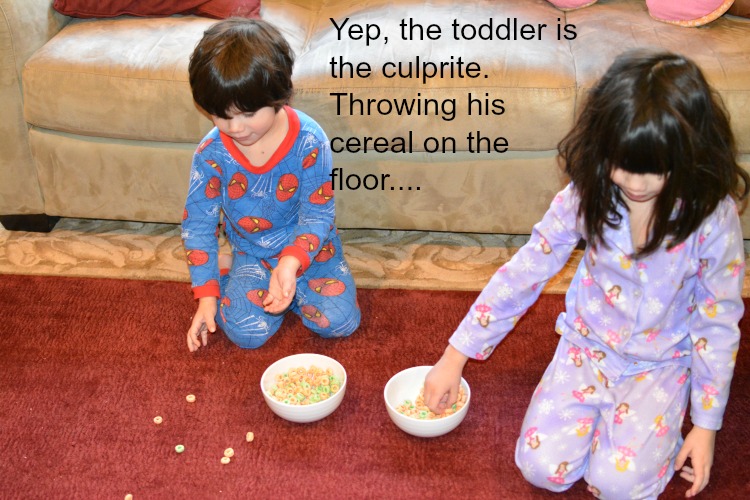 Finally, the end result: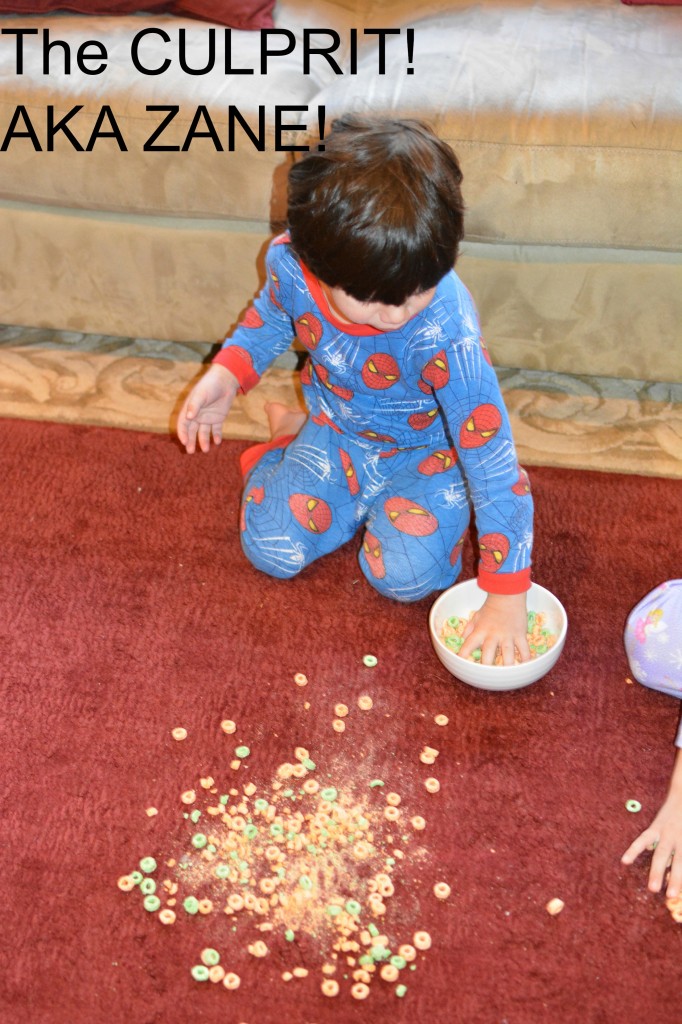 He is an adorable 3 year old but also the main cause of all my messes in my house!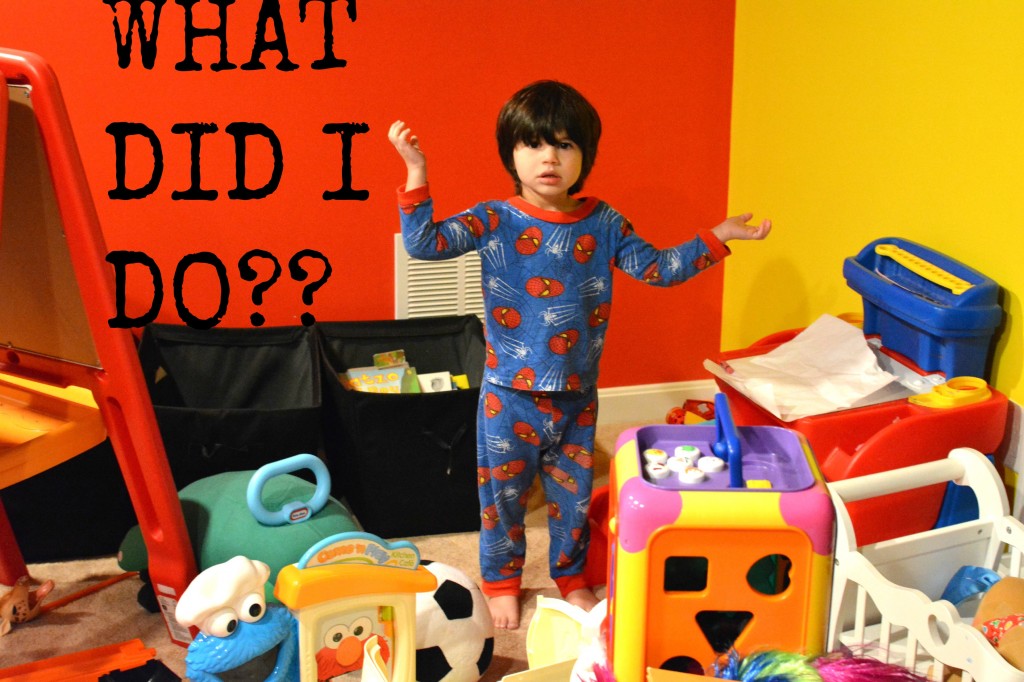 Let's not forget myself who is also a culprit of making extraordinary messes while drying "her" hair!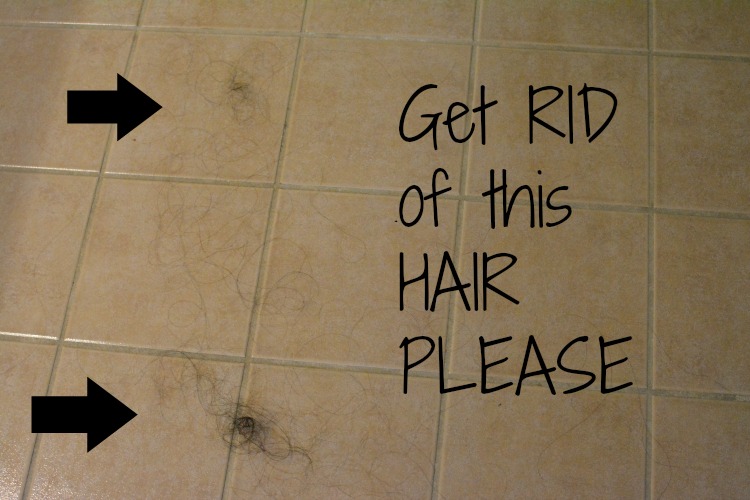 Thankfully, the #EurekaPower has saved my sanity on so many occasions. This vacuum has not only worked but made my life easier as a mom, in allowing me to clean up quickly and efficiently. The Eureka Suction Seal 2.0, allows me to clean up the messiest of messes on all the surfaces of my home i including carpet, hardwood, tile, laminate, stairs, rugs and more. Believe me when I tell you that we have messes in every corner of our home from the glitter packages that Hayley "accidentally" spills to the cereal that Zane loves to throw onto our floors.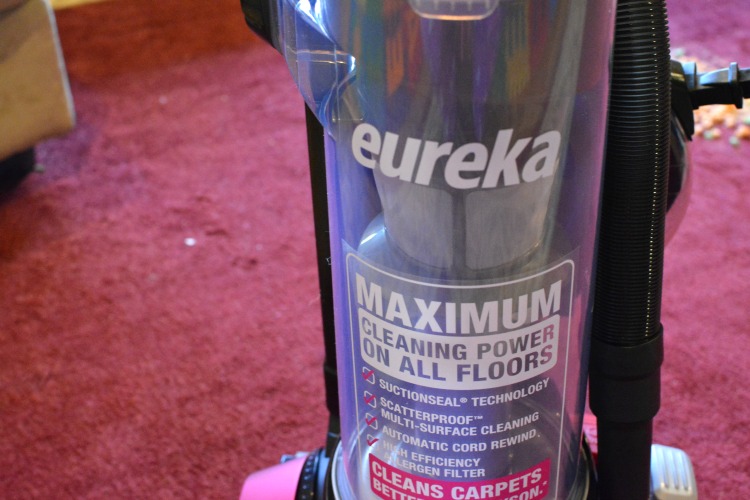 This Eureka works well because of the great Suction Seal. The vacuum has plates that raise and lower against the surface maintaining suction and seal without scattering debris. How many times have you tried vacuuming to no avail, when the end result is your mess is scattered even more than when you first started? With this technology and seal, it allows you to vacuum and all the debris, food, hair, etc stays right in the vacuum.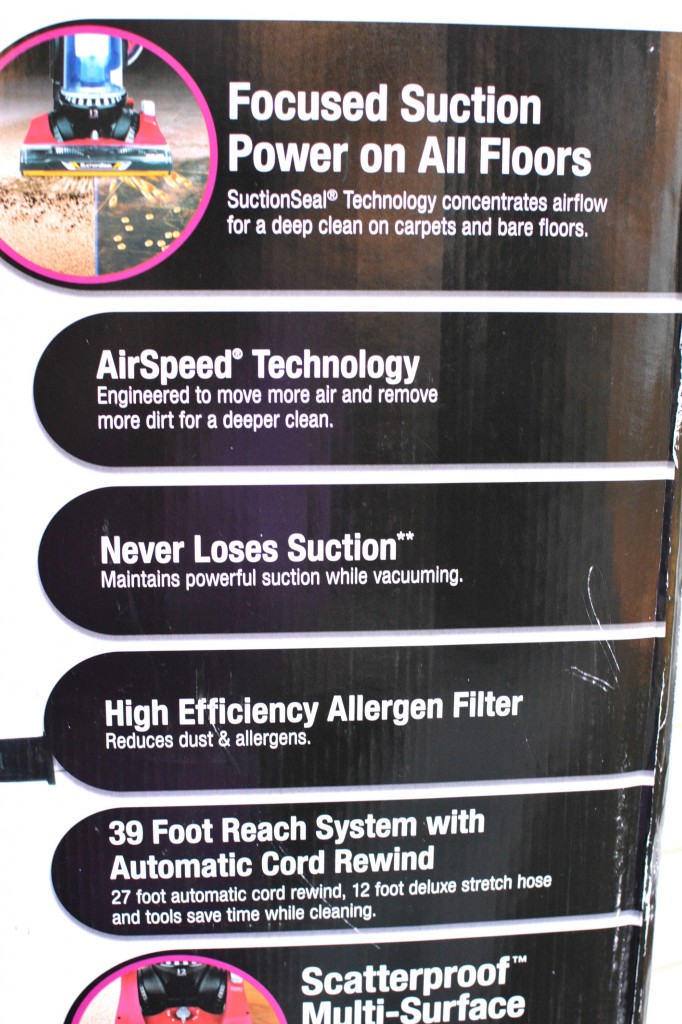 It also features Air Speed technology which uses a wide tube of air with minimal bends and twists that allows air to move freely across a shorter and more direct path. This makes vacuuming seamless and efficient. With Zane's severe allergies, I am a huge proponent of the high efficiency allergen filter.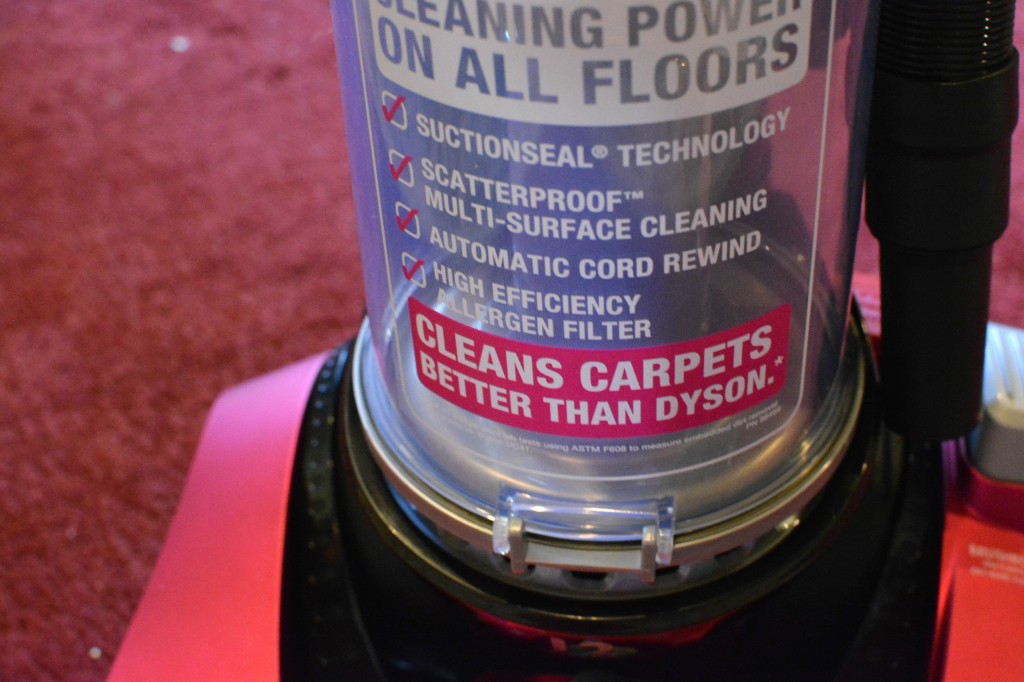 While I am still not a huge fan of cleaning, I am beginning to become more to terms with it. I think having a product like the Eureka Suction Seal 2.0, makes seeing the outcome of the cleaning that much more enjoyable. It has made my huge messes in my house a thing of the past! So no matter where I use it, hardwoods, carpets, etc, I am getting my house spiffy clean in a much more efficient way. If you don't believe me, check out this video to find out more:

So, what are you waiting for?! Head to Walmart and purchase this vacuum today while it is on rollback!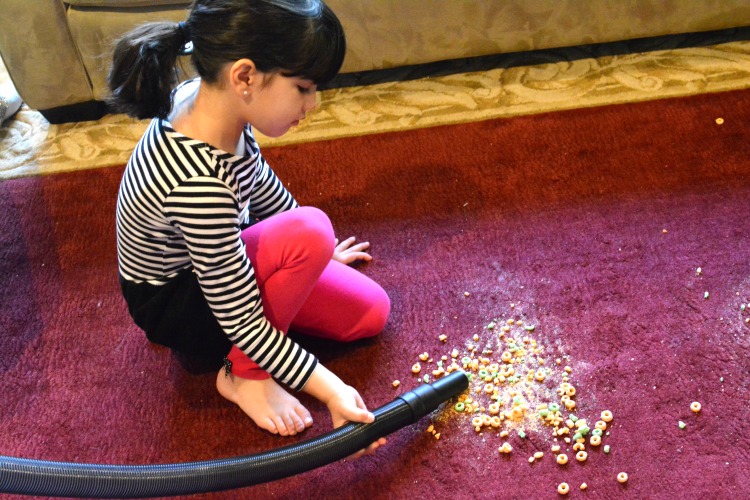 What is your #1 tip for your getting your house clean?