*This is a sponsored post with Seventh Generation. All my opinions are my own and not swayed by outside sources.*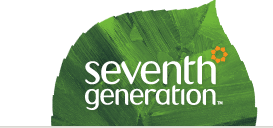 Part of keeping my family healthy as a mom is being conscientious about not only the food we eat, but also the products that we surround ourselves with, and use in our daily lives. As in most households, I am the major purchaser of most things that come into our home. I love the company Seventh Generation with their philosophy that what we do today will environmentally impact the next seven generations down the line. I think about that a lot as the mother of three, with a baby in diapers!
Now before we go any further, you MUST watch this video below. It tells the story about hosting a first birthday party and having an accidental leak. I am sure as moms we all get so excited about the big milestones, but forget that they can all get ruined by a leaky diaper. Can you relate?!

When you have a baby, diaper changes are a huge part of your daily routine, and you go through tons. With three kids I feel like I am a qualified diaper expert at this point. Being happy with your diaper brand is a must, but I'm always happy to try newer, better products for my kids, and I know products are always evolving. Things have changed so much since my first child already, and baby products just keep getting better and better with each kid. I am so excited that Seventh Generation has come out with the first disposable diaper made with unbleached cotton. Just in time for my third baby. It's a more environmentally friendly version of the other diaper brands that I use and trust to keep my baby dry. I have to admit I was skeptical that they would work as well as my usual brand but was pleasantly surprised! There is nothing worse than a leaky diaper, but the double leak guard around the edges works great.
Their pure, unbleached cotton "Touch of Cloth" diapers are gentle on my baby's skin, and the part that is against her skin feels like a real cloth diaper. Avoiding diaper rash is key, and with no added ink, fragrances or petroleum based lotions, and a special moisture wicking layer, there is nothing to irritate her sensitive baby skin. We care a lot about using the safest most environmentally friendly products possible in our family, while maintaining our comfort level. A Touch of Cotton diapers get me closer to feeling like that super mom who manages to use cloth diapers for her baby, but lets me keep my sanity. Love that!
In the below videos, you will meet Lawson Gary of Wildwood Farms as he introduces his chemical-free cotton cleaning process and talks about sustainability and family. This breakthrough approach to cleaning cotton without any chemicals is the work of the latestgeneration of cotton growers who are deeply committed to finding sustainable solutions for their industry. This revolutionary method preserves the inherent softness and strength of his amazing fiber.Touch of Cloth™ Diapers have a uniquely soft outer cover made with pure unbleached cotton and other plant based materials, replacing a layer typically made from petroleum based plastic. Enjoy the video!