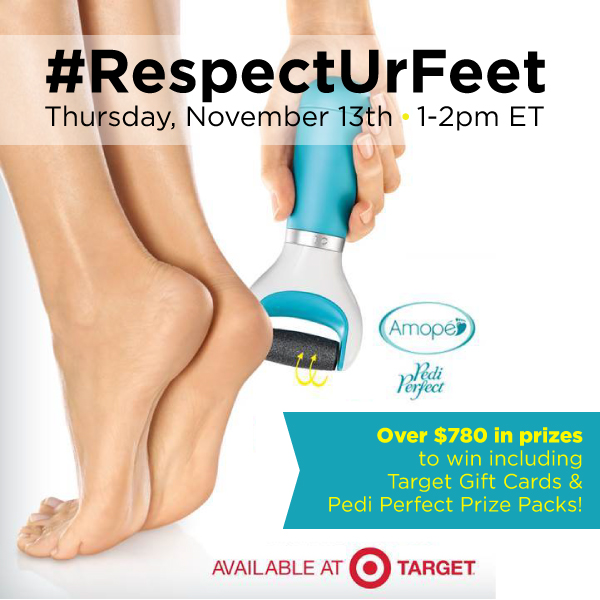 Do you love a good Twitter Party? You know we do and we're excited to host a party to talk about how we can all #RespectURFeet. On Thursday November 13th at 1 pm EST, please join us for the #RespectURFeet Twitter Party where we'll be sharing tips on getting your feet in tip top shape, improving your overall wellness of your body including your feet, and giving you a chance to win prizes!
Summer may be over, but that's no reason to hide your feet. I don't know about you but I love getting pedicures year round and what better way to do that and save money, than by doing it in the confines of your own home. There is nothing quite as wonderful than to have "healthy-looking" feet while simultaneously being beautiful. Now you can with Amopé™, Portuguese for love your feet, which is a new brand enabling women to respect their feet and love every step! The NEW Pedi Perfect™ electric foot file gently and easily exfoliates away the hard skin on feet with it's safe rotating action, your feet can be soft and silky in minutes! Pair gadget with Amopé™ foot care cream which adds moisture for even softer, healthier -looking feet! Be sure to join us on 11/13, to talk about ways we could get our feet healthy-looking and beautiful all at the same time. It is sure to be a great party!
Join me and RSVP for the #RespectURFeet Twitter Party on SoFabChats!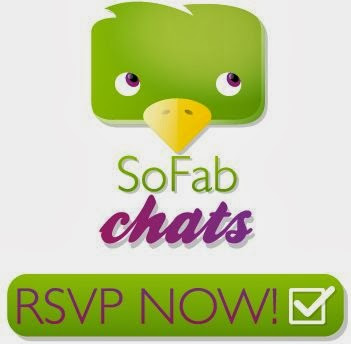 DATE: Thursday November 13th
TIME: 1:00-2:00 pm
PRIZES: 5 – (1) $100 Target Gift Card & (1) Pedi Perfect Prize Pack*
*Each PediPerfect Prize Pack contains: (1) Amope Pedi Perfect Electronic Foot File & (1) Amope® Pedi Perfect Foot Cream. ARV $47.98.
EARLY BIRD PRIZE: 1 – $50 Target Gift Card
HOSTS: @dentistmel, @smashbravoteam, @agirlsgottaspa, @AThriftyDiva, @_Karen
RULES: #RespectURFeet Twitter Party Official Rules
RSVP PARTY GRID: #RespectURFeet Twitter Party Page
TWEET TO SHARE:
Treat your tootsies? #RespectUrFeet Twitter Party 11/13 1pm ET. Prizes $780+! Rules http://t.co/2n2z6HcEbS #ad

— melissa weintraub (@dentistmel) November 6, 2014
How To Participate In A Twitter Party on SoFabChats!
TIP: How to join a Twitter Party – sign in! Before party starts, click on the green "Sign In On Twitter" bar at the top of the page!
TIP: Who to follow at a Twitter Party? Follow the Party Team by clicking on the Twitter handle links on the RSVP page!
TIP: Want to win Twitter Party prizes? RSVP by clicking on RSVP button before you join the party, follow everyone on the Party Team, and tweet with the party hashtag during the party to be eligible!
TIP: How to win the Early Bird prize? Watch for chance to share a tweet when you RSVP for a chance to win!
TIP: Special deals and brand coupons? Keep that options checked when you RSVP for the party!
TIP: New to Twitter parties? Watch your column and Party Team tweet columns – they are slower paced and easier to follow!
TIP: Where to find Twitter Parties? Check out the SoFabChats Twitter Party Calendar to find more fun parties to attend!
Find more helpful Twitter Party Tips on SoFabChats!